How can we help?
Enter a keyword to find answers
Delivery
Where is my order?
+
You can quickly track the status of your order through our "Quick Order Checker" page. All you'll need is your email address and your order number which is provided in the order confirmation email.

If you have an account:
If you have an account you can additionally check the status of your order by logging into your account. Simply visit the My Account page.

Covid -19 Delivery Information Update:
Please note that some orders may take a little longer to arrive than usual, due to the extra social distancing measures we've put in place to keep our warehouse employees and couriers safe. We are working closely with all of our couriers to minimise any potential disruption to our customers and we appreciate your patience in this unprecedented time.

Still Need Help?
Contact our Customer Service team here.
What are my delivery options?
+
For all of our shipping options please visit our Delivery Information page.

Contactless Delivery
In order to deliver your orders safely, a number of our couriers have introduced a minimal contact or contactless delivery service. By doing so both our customers and our delivery partners are kept safe. Click here to see which couriers are able to offer contactless delivery.

Still Need Help?
Contact our Customer Service team here.
My order has been dispatched but hasn't arrived?
+
We're sorry to hear that your item has not arrived yet. Please check that you have received a dispatch email from us to ensure it's on the way to you.

If your item has been dispatched please read the following delivery guidelines before contacting us as we won't be able to investigate until the following time has passed:

Delivery to the UK:

Royal Mail Economy - Most orders normally arrive within 2 to 5 working days (Monday - Friday), although on rare occasions orders can take longer. If it has been more than 12 working days then please contact us and our dedicated customer services team will endeavour to solve your issue. You can find details on how to contact us at the bottom of this FAQ.

DPD Next Working Day - Please note we only dispatch on working days (Monday-Friday) and expect items to arrive by the next working day. For example, an order placed on a Saturday would be scheduled to arrive on a Tuesday. Delivery will take two days from dispatch for the Northern Highlands, Northern Ireland and other distant areas. You can track your order here. Please contact us below if your item hasn't arrived when promised.

Delivery outside of the UK:

DHL Global Mail - Please allow up to 20 working days for your items to arrive, due to the nature of international shipping from the UK. If the order hasn't arrived within 20 working days (so typically 5 weeks) please contact us below.

DHL Global Express - Deliveries typically take 3 to 5 working days, but may take longer. You can track your order here. Please contact us below if your item has not arrived within 20 working days.
Do I have to pay duty on my delivery outside of the UK?
+
DDU (Delivery Duty Unpaid) – Orders sent outside of the European Community

All orders sent outside of the UK and EU are shipped on a DDU (Delivery Duty Unpaid) basis and may be subject to local customs import duty, which is charged on the value of the purchase. Payment of these fees is the sole responsibility of the customer. For example, customs duty must be paid on all orders over $200 when shipped to the United States.

Payment of the duty charge is necessary for the release of your order from customs on arrival to your country of delivery.

DDU (Delivery Duty Unpaid) – Refusal to pay charges – Returns Policy

If you refuse to pay the import duty levied against your shipment, this may result in the shipment being returned to Mobile Fun. In this case, all related returns charges plus a minimum administration charge of £5.00 (or equivalent currency at current exchange rate) will be charged against your final refund amount.
Returns
How do I return an item?
+
Instructions on how to return items to Mobile Fun can be found on our returns page here.
How will I know if you've received my return?
+
Once we have received and processed your return, we will send you a confirmation email to keep you updated.
My Order
Can I request an electronic copy of my invoice?
+
We provide a paper copy of your invoice with your order. However, if you require an electronic copy, please contact our support team and we will email one to you.
Can I change or cancel my order?
+
Please track your order to check that it hasn't already been dispatched. If your order has already been dispatched then we are unable to make changes to it and any unwanted items will need to be returned.

If your order has not yet been dispatched, simply contact our support team, ensuring that you include your order ID and the desired changes.
What do I do if an item is missing from my order that's been delivered?
+
We're sorry to hear that. Can you please check your invoice as it may be that part of your order was out of stock. We don't group our items in one delivery so that you receive your order as quickly as possible.

If part of your order is still missing, then please contact our support team.
Payments
Which payment methods can I use?
+
You can pay by PayPal or credit/debit card via our website. Unfortunately, we cannot take payment via American Express.





Mobile Fun takes your security seriously. As part of this commitment, we partner with your bank to protect you from fraud. We use Verfied by Visa and Mastercard Securecode to prevent fraud taking place on your account.
How do I know if an item will work with my device?
+
If you visit the item's page, you can select the "compatibility" tab which will give a list of all of the devices that an item will work with.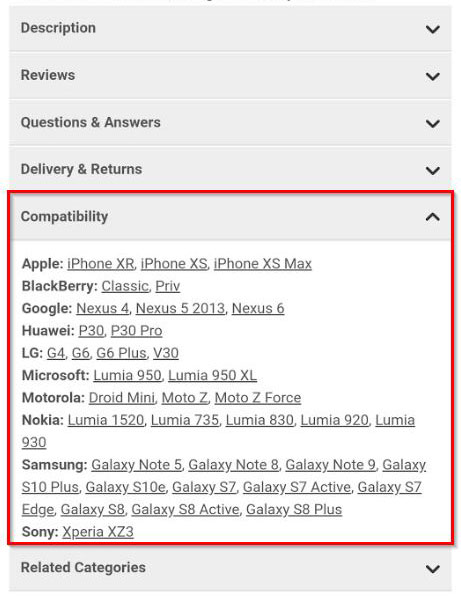 When will an item be back in stock?
+
We do our best to update the stock messages on our websites as soon as we have an estimated arrival date of the items. To reserve an item, you can purchase it through our website, and the item will be dispatched to you as a priority as soon as the stock arrives at our warehouse.

You can also register for "back in stock" alerts underneath the "add to basket" button on our product pages. This will send an email to you directly when an items arrives.
Do you have instructions or a user manual for my item?
+
We normally provide instructions on how to use an item in the packaging. If there is nothing included, then please check the website item page, as there may be an electronic copy stored there.
My Account
Contact Us
How do I contact customer services?
+
Haven't found the answer that you were looking for in our FAQ? Feel free to contact us!

Need to speak with a human? Contact us here

We work through our emails 7 days a week and aim to respond to customers within 48 hours.
How do I contact the Business to Business team?
+
Contact our dedicated B2B team to find out about our trade prices and exclusive business account offers!

Contact the B2B team here.