SO, you're planning to buy a new phone and the Samsung Galaxy A73 is soon going to be released, why should you buy the Samsung Galaxy A73? This is the question you might ask yourself before you consider buying the Samsung Galaxy A73. Well, go through the features the Samsung Galaxy A73 has to offer you and you can decide whether this phone is the one for you.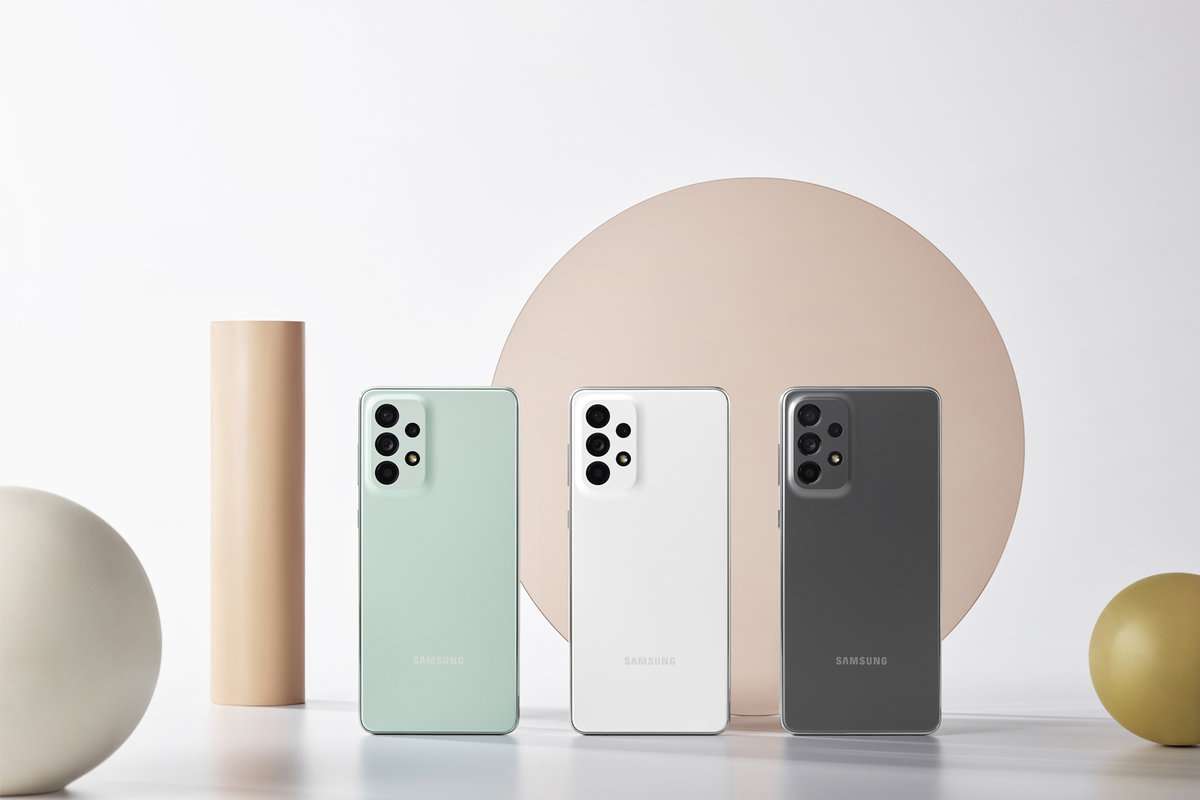 Unlike the Samsung Galaxy A53 which was launched during Samsungs March event, the Samsung A73 was not launched with these other phones. Samsung seems to be going for a more quieter release for the Samsung Galaxy A73, which is said to be released in stores mid-April. As of yet, the Samsung Galaxy A73 has been released in India, but is yet to be released in other countries.
Design
Design wise, the device is similar to that of the Samsung A53, a flat display with a slim bezels and a quad camera on the back side of the device. The Samsung Galaxy A73 has measurements of 163.7 x 76.1 x 7.6mm and a weight of 181g proving to be a slim and lightweight device. So, if a lightweight and slim phone is something you are in search for, you'd want to add this device into your list of options. The Samsung Galaxy A73 can be found in a couple of colours namely; white, sage and the usual black that we all love. Colour wise, the Samsung Galaxy A73 does come in quite a nice range of colours, with sage being my favourite after black. If like me, you always check out the colour range and go from there, you'll really want to check out the sage coloured Samsung Galaxy A73.
The Samsung Galaxy A73 has a display size of 6.7inch which is pretty similar to other new models in the A-series that have been released, so it is a good size phone. It's the perfect size for video-gaming, watching movies and shows from. The phone also has a super AMOLED+ panel called the Infinity O display. As for the displays resolution, the Samsung Galaxy A73 display has a 2400 x 1080 resolution and a refresh rate of 120Hz.
Camera
The cameras on the Samsung Galaxy A73 consists of the following lens:
Quad rear camera
108MP main, f/1.8 OIS
12MP ultra wide, f/2.2
5MP depth, f/2.4
5MP macro, f/2.4
32MP front, f/2.2
Hardware & Specs
The Samsung Galaxy A73 has the following hardware and specs features:
Qualcomm Snapdragon 750G (TBC)
6/8GB RAM
128GB/256GB storage
5000mAh
As for price, Samsung has not confirmed the price of this device, but if we compare it to the price of Samsung Galaxy A53 which comes at a price of £399, we're expecting the phone to be around the £300-£400 mark as any other mid-range Samsung device. Overall, the Samsung Galaxy A73 is a decent smartphone that offers all the qualities a good smartphone should have.
If you want to check out some high-quality Samsung Galaxy A73 accessories to dress  up your device, check out the Mobile Fun site.