Mobile Fun are committed to helping fight Covid-19, while still preserving as much normality as possible. As such all of our office staff are working from home, with our essential warehouse crew on-site shipping orders daily. Our warehouse staff are practising social distancing and taking the utmost care with regards to hygiene, to ensure that your orders can be shipped as quickly as possible and that all of the government's guidelines are being followed.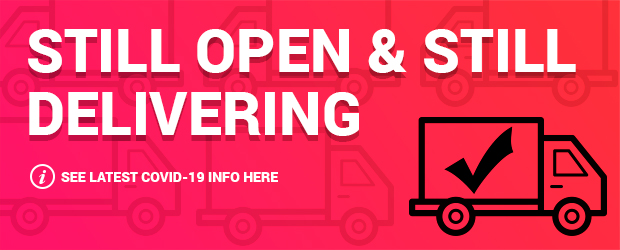 Frequently Asked Questions
How does this impact my order?
Orders can still be placed as usual and are being dispatched same day when in stock and ordered before 6pm UK time.
Are your delivery times accurate?
Yes, we have staff working from home updating our estimated time of arrivals for all products. We're also in constant dialogue with our courier services to ensure all available delivery options and times specified are accurate at the time of purchase.
How to track my order?
You can check the status of your order by logging into your account, simply visit the
My Account page
. Here you can review your orders and track the status of any outstanding orders.
If you haven't signed up for an account then you check the status of your order via the
Track My Order
page, by simply entering your email and order number provided on your order confirmation email.
If you've selected a track delivery method, you will find a tracking number on your dispatch email, which is also viewable in the
My Account
section. You can enter this number on the courier's website to see regularly updated tracking information.
What do I do if my order has been shipped but hasn't arrived yet?
For orders within the UK via our Royal Mail economy service, we expect most orders to be delivered within 2-5 working days (Monday to Saturday), however on rare occasions including during Covid-19, deliveries can take a little longer.
If it has been more than 15 working days since your order was dispatched then please
contact us here
, as we cannot investigate and resolve issues until this amount of time has elapsed.
For orders via a tracked service please
contact us
straight away, if your order hasn't been received within the timeframes promised.
Can I return un-wanted or faulty items?
Tips on working from home and keeping the kids entertained
With many of us now working and schooling from home, we've put together some great ideas for improving your home office set-up and keeping the kids entertained.
Home Office Ideas:
Try and find / build a permanent work space – avoid working on the sofa
Make to do lists to stay focused and on track
Establish a routine
Stretch regularly
Take short breaks
Create a workspace that's both ergonomic and productive
Utilise online video-call / meeting software to stay in touch with other team members
Get dressed and ready for work as you would normally
Establish boundaries to allow you to start and finish at normal times
Listen to music and podcast when appropriate to avoid constant silence
Keeping The Kids Entertained:
Stick to a routine to preserve normality
Utilise your garden to exercise and play
STEM equipment and toys provide fun and learning
Don't stay in one room all day long
Engage their imagination with crafting and games
Wrapping Up
We at Mobile Fun would like to take this opportunity to wish everyone a safe time during this outbreak, we would also like to thank you all for your continued support and loyalty, something which is helping us to continue trading during this difficult time. We'll be updating this blog regularly with Service Updates, so please do check back or reach out to us directly should you need assistance.