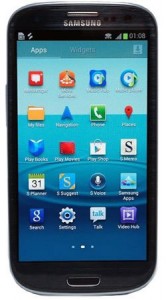 We're happy to announce that Mobile Fun will be stocking the Samsung Galaxy S III sim free… in black! As far as we know, we're the first to announce a price and release date for the new phone.
The new colour scheme looks fantastic when paired with the S3's sweeping curves and thin frame, with a subtle texture that looks fantastic as you move it in the light.
Of course, this new black Samsung Galaxy S III has all of the raw performance and clever software as the Pebble Blue or Marble White variants, with a magnificent 1.4 GHz Exynos 4412 Quad processor, 1 GB of RAM and beautiful 4.8″ Super AMOLED display that eclipses everything on the market today.
The Galaxy S III is also host to Samsung's Nature UX additions to Android 4, featuring clever software that will keep the phone on when you're looking at it, allow you to watch video picture-in-picture or even control your phone with S Voice. If Samsung's modifications aren't to your liking, you can flash a custom Jelly Bean ROM to pair the Galaxy S III's powerful internals with stock Android.
If you do decide to pick up the Samsung Galaxy S III in black, then you've got to check out our Galaxy S3 covers as well – I'd recommend getting the Gear4 Thin Ice Gloss Case if you're looking for a slim and trim way of adding that crucial extra protection that'll keep your S3 looking clean and unscuffed months down the road.
To view the latest price and release date for the black Samsung Galaxy S III, check out the product page linked below. The second link will take you to the case that I recommended earlier.
If you've got any questions or other feedback, please feel free to share them with us in the comments. Thanks for reading and have a good day.