Most Useful Customer Reviews
28th July 2009
Impressive Gizmo
Rarely these days do you get more than you paid for especially when it comes to boys toys around the 20 pound mark. This thing breaks the mould. Absolutely fantastic noise from something so compact. Impressive build quality too. Doesn't feel like it will break in a month. I have a Nokia 5800 and the built in speakers in that are flat, tinny, and drain the phone battery after one album at full volume. Wanted a simple, portable solution. Saw some very good reviews on this device on other web sites, and decided to see if the hype was true. Certainly worth the hype. It just arrived at my work place after yet another fantastically quick delivery from MobileFun, and I thought I would give it a go. I stopped the entire office at lunch break with Prodigy's Voodoo People. I have since given several demos and as I write this, about half a dozen people are logging on to buy theirs. Is that convincing enough for you? Can't say anything about battery life at this point, but so far very very pleased.
---
Julian Livingstone
HAmpshire
XMI X-mini II
14th November 2014
Extraordinary sound quality
I was surprised quite how good the sound depth and breadth quality is from this remarkable speaker. This is definitely on my Christmas list and will be in everyone else' stockings.
---
Katherine
Brighton
XMI X-mini II Mini Speaker
1st January 1970
Perfect
I bought this little speaker on the strength of the reviews and it didn't disappoint. Fantastic sound from such a compact device. Perfect for outside whilst sitting in the garden or on the beach. Has turned my Nokia phone into a great music centre.
---
Read 210 customer reviews
|
Write a review
---
Why Buy?
40mm driver for enhanced audio

11 hours of continuous playback

"Daisy Chain" capacity

Built-in 3.5mm audio connection
---
Why not View a video about this product?
Description
Be it for individual or group entertainment, the X-mini II is the perfect audio enhancement device for any music or video player. Not only does the new design deliver unsurpassed audio quality, it now performs for even longer.
Three times the capacity of its predecessor, the new X-mini II comes with a new built-in high capacity rechargeable battery capable of sustained output for 11 hours of nonstop audio pleasure.
40mm driver for enhanced audio
The new 40mm driver on the X-Mii II speaker delivers an a richer and fuller sound, resulting in superior end-user experience from its innovative capsule design.
11 hours of continuous playback
One single charge provides you with 11 hours of continuous playback, so you can relax to your music without worrying about it cutting out.
"Daisy Chain" capacity
This unique X-Mini II speaker includes a "Buddy Jack" system, which allows you to connect one X-Mini II to another and another and another and so on. This means you can complete an almost never-ending "Daisy Chain". This thereby creates a self-powered bass-enhanced portable speaker system.
With this new feature you can now combine your X-mini II together with your friends to hold a spontaneous party anywhere you go.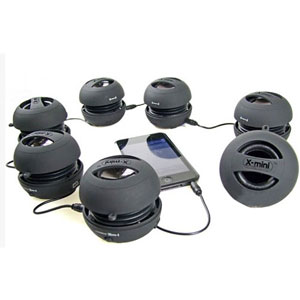 Built-in 3.5mm audio connection
This built-in 3.5mm audio connection cable means there is no need to waste time running around looking for your cables. What's more when the speaker isn't in use, the cable slips away neatly underneath the speaker to eliminate cumbersome audio cables dangling from the speaker - for a cleaner and sleeker look.
Quality Assurance
With the X-Mini logo embossed on to the body of this silver speaker, you can be sure you're receiving a top quality product.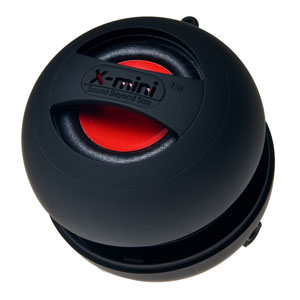 Please Note: Some phones may require a separate 3.5mm audio adapter (sold separately).
Technical Specifications
Dimensions: 60 x 40mm
Weight: 83g
Speaker: Magnetically shielded 40mm
Loudspeaker output: 2.5W
Frequency response: 100Hz - 20kHz
Playback time: Up to 11 hours
Battery capacity: 400mAh