Most Useful Customer Reviews
Jack Rebaldi
London
Samsung Galaxy Note 3
2nd March 2015
Best design I've seen for a long time.
I'm usually not that enthusiastic, but this adapter is a design feast! The way it has been conceived is absolutely genius, rarely do you come across a simple piece of equipment that combines intelligent design and ultimate functionality with such enjoyable harmony.
---
Anonymous
Unknown
Xperia S
1st October 2013
Versatile and easy to use
I bought this item for use on holiday in Greece this year. The build is great for something that is so versatile. It doesn't have a cheap, fall apart after a few uses feel and is very cleverly designed to stow itself away into a very small package. The inclusion of a USB port meant I could charge both my phone and portable speakers at the same time as they were being used. My only small gripe would be the indicator LED is quite bright in a dark room but a well placed book sorted that during overnight charging. Excellent quality and value!
Read 60 customer reviews
|
Write a review
---
Why Buy?
Pass-through charger with USB socket

Truly world-wide with pins for UK, US, EU and AUS sockets

Self-contained construction for neat and easy packing

LED status indicators show you when sockets are in use at a glance

Dual fuses for added safety
---
Description
Pass-through charger with USB socket
Ever been travelling and found the hotel you're in doesn't have enough plug sockets for you to charge all your gadgets, or just ran out of sockets at home? With the WorldWise Power travel charger you don't have to sacrifice on of your sockets to keep fully juiced, as it includes a standard USB port on the top while also having a universal plug socket on the back. Both the USB and plug sockets can be used simultaneously without affecting performance, so wherever you are in the world, you can charge your phone and your laptop, your MP3 player and your hairdryer, or your GPS and your hands-free kit at the same time.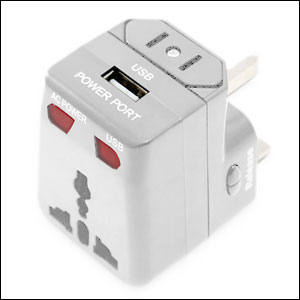 Truly world-wide with pins for UK, US, EU and AUS sockets
Unlike other travel adapters that only work in specific territories, the WorldWise Power travel charger can be used in any of the 4 main plug sockets around the world. Verified to work in over 190 countries, you'll never find yourself unable to power your devices again no matter where you are. Please note, although the plug socket on the back of the device looks like a UK 3-pin socket, it is actually a specially designed universal socket for use with most plugs around the world.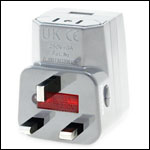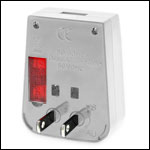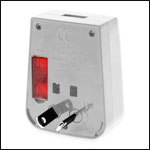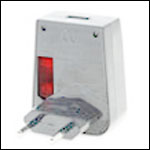 Self-contained construction for neat and easy packing
Other travel chargers come as a standard plug with adapters for other countries, which can get messy and make it easy to lose or forget the adapter you need. The TravelWise Power charger is designed so that all the adapters plug into each other or the unit, so that you'll always have every adapter at hand. This also means it's more compact than other alternatives so takes up less space in your baggage.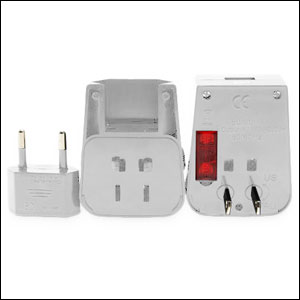 LED status indicators show you when sockets are in use at a glance
Sometimes it can be tricky to know when a plug socket is powered, especially in other parts of the world where sockets don't have switches. With the WorldWise Power travel charger, you'll always know your gadgets are getting their necessary charge as there are two LED status indicators, one for the AC power and one for the USB socket. Note that the AC power indicator will always be active when the socket is on regardless of whether you have any thing plugged into the charger, while the USB indicator is only active when something is plugged in to the USB socket.
Dual fuses for added safety
Both sections of the WorldWise Power travel charger are fused, which gives your gadges double the protection against power surges when used in the UK. It also means that wherever you use the charger, it's safe for you and your gadgets.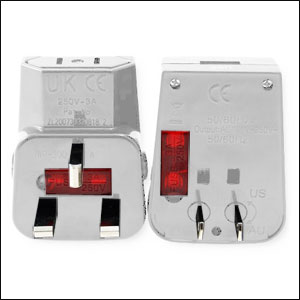 Technical Specifications:
AC Input: 125V @ 6A or 250V @ 3A
AC Output: 125/250V (Note: This adapter does not convert voltage)
Fuse: 3A 250V/6A 250V
USB Output: DC 1000mA @ 5V/500mA @ 5V
List of countries where adapter can be used:
EU
Albania, Algeria, Angola, Argentina, Austria, Azores, Balearic Islands, Bangladesh, Belgium, Bolivia, Bosnia, Brazil, Bulgaria, Burkina Faso, Burundi, Cameroon, Canary Islands, Cape Verde, Central African Republic, Channel Islands, Chile, Comoros, Congo, Croatia, Dem. Rep. of Congo (Zaire), Cote d'Ivoire (Ivory Coast), Cyprus, Denmark, Djibouti, Egypt, El Salvador, Equatorial Guinea, Eritrea, Faeroe Islands, Finland, France, Gabon, Germany, Gibraltar, Greece, Greenland, Guadeloupe, Guinea, Guinea-Bissau, Hungary, Iceland, India, Indonesia, Iran, Iraq, Israel, Italy, Kazakhstan, Korea, Kuwait, Laos, Lebanon, Lithuania, Luxembourg, Macedonia, Madagascar, Madeira, Mali, Martinique, Mauritania, Mauritius, Monaco, Morocco, Mozambique, Myanmar, Nepal, Netherlands, Niger, Norway, Oman, Pakistan, Paraguay, Peru, Philippines, Poland, Portugal, Romania, Russia, Rwanda, St. Vincent, Senegal, Somalia, Spain, Sudan, Suriname, Sweden, Switzerland, Syria, Thailand, Togo, Tunisia, Turkey, Uruguay, Vietnam, Yugoslavia (former), Zambia.
UK
Bahrain, Bangladesh, Belize, Botswana, Brunei, Cameroon, Channel Islands, China, Cyprus, Dominica, El Salvador, Gambia, Ghana, Gibraltar, Grenada, Guatemala, Guyana, Hong Kong, Iraq, Ireland, Isle of Man, Jordan, Kuwait, Lebanon, Macau, Malawi, Malaysia, Maldives, Malta, Mauritius, Myanmar, Nigeria, Oman, Qatar, St. Kitts-Nevis, St. Lucia, St. Vincent, Saudi Arabia, Seychelles, Sierra Leone, Singapore, Tanzania, Uganda, United Arab Emirates, United Kingdom, Vietnam, Yemen, Zambia, Zimbabwe.
US
American Samoa, Anguilla, Antigua, Aruba, Bahamas, Bangladesh, Barbados, Bermuda, Bolivia, Brazil, Cambodia, Canada, Cayman Islands, China (without holes in blades and slightly shorter blades), Colombia, Costa Rica, Cuba, Ecuador, El Salvador, Guam, Guatemala, Guyana, Haiti, Honduras, Jamaica, Japan, Laos, Lebanon, Liberia, Maldives, Mexico, Micronesia, Montserrat, Netherlands, Antilles, Nicaragua, Niger, Okinawa, Panama, Peru, Philippines, Puerto Rico, St. Vincent, Saudi Arabia, Tahiti, Taiwan, Thailand, United States, Venezuela, Vietnam, Virgin Islands (U.S. & British), Yemen.
AUS
American Samoa, Argentina, Australia, China, El Salvador, Fiji, Guatemala, Kiribati, Nauru, New Zealand, Okinawa, Panama, Papua New Guinea, St. Vincent, Tajikistan, Tonga, Urugua.
---
Key Details
Charger Type: Charger Adapters