Why Buy?
Invisible liquid protective layer for your smartphone's display

Makes screens up to 15x stronger

Scratch, chip and fingerprint-resistance

Provides ultra-thin, bubble free protection

Microfibre cloth included to make it even easier to apply

No tricky film or glass screen protector required!
---
Why not View a video about this product?
Description

Invisible liquid protective layer for your smartphone's display
Whoosh! Diamond Defense is a revolution in screen protection, offering an easy to apply solution to protect and easily maintain your smartphone without the difficulty of traditional film or glass screen protectors. Not only can it not be seen once applied, but you can't feel it is there either - offering ingenious hassle-free protection for your smartphone display.

Makes screens up to 15x stronger
Utilising nanotechnology, the liquid screen protector provides a resistive layer - protecting coated smartphone's display with a scratch and fingerprint-resistant nanopolymer coating. Not only that, but it is rated by a 3rd party laboratory to be 15x stronger than having no protection at all.
Any harmful particles that come in contact with your precious smartphone's display simply bounce off or slide off the invisible surface.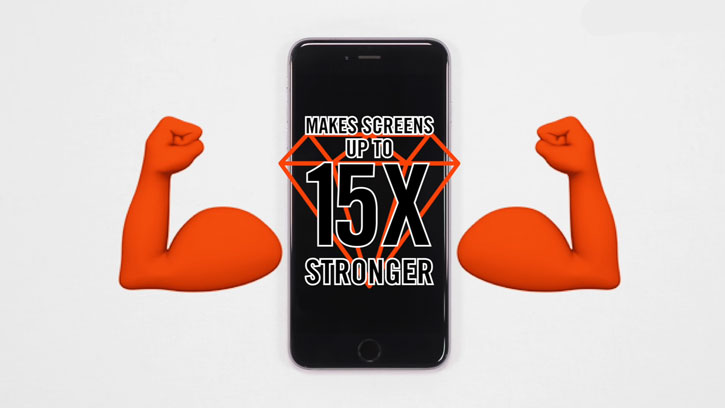 Ultra-thin liquid layer retains touch sensitivity
This unique product isn't actually a glass or film screen protector - the liquid nanotechnology bonds with glass perfectly to create a protective layer, but there's no barrier between you and your screen. As such, the sensitivity of your touch screen will remain completely unaffected by application, meaning you can continue to use your phone just as you always would - but with the added peace of mind Whoosh brings.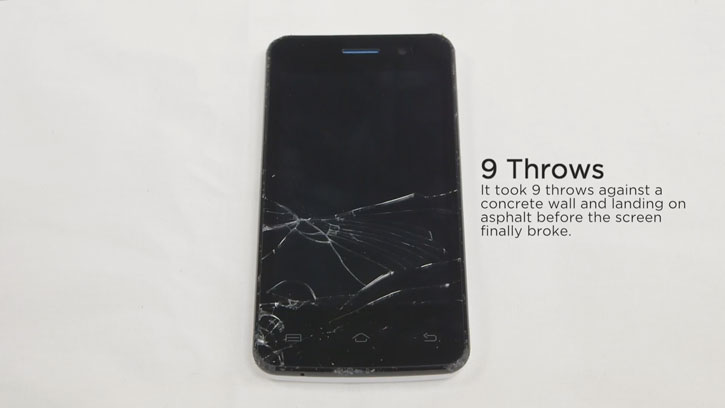 Simple, hassle-free application
Worried about installing this screen protector wrong? Don't be - making a mistake during application is practically impossible, as the process is as simple as applying liquid and wiping your display down. Within minutes, your screen will be up to 15x stronger than before.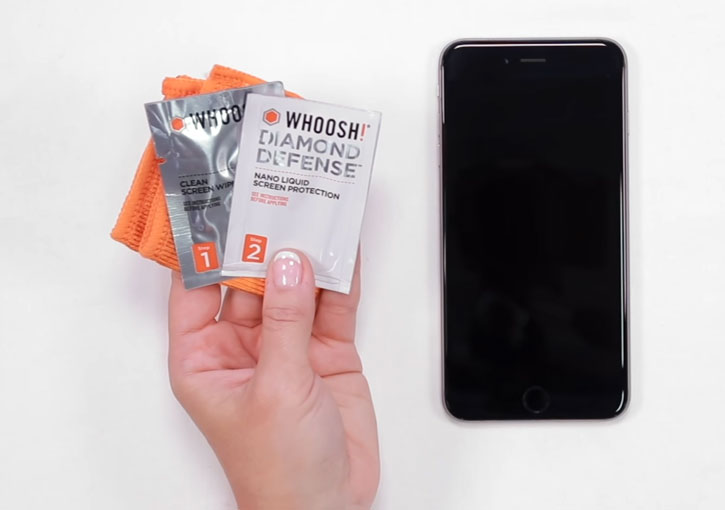 Repeated applications only increase protection
The best part of Whoosh? Applying the liquid solution over and over again will only increase the strength of the bond - your display really can't get enough.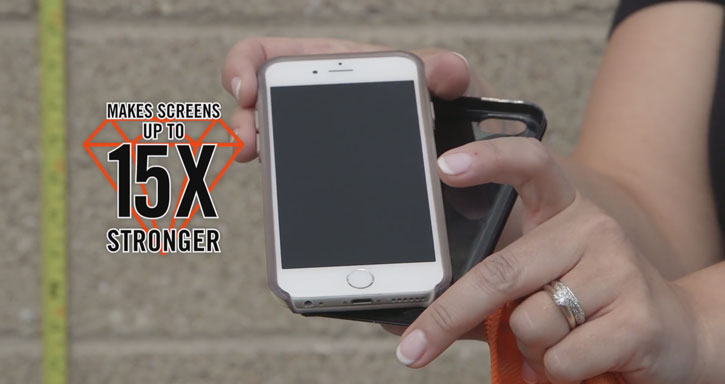 Universal compatibility - smartphones, laptops, tablets and more
No need to be concerned with a proper fit, or aligning this protector correctly - Whoosh is universally compatible and can be applied to any phone at all with a screen.
Don't worry if you spill any on parts of your phone other than the display, either. Whoosh is completely safe - designed to bond with glass, but totally fine on any other part of your device.
Completely bubble and residue-free
Many of the problems which can sometimes affect screen protectors just won't happen with Whoosh. As this is a liquid layer, there's no chance of air or moisture bubbles becoming trapped between the protector and your screen - and there's no adhesive to leave any residue, either. You'll barely even notice Whoosh is protecting your screen, but rest assured that no function has been lost in this convenient design.

Microfibre cloth included to make it even easier to apply
With the included microfibre cloth, the Whoosh! Diamond Defense Liquid Screen Protection has everything you need to protect your smartphone's display from scratches and reduce those pesky fingerprints.
3: INQ Mini 3G, INQ1, Skypephone S2x, ZTE F107
Acer: beTouch E100, Acer Liquid Z3, Allegro, beTouch E110, beTouch E120, beTouch E130, beTouch E200, beTouch E400, DX900, F900, Iconia, Iconia A1-830, Iconia B1-720, Iconia Smart, Liquid, Liquid e, Liquid E1, Liquid E2, Liquid E3, Liquid Jade, Liquid Jade Primo, Liquid Jade Z, Liquid M220, Liquid Metal, Liquid S1, Liquid S2, Liquid X1, Liquid X2, Liquid Z200, Liquid Z4, Liquid Z5, Liquid Zest, Liquid Zest Plus, M900, neoTouch, neoTouch P300, neoTouch P400, Stream
Archos: 50 Platinum, 101 Tablet, 40 Power, 45 Helium 4G, 50 Diamond, 50 Oxygen, 50c Oxygen, 55 Helium, 55 Helium 4 Seasons, 55 Helium Ultra, 80 Helium 4G, Diamond 2 Plus
Alcatel: Fierce XL, Idol 4, Idol 4S, Idol Alpha, Touch Idol X 6040D, One Touch Evo 7, One Touch Hero 2C, One Touch T10, OneTouch Hero 2, OneTouch Idol, OneTouch Idol 3 4.7 inch, OneTouch Idol 3 5.5 inch, OneTouch Idol X+ 6043D, OneTouch Pop C3, OneTouch Pop C7, OneTouch SPop, OT-203, OT 209, OT 222, OT 223, OT 255, OT 282, OT 303, OT 355, OT 363, OT 565, OT 660, OT 665, OT 710, OT 799, OT 808, OT 990, OT 991, OT Crystal, OT-S319, OT-292, Pixi 4 5, Pop 4, Pop 4 Plus, Pop 4S, POP S3, POP S9, Tribe OT 800
Amazon: Fire, Fire 7, Fire HD 10, Fire HD 8, Kindle Fire HD 8 9, Fire Kids Edition, Fire Phone, Kindle, Kindle 6 Inch 2015, Kindle 6th Gen, Kindle DX, Kindle Fire, Kindle Fire 7, Kindle Fire HD 2012, Kindle Fire HD 2013, Kindle Fire HD 6, Kindle Fire HD 7, Kindle Fire HDX, Kindle Fire HDX 8.9, Kindle International , Kindle Keyboard, Kindle Oasis, Kindle Paperwhite, Kindle Touch, Kindle Voyage
Apple: iPad, iPad 1, iPad 2, iPad 2017, iPad 3, iPad 4, iPad Air, iPad Air 2, iPad Mini 2, iPad Mini 3, iPad Mini 4, iPad Pro 12.9 inch, iPad Pro 9.7 inch, iPad with Retina Display, iPhone, iPhone 3G, iPhone 3GS, iPhone 4, iPhone 4S, iPhone 5, iPhone 5C, iPhone 5S, iPhone 6, iPhone SE, iPod Nano 6G, iPod Nano 7G, iPod Touch 2G, iPod Touch 3G, iPod Touch 4G, iPod Touch 5G, iPod Touch 6G
Asus: EEE Pad Transformer, Live, Memo Pad 10, MEMO Pad 8, PadFone E, PadFone Mini, PadFone X, Transformer Book Duet, Zenfone 2, Zenfone 2 Deluxe, Zenfone 3, Zenfone 3 Deluxe, Zenfone 3 Ultra, ZenFone 4, ZenFone 5, ZenFone 6, Zenfone Max, ZenFone Zoom, ZenPad 7.0 Z370CG, ZenPad C 7.0, ZenPad C 7.0 Z170MG, ZenPad S 8.0 Z580C, ZenPad S 8.0 Z580CA
Barnes & Noble: Nook 7
BlackBerry: 8310 Curve, 8520 Curve, 8900 Curve, 9320 Curve, 9720, Bold, Bold 9700, Bold 9780, Bold 9790, Bold 9900, Classic, Curve 3G 9300, Curve 9360, Curve 9380, DTEK50, DTEK60, Leap, Passport, Passport Silver Edition, Pearl 3G, Priv, Q10, Q5, Storm 9530, Storm2, Torch 9800, Torch 9810, Torch 9860, Vienna, Z10, Z20, Z3, Z30
Blackberry: Playbook
BLU: Vivo 6
BQ: Aquaris 5 HD, Aquaris 5.7, Aquaris E10, Aquaris E4, Aquaris E4.5, Aquaris E5, Aquaris E5 4G, Aquaris E6, Aquaris M10, Aquaris X5, Curie 2, Curie 2 Quad Core, Edison 2, Edison 2 Quad Core
Bush: Eluma
Coolpad: Torino S
Coship: Moly X1
Dell: Streak, Streak 7, Venue, Venue 8 7000, Venue 8 Pro, Venue Pro
Doro: Liberto 810, Liberto 820, Liberto 820 Mini, Liberto 825, PhoneEasy 332, PhoneEasy 341, PhoneEasy 410
EE: Eagle, Harrier, Harrier Mini, Harrier Tab, Kestrel, Rook
Google: Android One, Nexus 10, Nexus 4, Nexus 5 2013, Nexus 5X, Nexus 6, Nexus 6P, Nexus 7 2012, Nexus 7 2013, Nexus 9, Nexus One, Nexus S, Pixel, Pixel C, Pixel XL
HP: 8 1401, Elite X3, Slate 7, Slate6 VoiceTab, Slate7 VoiceTab, Steam 7
HTC: 10 evo, 7 Pro, 8S, 8X, Bolt, Butterfly, Butterfly 2, Butterfly 3, ChaCha, Desire, Desire 10, Desire 10 Lifestyle, Desire 10 Pro, Desire 200, Desire 210, Desire 300, Desire 310, Desire 320, Desire 500, Desire 501, Desire 510, Desire 516, Desire 526, Desire 530, Desire 601, Desire 610, Desire 612, Desire 616, Desire 620, Desire 626, Desire 628, Desire 630, Desire 700 Dual SIM, Desire 709d, Desire 728, Desire 816, Desire 820, Desire 825, Desire 826, Desire 828, Desire 830, Desire C, Desire Eye, Desire HD, Desire S, Desire VC, Desire X, Desire Z, Droid DNA, EVO 3D, Evo 4G LTE, Explorer, First, Flyer, Google Nexus One, Gratia, HD mini, HD2, HD7, HD7S, Incredible S, Inspire, Legend, M8 Ace, Magic, Mozart, One A9, One A9s, One Dual SIM, One E8, One E9, One E9 Plus, One M7, One M8, One M8 Ace, One M8 Dual SIM, One M8 Eye, One M8s, One M9, One M9 Plus, One Max, One ME, One Mini, One Mini 2, One Remix, One S, One S9, One SV, One V, One X, One X Plus, One X9, One XL, Radar, Rezound, Rhyme, Salsa, Sensation, Sensation XE, Sensation XL, Smart, Tattoo, Thunderbolt, TITAN, Touch Diamond, Touch Diamond2, Touch HD, Touch Pro2, Touch2, Trophy, Ville, Wildfire, Wildfire S
Huawei: Ascend D Quad, Ascend D Quad XL, Ascend D1, Ascend G300, Ascend G330, Ascend G510, Ascend G526, Ascend G6, Ascend G6 4G, Ascend G600, Ascend G610, Ascend G7, Ascend G730, Ascend Mate, Ascend Mate 2, Ascend Mate 3, Ascend Mate 7, Ascend P1, Ascend P6, Ascend P7, Ascend P7 Mini, Ascend W1, Ascend Y100, Ascend Y210D, Ascend Y530, Blaze, C199, G7002, G7010, G8, G9 Plus, Honor, Honor 3, Honor 3C, Honor 4X, Honor 5C, Honor 5X, Honor 6, Honor 6 Plus, Honor 6X, Honor 7, Honor 7 Premium, Honor 8, Honor Holly, Honor V8, Honor V8 Max, Mate 8, Mate 9, Mate 9 Lite, Huawei Mate 9 Porsche Design, Mate 9 Pro, Mate S, MediaPad M1, MediaPad T1 8.0, MediaPad X1, MediaPad X2, Nova, Nova Plus, P8, P8 Lite, P8 Max, P9, P9 Lite, P9 Plus, Raven LTE, U7510, U8800 Ideos X5, Union LTE, Vision, Y3, Ascend Y300, Y5, Y5II, Y6, Y6 II, Y600, Y635
Intex: Aqua i5 Mini, Aqua i7, Aqua Superb
JCB: Pro Talk TP851, Sitemaster TP802, Tradesman TP121
Karbonn: A30, A9 Plus, K450, S5 Titanium, Sparkle V, Titanium Hexa, Titanium Octane
Kazam: Thunder2 4.5L, Thunder2 5.0, Tornado2 5.0, Trooper 240, Trooper2 5.0
Konka: Expose 960, Expose 970
Kyocera: DuraForce PRO, Hydro AIR, Hydro VIEW
Lava: Iris 351, Iris 454, Iris 502
Lenovo: A10, A526, A7000, Golden Warrior A8, IdeaTab A2107, K4 Note, K80, K900, Lemon 3, Miix 300, P90, Phab 2 Pro, S660, S850, S860, Tab 2 A10, Tab 2 A8, Tab S8, ThinkPad 8, Vibe k5, Vibe Shot, Vibe X2, Vibe Z2, Vibe Z2 Pro, X2 Pro, Yoga Tablet 10
LG: A 225, A100, A133, A140, Arena, BL40 Chocolate, Class, Cookie Fresh GS290, Cookie Gig KM570, Cookie Lite T300, Cookie Plus GS500, Cookie Style, Enact, Escape, Escape 2, Escape 3, Exalt 2, F60, G Flex, G Flex 2, G Pad 10.1, G Pad 7.0, G Pad 8.0, G Pad 8.3, G Pad II 10.1, G Pro 2, G Stylo, G Vista, G Vista 2, G2, G2 Mini, G3, G3 Beat, G3 S, G3 Stylus, G4, G4 Stylus, G4c, G5, G5 SE, GC900 Viewty Smart, GD510 Pop, GD880 Mini, GD900 Crystal, GM205, GM750, GS101, GT350, GT400 Viewty Smile, GT540 Optimus, GU230, GW300, GW550, GW620, GW910, InTouch Max, Intuition, Jil Sander, Joy, K10, K10 2017, K4, K5, K7, K8, K8 2017, KC910 Renoir, KP500 Cookie, KP501 Cookie, KS365, KU990 Viewty, KU990i, L Bello, L Fino, L35, L40, L70, L80 Dual, L90, L90 Dual, Lancet, Leon, BL20 Chocolate, Lucid 3, Magna, Optimus 2X, Optimus 3D, Optimus 3D Max, Optimus 4X HD, Optimus 7, Optimus 7Q, Optimus Black, Optimus Chat C550, Optimus Chic, Optimus F3Q, Optimus F6, Optimus G, Optimus G Pro, Optimus Hub, Optimus L3, Optimus 5L, Optimus L7, Optimus L7 II, Optimus L9, Optimus Me, Optimus Net, Optimus One, Optimus Pro, Optimus True HD, Prada 3.0, Ray, Rumor Reflex, GW520, Spectrum VS920, Spirit, Spirit 4G, Spree, Stylo 2, Stylo 2 Plus, Stylus 2, Swift GT540, T310 Wink Style, Town C300, Town GT350, Tribute 2, Tribute 5, Tribute HD, V10, V20, Viewty GT, Viewty Lite, Viewty Snap GM360, Volt, Wink 3G, X Cam, X Power, X Screen, Zero
MacBook: 12 Inch, Air 11, Air 13, Pro 13, Pro 15, Pro Retina 13, Pro Retina 15
Meizu: M3 Max, MX3, MX4, MX4 Pro, Pro 5, Pro 6, Pro 7, U10, U20
Microsoft: Lumia 1330, Lumia 430, Lumia 435, Lumia 532, Lumia 535, Lumia 540, Lumia 550, Lumia 640, Lumia 640 XL, Lumia 650, Lumia 850, Lumia 950, Lumia 950 XL, Surface 2, Surface 3, Surface Book, Surface Pro 2, Surface Pro 3, Surface Pro 4
Motorola: Atrix, Atrix HD, Backflip, DEFY Mini, DEFY Plus, DEFY Plus JCB Edition, DEXT, Droid Maxx 2, Droid Mini, Droid RAZR, Droid Razr HD, Droid RAZR Maxx, Droid Razr Maxx HD, DROID Turbo, Droid Turbo 2, Droid Ultra, DVX, ES400, FIRE XT, Flipout, Gleam, Gleam Plus, Milestone, Milestone 2, Moto E 1st Gen, Moto E 2nd Gen, Moto E 3rd Gen, Moto E3, Moto G 1st Gen , Moto G 2nd Gen, Moto G 3rd Gen, Moto G 4G 2015, Moto G 4G LTE, Moto G Forte, Moto G Turbo Edition, Moto G4, Moto G4 Play, Moto G4 Plus, Moto X 1st Gen, Moto X 2nd Gen, Moto X Force, Moto X Play, Moto X Pure Edition, Moto X Style, Moto Z, Moto Z Force, Moto Z Play, MOTOLUXE, MotoSmart, Photon 4G, Photon Q 4G, PRO, PRO PLUS, Quench, RAZR, RAZR HD, RAZR i XT890, Wilder, XOOM, XT316, XT720
Motorola : W156
Nextbit: Robin
Nokia: 100, 101, 106, 110, 112, 130, 1616, 1800, 208, 215, 220, 2220, 230, 2690, 2710 Navigation Edition, 2720 Fold, 2730 Classic, 301, 500, 5228, 5230, 5235 , 5250, 5330 Mobile TV Edition, 5800 Xpress Music, 600, 6220 Classic, 6300, 6303 Classic, 6303i Classic, 6600 Slide, 6600i Slide, 6700 Classic, 6700 Slide, 6760 Slide, 700, 701, 7230 Slide, 808 PureView, 8800 Diamond Arte, Asha 201, Asha 202, Asha 203, Asha 210, Asha 230, Asha 300, Asha 302, Asha 303, Asha 306, Asha 502, C1 00, C1 01, C1 02, C2, C2 01, C2 02, C2 03, C2 05, C3, C3 01 Touch and Type, C3 01.5, C5, C5 03, C6, C6 01, C7, E5, E55, E6, E63, E7, E71, E72, E75, Lumia 1020, Lumia 1320, Lumia 1520, Lumia 2520, Lumia 510, Lumia 520, Lumia 521, Lumia 525, Lumia 530, Lumia 610, Lumia 620, Lumia 625, Lumia 630, Lumia 635, Lumia 636, Lumia 638, Lumia 710, Lumia 720, Lumia 730, Lumia 735, Lumia 800, Lumia 810, Lumia 820, Lumia 822, Lumia 830, Lumia 900, Lumia 920, Lumia 925, Lumia 929, Lumia 930, Lumia Icon, N1, N8, N85, N9, N900, N95, N95 8GB, N96, N97, N97 mini, Oro, X Plus, X1 00, X1 01, X2, X2 01, X3, X3 02 Touch And Type, X3-02, X5 01, X6, X7, XL
Oppo: Find 5, Find 7, Find 7a, R3, R5, R7, R7 Plus
Orange: Amsterdam, Atlanta, Barcelona, Boston, Dallas, Gova, Lisbon, Miami, Monte Carlo, Rio, Rio II, San Diego, San Francisco, San Francisco II, Santa Clara, Stockholm, Sydney, Vegas
Palm: Pixi, Pixi Plus, Pre, Pre 2, Pre 3, Pre Plus
Panasonic: Eluga, Eluga Power, Lumix CM1
Samsung: Ativ S, ATIV SE, B3210 Corby TXT, B3310, B3410, B5722, B7620 Giorgio Armani , B7722, Beam I8520, Blade, C3050, C3212, C3300 Libre, C3350 Solid X Cover, C3510, C3630, C6112, Champ Deluxe Duos, Chat 222, Chat 322, Chat 335, Chat B3410W, Core LTE, Diva Diamond, E1050, E1080, E1150i, E1170, E2120, E2120B, E2121B, E2330, E2370, E2600, Exhilarate i577, F480 Player Style, F480 Tocco, Flutter, G9098, Galaxy 3 I5800, Galaxy 550, Galaxy 551, Galaxy A3, Galaxy A3 2015, Galaxy A3 2016, Galaxy A3 2017, Galaxy A5, Galaxy A5 2015, Galaxy A5 2016, Galaxy A5 2017, Galaxy A7, Galaxy A7 2015, Galaxy A7 2017, Galaxy A8, Galaxy A9, Galaxy Ace 2, Galaxy Ace 3 3G, Galaxy Ace 3 4G, Galaxy Ace 4, Galaxy Ace Duos S6802, Galaxy Ace Plus, Galaxy Ace, Galaxy Ace Style, Galaxy Alpha, Galaxy Amp 2, Galaxy Amp Prime, Galaxy Apollo i5801, Galaxy Avant, Galaxy Axiom, Galaxy Beam, Galaxy Beam 2, Galaxy Chat B5330, Galaxy Core, Galaxy Core 4G, Galaxy Core Advance, Galaxy Core II, Galaxy Core Prime, Galaxy E5, Galaxy E7, Galaxy Europa I5500, Galaxy Express, Galaxy Express 2, Galaxy Express Prime, Galaxy Extreme, Galaxy F, Galaxy Fame, Galaxy Fit S5670, Galaxy Folder 2, Galaxy Gio S5660, Galaxy Grand, Galaxy Grand 2, Galaxy Grand Prime, Galaxy Grand Z, Galaxy J Max, Galaxy J1, Galaxy J1 2015, Galaxy J1 Ace 4G, Galaxy J1 Mini, Galaxy J2, Galaxy J2 2015, Galaxy J3, Galaxy J3 Pro, Galaxy J3 V, Galaxy J5, Galaxy J5 2015, Galaxy J5 2017, Galaxy J5 Prime, Galaxy J7, Galaxy J7 2015, Galaxy J7 2017, Galaxy J7 Prime, Galaxy K Zoom, Galaxy Lite, Galaxy M Pro, Galaxy Mega 2, Galaxy Mega 5.8, Galaxy Mega 6.3, Galaxy Mini 2, Galaxy Mini S5570, Galaxy Next Turbo, Galaxy Nexus, Galaxy Note, Galaxy Note 10.1, Galaxy Note 10.1 2014, Galaxy Note 2, Galaxy Note 3, Galaxy Note 3 Neo, Galaxy Note 4, Galaxy Note 5, Galaxy Note 7, Galaxy Note Edge, Galaxy Note Pro, Galaxy On5, Galaxy On7, Galaxy Pocket, Galaxy Portal, Galaxy Pro, Galaxy R, Galaxy Round, Galaxy S Advance, Galaxy S Duos, Galaxy S I9000, Galaxy S Plus I9001, Galaxy S2, Galaxy S2 LTE, Galaxy S2 Skyrocket, Galaxy S3, Galaxy S3 LTE, Galaxy S3 Mini, Galaxy S4, Galaxy S4 Active, Galaxy S4 Mini, Galaxy S4 Zoom, Galaxy S5, Galaxy S5 Active, Galaxy S5 Mini, Galaxy S5 Neo, Galaxy S5 Prime, Galaxy S5 Sport, Galaxy S6, Galaxy S6 Active, Galaxy S6 Edge, Galaxy S6 Edge Plus, Galaxy S7 Active, Galaxy Star 2, Galaxy Stellar, Galaxy Tab, Galaxy Tab 10.1, Galaxy Tab 2 10.1, Galaxy Tab 2 7.0, Galaxy Tab 3 10.1, Galaxy Tab 3 7.0, Galaxy Tab 3 8.0, Galaxy Tab 3 Lite , Galaxy Tab 4 10.1, Galaxy Tab 4 7.0, Galaxy Tab 4 8.0, Galaxy Tab 7 Plus, Galaxy Tab 7.7, Galaxy Tab 8.9, Galaxy Tab A 10.1 2016, Galaxy Tab A 7.0, Galaxy Tab A 8.0, Galaxy Tab A 9.7, Galaxy Tab E 9.6, Galaxy Tab Pro 10.1, Galaxy Tab Pro 12.2, Galaxy Tab Pro 8.4, Galaxy Tab S 10.5, Galaxy Tab S 8.4, Galaxy Tab S2 8.0, Galaxy Tab S2 9.7, Galaxy TabPro S, Galaxy Teos, Galaxy Trend Plus, Galaxy Victory 4G, Galaxy W, Galaxy Xcover, Galaxy Xcover 2, Galaxy Xcover 3, Galaxy Y, Galaxy Y Pro, Galaxy Young, Galaxy Young 2, Genio Qwerty, Genio Slide, Genio Touch, Glamour S5150, Google Nexus S, Galaxy Grand Neo, H1, i5500 Corby, i5500 Galaxy 5, i5700 Galaxy Portal, I8520 Halo, i900 Omnia, I9003 Galaxy SL, I9010 Galaxy S Giorgio Armani, Jet S8000, Jet Ultra Edition, Knox, Lindy M5650, M3310, M8800 Pixon, Miss Player, Monte Bar C3200, Monte Slider E2550, Naos, Omnia 7, Omnia HD i8910, Omnia II I8000, Omnia Lite, Omnia M , Omnia PRO 4 B7350, Omnia Pro B7330, Omnia Pro B7610, Omnia W, Pixon12, Player 5, Player Light, Player Mini, Player One, Player Star, Player Star 2, Rex 60, Rex 70, Rex 80, Rex 90, Rocky E1130, S2 Plus, S3100, S3370, S3650 Corby, S5150 Diva Folder, S5230 Star, S5260 Star II, S5530, S5560, S5600, Monte S5620, S5750, S9110, Shark 3 S3550, Shark S5350 , Solid Immerse, Teos, Tocco Icon, Tocco Lite 2, Tocco Quick Tap, Tocco Ultra Edition, U900, Wave 2 Pro S5330, Wave 2 S5250, Wave 3, Wave 525, Wave 533, Wave 575, Wave 723, Wave II S8530, Wave M, Wave S8500, Wave Y, Z, Z1
Sharp: Aquos Crystal, Aquos Crystal 2, Aquos Xx 302Sh
Smartisan: T1
Sonim: XP2 Spirit, XP3
Sony: acro S, Xperia E5, Xperia A2, Xperia A4, Xperia C, Xperia C3, Xperia C4, Xperia C5 Ultra, Xperia E, Xperia E1, Xperia E3, Xperia E4, Xperia E4g, Xperia go, Xperia ion, Xperia J, Xperia L, Xperia M, Xperia M Dual, Xperia M2, Xperia M2 Aqua, Xperia M4 Aqua, Xperia M5, Xperia Miro, Xperia P, Xperia S, Xperia S Tablet, Xperia SL, Xperia Sola, Xperia SP, Xperia T, Xperia T2 Ultra, Xperia T2 Ultra Dual, Xperia T3, Xperia Tipo, Xperia tipo dual, Xperia TX, Xperia U, Xperia V, Xperia X, Xperia X Compact, Xperia X Performance, Xperia XA, Xperia XA Ultra, Xperia XA1 Ultra, Xperia XL, Xperia XZ, Xperia Z, Xperia Z Tablet, Xperia Z Ultra, Xperia Z1, Xperia Z1 Compact, Xperia Z1f, Xperia Z1S, Xperia Z2, Xperia Z2 Tablet, Xperia Z3, Xperia Z3 Compact, Xperia Z3 Tablet Compact, Xperia Z3+, Xperia Z4, Xperia Z4 Tablet, Xperia Z4 Ultra, Xperia Z5, Xperia Z5 Compact, Xperia Z5 Premium, Xperia ZL, Xperia ZL2, Xperia ZR, Z2a Compact
Sony Ericsson: Aino, Aspen, C510, C901, C905, Cedar, Elm, Hazel, Mix Walkman, Naite, Satio, Spiro, txt, Txt Pro, Vivaz, Vivaz Pro, W8, W995, X10, Xperia Active, XPERIA Arc, Xperia arc S, XPERIA Kyno, XPERIA Mini, XPERIA Mini Pro, XPERIA Neo, Xperia neo V, Xperia Play, XPERIA Pro, Xperia Ray, Xperia X1, XPERIA X10 Mini, XPERIA X10 Mini Pro, Xperia X2, XPERIA X8, Yari, Yendo, Zylo
Spice: Dream Uno, Stellar Mi-520, Stellar Mi-526
T Mobile: G1, G2 Touch, myTouch 3G Slide, Pulse, Pulse Mini, Vairy Text, Vairy Touch II, Vibe, Zest E110
TMobile: Accord, Affinity, Beat, Energy, Groove, Rapport, Unity, Vivacity
Toshiba: Encore 2 10, Encore 2 8, Excite Go, G 810, K01, TG01, TG02
Folio 100: Accessories
VAIO: Phone Biz
Virgin: VM 720, VM202, VM665, VM800, VM820
Vodafone: 340, 345, 351, 360 H1, 360 M1, 455, 540, 543, 547, 550, 553, 845, 945, M1, Smart 4 Mini, Smart 4 Turbo, Smart 4G, Smart 858, Smart first 6, Smart Mini, Smart Platinum 7, Smart Prime 6, Smart Prime 7, Smart Speed 6, Smart Tab II 10, Smart Ultra 6, Smart Ultra 7, Tab prime 6, Touch 541
Wiko: Barry, Birdy 4G, Bloom, Bloom 2, Cink Five, Cink Peax 2, Cink Slim, Cink Slim 2, Darkmoon, Darknight, Darkside, Fever 4G, Fever SE, Fizz, Freddy, Getaway, Goa, Highway, Highway 4G, Highway Pure 4G, Highway Signs, highway Star 4G, Jerry, Jimmy, Kite 4G, Lenny, Lenny 2, Lenny 3, Mazing, Night Fever, Pulp 4G, Pulp Fab 4G, Rainbow, Rainbow 4G, Rainbow Jam, Rainbow Jam 4G, Rainbow Lite, Rainbow Lite 4G, Rainbow UP, Rainbow UP 4G, Ridge 4G, Ridge Fab 4G, Robby, Selfy 4G, Silde 2, Slide, Stairway, Sunny, Sunset, Sunset 2, Tommy, U Feel, U Feel Lite, Wax
Wileyfox: Spark, Spark Plus, Spark X, Storm, Swift, Swift 2, Swift 2 Plus
Xiaomi: Mi 3, Mi 4, Mi 4i, Mi 5, Mi 5s, Mi 5s Plus, Mi Mix, Mi Note, Mi Note 2, Mi Pad 7.9, RedMi, RedMi 2, Redmi 3, Redmi 3S, RedMi Note, Redmi Note 2, Redmi Note 3, Redmi Note Prime
Xolo: A500, A500s, Play, Q1000, Q1000s, Q1100, Q2000, Q3000, Q700, Q800, X1000
YU: Yutopia
ZTE: Avid Plus, Axon 7, Axon 7 Mini, Axon Lux, Axon Pro, Blade 2, Blade A430, Blade D6, Blade L2, Blade S6, Blade S6 Plus, Blade S7, Blade V7, Blade V7 Lite, Blade Vec 3G, Blade Vec 4G, Grand Memo II LTE, Grand S, Grand X Max+, Grand X2, Grand X3, Grand X4, Kis 3, Kis 3 Max, KPN Smart 200, Libra, Martin II, Nubia Prague S, Nubia X6, Nubia Z11, Nubia Z9, Obsidian, Open, Racer, Salem, Skate, Sonata 3, Tania, Tureis, Warp 7, X760, Zmax 2, Zmax Pro, ZTE Blade Q Mini