Most Useful Customer Reviews
Andrew Simpson
Bicester
Veho Triple USB Car charger
6th January 2017
Simples!
Excellent product - everyone in the car is now happy!
---
Big Dave
Balsall Common
iPhone 5, ipad and Samsung S6 (work).
15th June 2015
3 is not a crowd
A great little charger which works well with my iphone, S6 and iPad. Small enough as not to get in teh way and to pop in the glove box when not needed. Very useful to have the usb ports marked with the output on the device. The charging time is incrediblly quick as was the delivery time from this company. Well worth the money.
Read 69 customer reviews
|
Write a review
---
Why Buy?
Charge 3 devices at the same time

5.1Amps - Rapid charge technology

Charges any USB powered mobile device

Sleek aluminium body
---
Description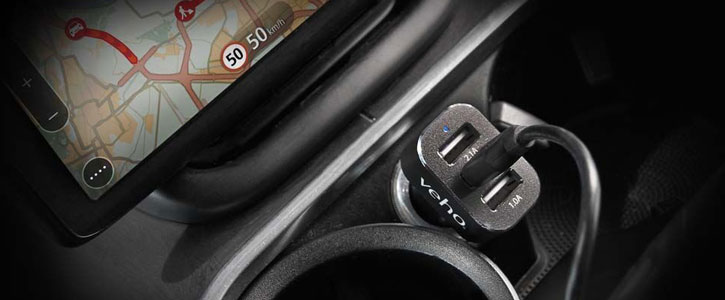 We all love our technological items be it phones, tablets and other mobile devices. When travelling in the car though, keeping all of these fully charged can be a challenge - but not now...
Introducing the super fast and powerful, Veho VAA-010 3 Port 5.1A Car Charger - the only in-car charging accessory you will ever need!
Charge 3 devices at the same time
Ensure all of your devices are fully charged when you arrive at your destination with the Veho 3 Port Car Charger.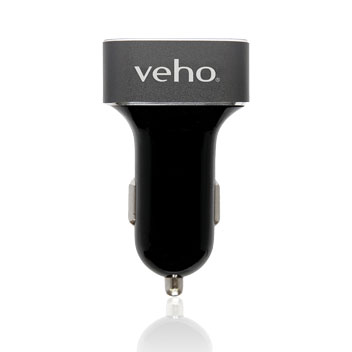 Featuring not one, not two, but an impressive three USB ports for all of your in-car charging needs.
Connect your smartphone, a tablet and still have a free USB port remaining for another device, which may include your sat nav. Enjoy the versatility of 3 USB ports for simultaneously charging 3 devices.
5.1 Amps - Rapid charge technology
Not only can you charge 3 devices at the same time, but the VAA-010 Car Charger also features rapid charge technology.
Your smartphone can charge at super fast rates, possibly even faster than the supplied mains charger that came with your device.
For tablets - Veho VAA-010 features two ports suitable for even the most power hungry devices - with one optimised specifically for the iPad.
Featuring ports rated at 2.1A, 2.0A and 1.0A - totalling a staggeringly powerful 5.1 Amps!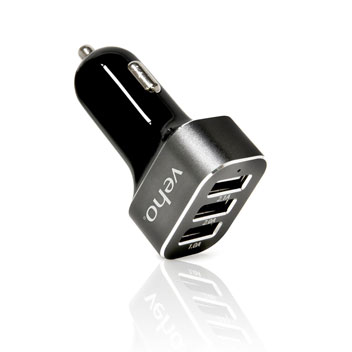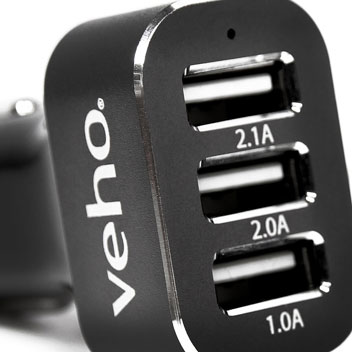 Charges any USB powered mobile device
Using your existing USB charging cables, you can plug your USB charging compatible device into the Veho for extra juice. Never be without power, so you can make that important phone call or for power intensive location apps including using your phone as a sat nav.
Sleek aluminium body
Not only will this accessory charge your devices when in the car, but it also looks great with its sleek aluminium body housing the 3 powerful and super useful USB ports.
Specifications
Input: DC12-18V
Rated Output: 5V 5.1A
USB Output 1: 5V 2.1A
USB Output 2: 5V 2.0A
USB Output 3: 5V 1.0A
Cable not included
---
Key Details
Charger Type: Car Charger
Colour: Black, Silver
Part No: VAA-010
Acer: Acer Liquid Z3, Allegro, beTouch E120, beTouch E130, Iconia, Iconia A1-830, Iconia B1-720, Liquid E1, Liquid E2, Liquid E3, Liquid Jade, Liquid Jade Primo, Liquid Jade Z, Liquid M220, Liquid Metal, Liquid S1, Liquid S2, Liquid X1, Liquid X2, Liquid Z200, Liquid Z4, Liquid Z5, Liquid Zest, Liquid Zest Plus, Stream
Alcatel: A5 LED, Fierce XL, Idol 4, Idol 4S, Idol Alpha, Touch Idol X 6040D, One Touch Evo 7, One Touch Hero 2C, One Touch T10, OneTouch Hero 2, OneTouch Idol, OneTouch Idol 3 4.7 inch, OneTouch Idol 3 5.5 inch, OneTouch Idol X+ 6043D, OneTouch Pop C3, OneTouch Pop C7, OneTouch SPop, OT 665, OT 710, OT 799, OT 990, OT 991, OT-292, Pixi 4 5, Pop 4, Pop 4 Plus, Pop 4S, POP S3, POP S9
Amazon: Fire, Fire 7, Fire HD 10, Fire HD 8, Kindle Fire HD 8 9, Fire Kids Edition, Fire Phone, Kindle, Kindle 6 Inch 2015, Kindle 6th Gen, Kindle DX, Kindle Fire, Kindle Fire 7, Kindle Fire HD 2012, Kindle Fire HD 2013, Kindle Fire HD 6, Kindle Fire HD 7, Kindle Fire HDX, Kindle Fire HDX 8.9, Kindle International , Kindle Keyboard, Kindle Oasis, Kindle Paperwhite, Kindle Touch, Kindle Voyage
Apple: iPad, iPad, iPad 1, iPad 2, iPad 3, iPad 4, iPad 9.7, iPad Air, iPad Air 2, iPad Mini, iPad Mini, iPad Mini 2, iPad Mini 3, iPad Mini 4, iPad Pro 12.9 inch, iPad Pro 9.7 inch, iPad Pro 9.7 inch, iPad with Retina Display, iPhone, iPhone, iPhone 3G, iPhone 3GS, iPhone 4, iPhone 4S, iPhone 4S, iPhone 5, iPhone 5, iPhone 5C, iPhone 5C, iPhone 5S, iPhone 5S, iPhone 6, iPhone 6, iPhone 6 Plus, iPhone 6 Plus, iPhone 6S, iPhone 6S, iPhone 6S Plus, iPhone 7, iPhone 7, iPhone 7 Plus, iPhone 7 Plus, iPhone SE, iPhone SE, iPod 3G, iPod 4G, iPod Classic, iPod Color, iPod Mini, iPod Nano, iPod Nano 2G, iPod Nano 3G, iPod Photo, iPod Touch 5G, iPod Touch 6G, iPod Video
Archos: 40 Power, 45 Helium 4G, 50 Diamond, 50 Graphite, 50 Oxygen, 50 Platinum, 50c Oxygen, 55 Helium, 55 Helium 4 Seasons, 55 Helium Ultra, 80 Helium 4G, Diamond 2 Plus
Asus: Live, Memo Pad 10, MEMO Pad 8, PadFone E, PadFone Mini, PadFone X, Transformer Book Duet, VivoTab Note 8, Zenfone 2, Zenfone 2 Deluxe, Zenfone 3, Zenfone 3 Deluxe, Zenfone 3 Ultra, Zenfone 3 Zoom, ZenFone 4, ZenFone 5, ZenFone 6, Zenfone AR, Zenfone Max, ZenFone Zoom, ZenPad 7.0 Z370CG, ZenPad C 7.0, ZenPad C 7.0 Z170MG, ZenPad S 8.0 Z580C, ZenPad S 8.0 Z580CA
Barnes & Noble: Nook 7
BlackBerry: 8220 Pearl, 8520 Curve, 8900 Curve, 9320 Curve, 9720, Aurora, Bold 9700, Bold 9780, Bold 9790, Bold 9900, Classic, Curve 3G 9300, Curve 9360, Curve 9380, DTEK50, DTEK60, KEYone, Leap, Passport, Passport Silver Edition, Pearl 3G, Priv, Q10, Q5, Storm 9530, Storm2, Torch 9800, Torch 9810, Torch 9860, Vienna, Z10, Z20, Z3, Z30
Blackberry: Playbook
BLU: Vivo 6
BQ: Aquaris 5 HD, Aquaris 5.7, Aquaris E10, Aquaris E4, Aquaris E4.5, Aquaris E5, Aquaris E5 4G, Aquaris E6, Aquaris M10, Aquaris X5, Cervantes, Curie 2, Curie 2 Quad Core, Edison 2, Edison 2 Quad Core
Bush: Eluma
Coolpad: Torino S
Coship: Moly X1
Dell: Venue, Venue 8 7000, Venue 8 Pro, Venue Pro
Doro: Liberto 810, Liberto 820, Liberto 820 Mini, Liberto 825
EE: Eagle, Harrier, Harrier Mini, Harrier Tab, Kestrel, Rook
Google: Android One, Nexus 4, Nexus 5 2013, Nexus 5X, Nexus 6, Nexus 6P, Nexus 7 2012, Nexus 7 2013, Nexus 9, Nexus One, Nexus S, Pixel, Pixel C, Pixel XL
HP: 8 1401, Elite X3, Slate 7, Slate6 VoiceTab, Slate7 VoiceTab, Steam 7, TouchPad
HTC: 10, 10 evo, 7 Pro, 8S, 8X, Bolt, Butterfly, Butterfly 2, Butterfly 3, ChaCha, Desire, Desire 10, Desire 10 Lifestyle, Desire 10 Pro, Desire 200, Desire 210, Desire 300, Desire 310, Desire 320, Desire 500, Desire 501, Desire 510, Desire 516, Desire 526, Desire 530, Desire 601, Desire 610, Desire 612, Desire 616, Desire 620, Desire 626, Desire 628, Desire 630, Desire 650, Desire 700 Dual SIM, Desire 709d, Desire 728, Desire 816, Desire 820, Desire 825, Desire 826, Desire 828, Desire 830, Desire C, Desire Eye, Desire HD, Desire S, Desire VC, Desire X, Desire Z, Droid DNA, EVO 3D, Evo 4G LTE, Explorer, First, Google Nexus One, Gratia, HD mini, HD2, HD7, HD7S, Incredible S, Inspire, Legend, M8 Ace, Mozart, One A9, One A9s, One Dual SIM, One E8, One E9, One E9 Plus, One M7, One M8, One M8 Ace, One M8 Dual SIM, One M8 Eye, One M8s, One M9, One M9 Plus, One Max, One ME, One Mini, One Mini 2, One Remix, One S, One S9, One SV, One V, One X, One X Plus, One X9, One XL, Radar, Rezound, Rhyme, Salsa, Sensation, Sensation XE, Sensation XL, Thunderbolt, TITAN, Trophy, U Play, U Ultra, Wildfire, Wildfire S
Huawei: Ascend D Quad, Ascend D Quad XL, Ascend D1, Ascend G300, Ascend G330, Ascend G510, Ascend G526, Ascend G6, Ascend G6 4G, Ascend G600, Ascend G610, Ascend G7, Ascend G730, Ascend Mate, Ascend Mate 2, Ascend Mate 3, Ascend Mate 7, Ascend P1, Ascend P6, Ascend P7, Ascend P7 Mini, Ascend W1, Ascend Y100, Ascend Y210D, Ascend Y530, Blaze, C199, G7002, G7010, G8, G9 Plus, Honor, Honor 3, Honor 3C, Honor 4X, Honor 5C, Honor 5X, Honor 6, Honor 6 Plus, Honor 6S, Honor 6X, Honor 7, Honor 7 Premium, Honor 8, Honor Holly, Honor Magic, Honor V8, Honor V8 Max, Huawei Mate 9 Porsche Design, Mate 8, Mate 9, Mate 9 Lite, Mate 9 Pro, Mate S, MediaPad M1, MediaPad T1 8.0, MediaPad X1, MediaPad X2, Nova, Nova Plus, P10, P10 Lite, P10 Plus, P8, P8 Lite, P8 Max, P9, P9 Lite, P9 Plus, Raven LTE, U8800 Ideos X5, Union LTE, Vision, Y3, Ascend Y300, Y5, Y5II, Y6, Y6 II, Y600, Y635
Intex: Aqua i5 Mini, Aqua i7, Aqua Superb
JCB: Pro Talk TP851, Sitemaster TP802, Tradesman TP121
Karbonn: A30, A9 Plus, K450, S5 Titanium, Sparkle V, Titanium Hexa, Titanium Octane
Kazam: Thunder2 4.5L, Thunder2 5.0, Tornado2 5.0, Trooper 240, Trooper2 5.0
Konka: Expose 960, Expose 970
Kyocera: DuraForce PRO, Hydro AIR, Hydro VIEW
Lava: Iris 351, Iris 454, Iris 502
Lenovo: A10, A526, A7000, Golden Warrior A8, IdeaTab A2107, K4 Note, K80, K900, Lemon 3, Miix 300, P2, P90, Phab 2 Pro, S660, S850, S860, Tab 2 A10, Tab 2 A8, Tab S8, ThinkPad 8, Vibe k5, Vibe Shot, Vibe X2, Vibe Z2, Vibe Z2 Pro, X2 Pro, Yoga Tablet 10, ZUK Edge, ZUK Z1
LG: A 225, A100, BL20 Chocolate, BL40 Chocolate, Class, Cookie Fresh GS290, Cookie Gig KM570, Cookie Lite T300, Cookie Plus GS500, Cookie Style, Enact, Escape, Escape 2, Escape 3, Exalt 2, F60, G Flex, G Flex 2, G Pad 10.1, G Pad 8.0, G Pad 8.3, G Pad II 10.1, G Pro 2, G Stylo, G Vista, G Vista 2, G2, G2 Mini, G3, G3 Beat, G3 S, G3 Stylus, G4, G4 Stylus, G4c, G5, G5 SE, G6, GD510 Pop, GD880 Mini, GD900 Crystal, GM205, GM750, GT350, GT400 Viewty Smile, GT505, GT540 Optimus, GW620, GW910, InTouch Max, Intuition, Jil Sander, Joy, K10, K4, K5, K7, K8, L Bello, L Fino, L35, L40, L70, L80 Dual, L90, L90 Dual, Lancet, Leon, Lucid 3, Magna, Optimus 2X, Optimus 3D, Optimus 3D Max, Optimus 4X HD, Optimus 7, Optimus 7Q, Optimus Black, Optimus Chat C550, Optimus Chic, Optimus F3Q, Optimus F6, Optimus G, Optimus G Pro, Optimus Hub, Optimus L3, Optimus 5L, Optimus L7, Optimus L7 II, Optimus L9, Optimus Me, Optimus Net, Optimus One, Optimus Pad, Optimus Pro, Optimus True HD, Prada 3.0, Ray, Rumor Reflex, Spectrum VS920, Spirit, Spirit 4G, Spree, Stylo 2, Stylo 2 Plus, Stylus 2, Swift GT540, T310 Wink Style, Town C300, Town GT350, Tribute 2, Tribute 5, Tribute HD, V10, V20, Viewty GT, Viewty Snap GM360, Volt, Wink 3G, X Cam, X Power, X Screen, Zero
Meizu: M3 Max, MX3, MX4, MX4 Pro, Pro 5, Pro 6, Pro 7, U10, U20
Microsoft: Lumia 1330, Lumia 430, Lumia 435, Lumia 532, Lumia 535, Lumia 540, Lumia 550, Lumia 640, Lumia 640 XL, Lumia 650, Lumia 850, Lumia 950, Lumia 950 XL, Surface 2, Surface 3
Motorola: Atrix, Atrix HD, Backflip, DEFY Mini, DEFY Plus, DEFY Plus JCB Edition, DEXT, Droid Maxx 2, Droid Mini, Droid RAZR, Droid Razr HD, Droid RAZR Maxx, Droid Razr Maxx HD, DROID Turbo, Droid Turbo 2, Droid Ultra, DVX, ES400, FIRE XT, Flipout, Gleam, Gleam Plus, Milestone, Milestone 2, Moto E 1st Gen, Moto E 2nd Gen, Moto E 3rd Gen, Moto E3, Moto G 1st Gen , Moto G 2nd Gen, Moto G 3rd Gen, Moto G 4G 2015, Moto G 4G LTE, Moto G Forte, Moto G Turbo Edition, Moto G4, Moto G4 Play, Moto G4 Plus, Moto G5, Moto G5 Plus, Moto X 1st Gen, Moto X 2nd Gen, Moto X Force, Moto X Play, Moto X Pure Edition, Moto X Style, Moto Z, Moto Z Force, Moto Z Play, MOTOLUXE, MotoSmart, Photon 4G, Photon Q 4G, PRO, PRO PLUS, Q9, Quench, RAZR, RAZR HD, RAZR i XT890, RAZR2 V8, RAZR2 V9, ROKR E8, Wilder, XOOM, XT316, XT720
Nextbit: Robin
Nokia: 106, 130, 208, 215, 220, 230, 301, 3310 (2017), 5630 Xpress Music, 6500 Classic, 7900 Prism, 808 PureView, 8600 Luna, 8800 Arte, 8800 Diamond Arte, Asha 201, Asha 202, Asha 203, Asha 210, Asha 230, Asha 300, Asha 302, Asha 303, Asha 306, Asha 502, C1 01, C1 02, C2, C3, C5 03, C6 01, C7, E5, E52, E55, E7, Lumia 1020, Lumia 1320, Lumia 1520, Lumia 2520, Lumia 510, Lumia 520, Lumia 521, Lumia 525, Lumia 530, Lumia 610, Lumia 620, Lumia 625, Lumia 630, Lumia 635, Lumia 636, Lumia 638, Lumia 720, Lumia 730, Lumia 735, Lumia 800, Lumia 810, Lumia 820, Lumia 822, Lumia 830, Lumia 900, Lumia 920, Lumia 925, Lumia 929, Lumia 930, Lumia Icon, N1, N85, N86 8MP, N900, N97, N97 mini, Oro, X Plus, X2, X3 02 Touch And Type, X5 01, XL
Nook: HD Plus
Oppo: Find 5, Find 7, Find 7a, R3, R5, R7, R7 Plus
Orange: Amsterdam, Atlanta, Barcelona, Boston, Dallas, Gova, Lisbon, Rio, Rio II, San Diego, San Francisco, San Francisco II, Sydney
Panasonic: Eluga, Eluga Power, Lumix CM1
Samsung: Ativ S, ATIV SE, B3310, B3410, B5310 Corby PRO, B5722, B7620 Giorgio Armani , B7722, Beam I8520, Beat DISC, Blade, Blue Earth, C3300 Libre, C3350 Solid X Cover, C3630, C5510, C6112, Champ Deluxe Duos, Chat 222, Chat 322, Chat 335, Chat B3410W, Core LTE, Diva Diamond, E2100, E2330, E2370, E2600, Exhilarate i577, Flutter, G810, G9098, Galaxy , Galaxy 3 I5800, Galaxy 550, Galaxy 551, Galaxy A3, Galaxy A3 2015, Galaxy A3 2017, Galaxy A5, Galaxy A5 2015, Galaxy A5 2017, Galaxy A7, Galaxy A7 2015, Galaxy A7 2017, Galaxy A8, Galaxy A9, Galaxy Ace 2, Galaxy Ace 3 3G, Galaxy Ace 3 4G, Galaxy Ace 4, Galaxy Ace Duos S6802, Galaxy Ace Plus, Galaxy Ace, Galaxy Ace Style, Galaxy Alpha, Galaxy Amp 2, Galaxy Amp Prime, Galaxy Apollo i5801, Galaxy Avant, Galaxy Axiom, Galaxy Beam, Galaxy Beam 2, Galaxy Book 10.6, Galaxy Book 12.0, Galaxy Chat B5330, Galaxy Core, Galaxy Core 4G, Galaxy Core Advance, Galaxy Core II, Galaxy Core Prime, Galaxy E5, Galaxy E7, Galaxy Europa I5500, Galaxy Express, Galaxy Express 2, Galaxy Express Prime, Galaxy Extreme, Galaxy F, Galaxy Fame, Galaxy Fit S5670, Galaxy Folder 2, Galaxy Gio S5660, Galaxy Grand, Galaxy Grand 2, Galaxy Grand Prime, Galaxy Grand Z, Galaxy J Max, Galaxy J1, Galaxy J1 2015, Galaxy J1 Ace 4G, Galaxy J1 Mini, Galaxy J2, Galaxy J2 2015, Galaxy J3, Galaxy J3 2017, Galaxy J3 Pro, Galaxy J3 V, Galaxy J5, Galaxy J5 2015, Galaxy J5 Prime, Galaxy J7, Galaxy J7 2015, Galaxy J7 2017, Galaxy J7 Prime, Galaxy K Zoom, Galaxy Lite, Galaxy M Pro, Galaxy Mega 2, Galaxy Mega 5.8, Galaxy Mega 6.3, Galaxy Mini 2, Galaxy Mini S5570, Galaxy Next Turbo, Galaxy Nexus, Galaxy Note, Galaxy Note 10.1 2014, Galaxy Note 2, Galaxy Note 3, Galaxy Note 3 Neo, Galaxy Note 4, Galaxy Note 5, Galaxy Note 7, Galaxy Note 8.0, Galaxy Note Edge, Galaxy Note Pro, Galaxy On5, Galaxy On7, Galaxy Pocket, Galaxy Portal, Galaxy Pro, Galaxy R, Galaxy Round, Galaxy S Advance, Galaxy S Duos, Galaxy S I9000, Galaxy S Plus I9001, Galaxy S2, Galaxy S2 LTE, Galaxy S2 Skyrocket, Galaxy S3, Galaxy S3 LTE, Galaxy S3 Mini, Galaxy S4, Galaxy S4 Active, Galaxy S4 Mini, Galaxy S4 Zoom, Galaxy S5, Galaxy S5 Active, Galaxy S5 Mini, Galaxy S5 Neo, Galaxy S5 Prime, Galaxy S5 Sport, Galaxy S6, Galaxy S6 Edge, Galaxy S6 Edge Plus, Galaxy S7, Galaxy S7 Active, Galaxy S7 Edge, Galaxy S8, Galaxy S8 Plus, Galaxy Star 2, Galaxy Stellar, Galaxy Tab 3 Lite , Galaxy Tab 4 10.1, Galaxy Tab 4 7.0, Galaxy Tab 4 8.0, Galaxy Tab A 10.1 2016, Galaxy Tab A 7.0, Galaxy Tab A 8.0, Galaxy Tab A 9.7, Galaxy Tab E 9.6, Galaxy Tab Pro 10.1, Galaxy Tab Pro 12.2, Galaxy Tab Pro 8.4, Galaxy Tab S 10.5, Galaxy Tab S 8.4, Galaxy Tab S2 8.0, Galaxy Tab S2 9.7, Galaxy Tab S3, Galaxy Teos, Galaxy Trend Plus, Galaxy Victory 4G, Galaxy W, Galaxy Xcover, Galaxy Xcover 2, Galaxy Xcover 3, Galaxy Y, Galaxy Y Pro, Galaxy Young, Galaxy Young 2, Genio PRO, Genio Qwerty, Glamour S5150, Google Nexus S, Galaxy Grand Neo, H1, i5500 Corby, i5500 Galaxy 5, i5700 Galaxy Portal, i8510 INNOV8, I8520 Halo, I9003 Galaxy SL, I9010 Galaxy S Giorgio Armani, Jet S8000, Jet Ultra Edition, Knox, Lindy M5650, Lucido, M2310, M2510, M3310, M7500 Emporio Armani, M7600 Beat DJ, Miss Player, Monte Bar C3200, Monte S5620, Naos, Omnia 7, Omnia HD i8910, Omnia II I8000, Omnia Lite, Omnia M , Omnia PRO 4 B7350, Omnia Pro B7330, Omnia Pro B7610, Omnia W, Pixon12, Player 5, Player Mini, Player Star, Player Star 2, Preston, Rex 60, Rex 70, Rex 80, Rex 90, S2 Plus, S3370, S5150 Diva Folder, S5260 Star II, S5530, S5560, S5600, S5750, S6700, S8300 Ultra Touch, Shark 3 S3550, Shark S5350 , Solid Immerse, Teos, Tocco Icon, Tocco Lite 2, Tocco Quick Tap, Tocco Ultra Edition, Wave 2 Pro S5330, Wave 2 S5250, Wave 3, Wave 525, Wave 533, Wave 575, Wave 723, Wave II S8530, Wave M, Wave S8500, Wave Y, Z, Z1
Sharp: Aquos Crystal, Aquos Crystal 2, Aquos Xx 302Sh
Smartisan: T1
Sonim: XP2 Spirit
Sony: acro S, Xperia A2, Xperia A4, Xperia C, Xperia C3, Xperia C4, Xperia C5 Ultra, Xperia E, Xperia E1, Xperia E3, Xperia E4, Xperia E4g, Xperia E5, Xperia go, Xperia ion, Xperia J, Xperia L, Xperia M, Xperia M Dual, Xperia M2, Xperia M2 Aqua, Xperia M4 Aqua, Xperia M5, Xperia Miro, Xperia P, Xperia S, Xperia SL, Xperia Sola, Xperia SP, Xperia T, Xperia T2 Ultra, Xperia T2 Ultra Dual, Xperia T3, Xperia Tipo, Xperia tipo dual, Xperia TX, Xperia U, Xperia V, Xperia X, Xperia X Compact, Xperia X Performance, Xperia XA, Xperia XA Ultra, Xperia XA1, Xperia XA1 Ultra, Xperia XL, Xperia XZ, Xperia XZ Premium, Xperia XZs, Xperia Z, Xperia Z Tablet, Xperia Z Ultra, Xperia Z1, Xperia Z1 Compact, Xperia Z1f, Xperia Z1S, Xperia Z2, Xperia Z2 Tablet, Xperia Z3, Xperia Z3 Compact, Xperia Z3 Tablet Compact, Xperia Z3+, Xperia Z4, Xperia Z4 Tablet, Xperia Z4 Ultra, Xperia Z5, Xperia Z5 Compact, Xperia Z5 Premium, Xperia ZL, Xperia ZL2, Xperia ZR, Z2a Compact
Sony Ericsson: Aspen, Cedar, Hazel, Mix Walkman, Spiro, txt, Txt Pro, Vivaz, Vivaz Pro, W8, X10, Xperia Active, XPERIA Arc, Xperia arc S, XPERIA Kyno, XPERIA Mini, XPERIA Mini Pro, XPERIA Neo, Xperia neo V, Xperia Play, XPERIA Pro, Xperia Ray, XPERIA X10 Mini, XPERIA X10 Mini Pro, Xperia X2, XPERIA X8, Yendo
Spice: Dream Uno, Stellar Mi-520, Stellar Mi-526
T Mobile: myTouch 3G Slide, Pulse, Pulse Mini, Vairy Text, Vairy Touch II
TMobile: Affinity, Beat, Energy, Groove, Vivacity
Toshiba: Encore 2 10, Encore 2 8, Excite Go, K01, TG01, TG02
VAIO: Phone Biz
Vodafone: 345, 351, 360 H1, 360 M1, 455, 550, 553, 845, 945, M1, Smart 4 Mini, Smart 4 Turbo, Smart 4G, Smart 858, Smart first 6, Smart Mini, Smart Platinum 7, Smart Prime 6, Smart Prime 7, Smart Speed 6, Smart Tab II 10, Smart Ultra 6, Smart Ultra 7, Tab prime 6
Wiko: Barry, Birdy 4G, Bloom, Bloom 2, Cink Five, Cink Peax 2, Cink Slim, Cink Slim 2, Darkmoon, Darknight, Darkside, Fever 4G, Fever SE, Fizz, Freddy, Getaway, Goa, Highway, Highway 4G, Highway Pure 4G, Highway Signs, highway Star 4G, Jerry, Jimmy, Kite 4G, Lenny, Lenny 2, Lenny 3, Mazing, Night Fever, Pulp 4G, Pulp Fab 4G, Rainbow, Rainbow 4G, Rainbow Jam, Rainbow Jam 4G, Rainbow Lite, Rainbow Lite 4G, Rainbow UP, Rainbow UP 4G, Ridge 4G, Ridge Fab 4G, Robby, Selfy 4G, Silde 2, Slide, Stairway, Sunny, Sunset, Sunset 2, Tommy, U Feel, U Feel Lite, Wax
Wileyfox: Spark, Spark Plus, Spark X, Storm, Swift, Swift 2, Swift 2 Plus, Swift 2 X
Xiaomi: Mi 3, Mi 4, Mi 4i, Mi 5, Mi 5s, Mi 5s Plus, Mi Mix, Mi Note, Mi Note 2, Mi Pad 7.9, RedMi, RedMi 2, Redmi 3, Redmi 3S, RedMi Note, Redmi Note 2, Redmi Note 3, Redmi Note Prime
Xolo: A500, A500s, Play, Q1000, Q1000s, Q1100, Q2000, Q3000, Q700, Q800, X1000
YU: Yutopia
ZTE: Avid Plus, Axon 7, Axon 7 Mini, Axon Lux, Axon Pro, Blade 2, Blade A430, Blade D6, Blade L2, Blade S6, Blade S6 Plus, Blade S7, Blade V7, Blade V7 Lite, Blade V8 Pro, Blade Vec 3G, Blade Vec 4G, Grand Memo II LTE, Grand S, Grand X Max+, Grand X2, Grand X3, Grand X4, Kis 3, Kis 3 Max, KPN Smart 200, Martin II, Nubia Prague S, Nubia X6, Nubia Z11, Nubia Z9, Obsidian, Open, Salem, Sonata 3, Tania, Warp 7, Zmax 2, Zmax Pro, ZTE Blade Q Mini