Most Useful Customer Reviews
Katie Lowton
Lancashire
Veho Pebble Smartstick Portable Charger - Purple
8th February 2016
Compact and Portable - Very Handy
This was one of four products purchased and all four have been really well received. This little gadget is very handy to have. It isn't massively powerful but when you are about to run out of batter and you can pull this little number from your bag and plug straight in that's all you need to tide you over until you are able to resume full charge from the mains. Very handy and worthwhile. Customer service, speed of delivery was also outstanding and I wouldn't hesitate to recommend this website for new customers and repeat ordering for myself. Overall outstanding service!
---
Bobo Fransen
Sverige
Samsung Galaxy S3
28th April 2013
Works fine - almost 100%
I read two reviews, which was not so positive, before buying the Pebble so I decided to make my own test. I charged the Pebble for 7h (one night) and in the morning the blue light had turn red wich I assumed was a sign saying it is fully charged. I then plugged in the Pebble to my Galaxy S3 which then had only 5% battery left. After 2 hours and 20 minutes my S3 went up to 87% battery power and the Pebble was empty. So it charged my S3 in 2h20m with 82% power which is quite acceptable I think. In the description it says it holds 2200mA which would be correct then if the S3 battery is 2600mA and the Pebble delivered 87% to the S3. So, all in all, I would definately recommend this device to other buyers! I give it 5 stars!
---
Read 153 customer reviews
|
Write a review
---
Why Buy?
Keep your phone charged wherever you are

Includes a USB output for complete universal compatibility

Small, discreet and reusable

2200mA capacity is enough to fully charge most mobile devices

Includes charging adapters for iPhone (30-pin), Micro USB, Mini USB, Sony Ericsson and Nokia
---
Description
Keep your phone charged wherever you are
With mobile phones including many more features than ever before, it's important to ensure that your battery is always charged - so you are able to take that important call, reply to that urgent text message or send an email.
The Veho Pebble Smartstick will charge your portable device on the move without the need for mains power.
Small and light enough to carry around in your bag, the Pebble Smartstick portable emergency charger will provide your mobile device with up to one additional charge.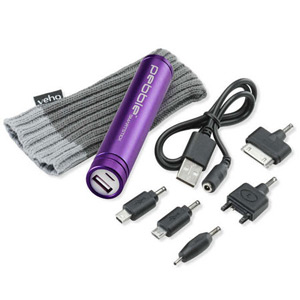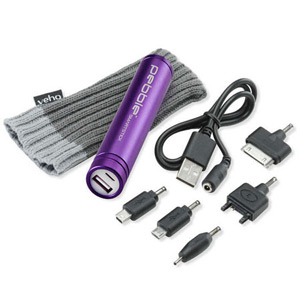 Small, discreet and reusable
Designed to be small, compact and stylish - the Veho battery pack is incredibly slim and can be taken with you wherever you go. Furthermore, it can itself be recharged using the USB charging point - so you can quickly and easily charge it up by plugging in your car charger or connecting it your PC or laptop. This way you can be sure that you have plenty of emergency power for when you need it the most.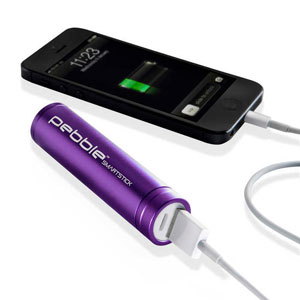 2200mA capacity is enough to fully charge most mobile devices
An outstanding feature of the Veho portable charger is that it includes a battery capacity of 2200mA, allowing you to fully charge almost any smartphone (see included adapters below).
The output is also USB, so you can use a *Lightning cable or Samsung Tab charger if required.
Includes charging adapters for iPhone, Micro USB, Mini USB, Sony Ericsson and Nokia
Included with the battery pack are charging adapters for the iPhone 30-pin, Micro USB devices, Mini USB devices, Sony Ericsson mobiles as well as Nokia models. This means that it is ideal for Apple devices, Blackberrys, Samsung mobile phones and Nokia mobile phones among many others.
*Lightning cable not included
Technical Specifications
Capacity: 2200mAh @ 3.7V
DC-IN: 5V/500mA
DC-OUT: 5V/500mA
Dimensions: 22mm (w) x 86mm (l)
Weight: 70g
---
Key Details
Charger Type: Emergency Charger
Colour: Purple
Part No: VPP-002-SSM