Most Useful Customer Reviews
Jeremy Winters F.
Unknown
iPhone 5s
9th November 2013
Perfect Product
Actually very pleased with this product surprisingly its what I wanted, it protects the iPhone around all sides just enough. It attaches to the iPhone and leaves enough space to add a screen protector.
---
Phill
Unknown
Iphone 5s 64GB white
5th October 2013
THE best case for Protecting against scratches- PERFECT
Having just bought my wife a new Iphone 5S 64GB I obviosluy wanted to protect the phone. With a ZAGG HD screen protector on the front, I wanted something that was thin: a case that would not detract from the beautiful aesthetics and weight of the iphone. Unfortunately everywhere I went seemed to be unable to meet these. From chunky silicone/ rubber bumpers in a variety of cheap-looking plastic covers to hard "super-shock absoribing"plastics that brought back the nostalgic effect of a phone 5 years ago- and weight too! Then, I went home to Mobilefun and within minutes found this case. I can't tell you just how light this is!!! Weighing in at a measly few 6grams, you'll honestly not know its there! Perfectly fitting for the phone, it clips into place and adds a "frosted" effect to the back of phone. It's thinness aides the semi-transparent effect of allowing the apple logo shine through which is great. The tactile feel of the plastic is of a 'brushed effect" giving slightly better grip and feel than a smooth plastic. The thinness also allows the phone to sit nicely in the hand for both guys and girls ( who often have smaller hands). Protection wise, the case protects well against scratches and daily scuffs. In addition, being frosted allows it to hide these well unlike 100% transport 'crystal' plastics that look old and worn aft only a few weeks. Now, the thinness does have its drawbacks: this case is unlikely to protect against drops onto hard surfaces. If you work in an outdoor environment or are VERY accident prone then perhaps something more rugged like an Otterbox is more for you - but the extra protection sacrifices thinness, aesthetics and weight. There is no extra "lip" around the phone screen to protect the phone face down so a screen protector is recommended. Overall, this case exceeds my expectations and, being a techie geek, watching the video and examining the pictures helped solidify my reasoning for this being the perfect case for my wife. I just need to wait a year and hopefully I will get the phone as a hand-me-down when she upgrades to the 6!
Read 39 customer reviews
|
Write a review
---
Why Buy?
Superbly thin iPhone 5S / 5 case measures just 0.4mm thick

Unique plastic injection process retains strength and reinforcement

Made for iPhone 5S / 5
---
Why not View a video about this product?
Description
Superbly thin iPhone 5S / 5 case measures just 0.4mm thick
Using a revolutionary and unique manufacturing process, this is easily one of the thinnest and lightest iPhone 5S / 5 cases.
Measuring just 0.4mm thick and weighing just 3.5g, you'll hardly realise this case is on your phone.
The matte coating improves grip, so your iPhone 5 feels better in the hand without feeling noticeably bulkier.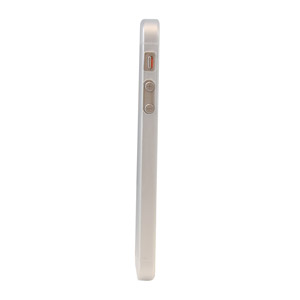 Unique plastic injection process retains strength and reinforcement

The plastic injection technology used to create this case is unique in that it is able to produce such a thin case without sacrificing structural integrity or material strength.
Your iPhone 5 will be just as well protected in this case as it is in a standard cover, meaning your phone will stay protected against scratches and scrapes.
Made for iPhone 5

Designed specifically for the iPhone 5S / 5, this case offers a perfect fit for your device. It also has cut-outs for all of the ports and buttons, so you can access the full functionality of the phone while it is in the case.
If you are looking for something a little different, you can find our full range of iPhone 5S cases here.
---
NEW! Add a video – upload your video file or send us a web link
Ultra Thin 0.35mm Case for iPhone 5 Review
himesh123456789