Most Useful Customer Reviews
25th June 2012
So pleased I bought this!
Read reviews from all the vent holders and chose this one. So pleased, it fits so easily to vents and takes my Nokia Lumia 800 perfectly with the case on it also. It does not get in the way on driving, such as indicator switches again. Absolutely perfect and highly recommend to anyone to buy this product.
---
Mel Richardson
Milton Keynes
20th December 2010
Twice as satisfied.
I have received my second purchased of this mobile phone holder. I was that please with the first I got one for my partner's new phone. Fitting is easy. Removal, should you wish to relocate it, not so easy. A small screwdriver to gently prise apart each of the two vent 'grips' makes it easier. The holder does not look intrusive due to it's slim design and sensible colour. But still a sturdy bit of equipment. The two I have are used for HTC Wildfire, in a Corsa, and Samsung Galaxy S, in an Astra Holds the phone very securely. A point not mentioned elsewhere, the bottom support can be moved up and down by depressing the button behind the support. In fact you can remove them completely and install them at the other end giving more variations of spacing between the bottom support and the side grips to avoid contact with phone buttons. In my opinion a very good product.
Read 45 customer reviews
|
Write a review
---
Description
Keep your phone in full view whilst staying legal on the roads.
The universal air vent holder is designed to fit every phone on the market and simply attaches to your air vent to give you not only a perfect view of your phone but a perfect view of the road ahead of you as well.
Why Buy?

Fits to air vents so doesn't clutter the dashboard or obscure the view through the windscreen


360 degree swivel allows portrait and landscape orientation, so great for phone GPS apps

The spring loaded grips make it secure yet easy to load or retrieve the phone from the device

Can work with case still on so no need to remove

High Quality finish means it doesn't look out of place in modern car interiors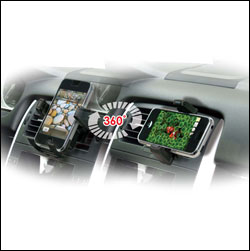 The holder features 360 degree swivel clips which clip to your air vent allow you to view phones in both landscape and portrait angles which is perfect if you're using your phone as a sat nav or just to keep your phone in place whilst driving. The holder grips your phone using 2 spring loaded clips which are designed to hold your phone tightly so it holds the handset securely whilst your driving, even around sharp bends. The spring loaded clips also make it easy to insert your phone into the holder and to also remove it once you've finished driving. It also has feet at the bottom which are designed to support your phone throughout your journey. The back of the holder also has a soft foam finish so your phone won't get scratched.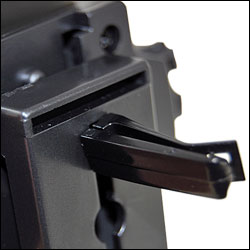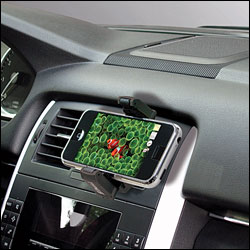 The air vent holder is small and discreet and fits in your air vent with the minimum of fuss. The small design means that it doesn't clutter up the dashboard with an unsightly holder or block your view of the windscreen. It features 2 separate air vent holders, which can be removed, so that it provides a firm grip on the air vent to ensure that the holder won't fall off the air vent whilst you are driving.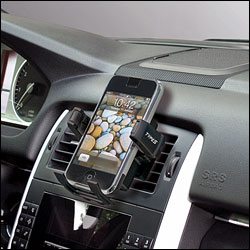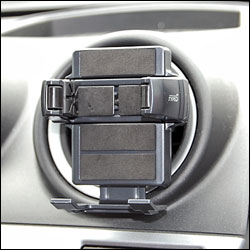 The holders arms expand to 71mm allowing it to hold even the largest of phones on the market and each arm features rollers on them making it easy to place your phone in the holder no matter what the size. The small and discreet design is made with a high quality graphite finish so it doesn't look out of place with any car, even modern car interiors.