Most Useful Customer Reviews
Paul
Romford, Essex
i Phone 4
15th December 2012
Satifaction guaranteed
Finally found a supplier of a genuine Twelve South 'Book Book' phone case. Quality superb, value excellent and super fast delivery from Mobile Fun. Total satisfaction. Thank you.
---
Ben
Unknown
Apple iPhone 4S
4th June 2012
Don't think, just buy!
If you crave perfection, as I do, and worry that spending this much might have you regretting it because of a little flaw that will constantly bug you, don't. When I first saw this case, I knew I had to have it. The price made me think twice, but the reviews gave me some confidence. After receiving it and slotting my phone inside, initial thinking was that it looks amazing, but my phone doesn't quite sit snugly, and the case always seems to want to spring open. After less than a week, the leather seems to form itself flawlessly around the phone, and everything stays well closed. Even after settling in nicely, I started to worry about damaging it through every day wear and tear. Again, something I needlessly worried about! It actually ages like a fine leather wallet, and looks even more amazing for it! Although some have complained about having to slide the phone up to take a picture, after seeing how well protected it is, I don't mind doing that at all for the protection it offers. I have never seen the sense in cases that are supposed to offer protection having cutouts for the most fragile and expensive parts. The inside of the case is simply the backing of leather, suede. It feels gorgeously luxurious, and hasn't left even the faintest mark on my phone. Cards are easy to insert and remove, and I tend to fold cash in half and slot it in. This leaves the edge poking out of the slot, so you can see it and pull it out with ease. I really love that when I leave home, I pick up my phone and keys and I'm set (after suffering the embarrassment before of getting to the check out in Tesco with no cash or cards in my pocket!) I see strangers staring at it all the time, and friends always ask about it. When I tell them the price, I hear a sharp intake of breath, until they actually handle it. Then I hear "Oh wow" as they see the quality of the stitching, feel the leather and as others have stated, smell it! After some initial trepidation over the price, I would be very happy to pay twice that now. The workmanship is outstanding, it's so unusual that it has everyone asking about it, and it's obviously designed to last as long as the phone does. I would honestly not change the tiniest thing, and I really am a perfectionist. Buy it now, and I guarantee you will still look at it in awe well into the future!
---
Read 38 customer reviews
|
Write a review
---
Why Buy?
Combines a sturdy phone case and wallet into one simple pocketable design

Book design gives your iPhone 4S / 4 more character

Designed for the iPhone 4S / 4 - cutouts for the ports and features

Protects iPhone 4S / 4 from accidental damage
---
Why not View a video about this product?
Description
BookBook for iPhone 4S / 4 is a wallet and iPhone 4S / 4 case rolled into one pocket-sized, vintage book. Open this beautifully designed leather book and you will see a wallet on the left and a slot for your iPhone 4S / 4 on the right. Trade your wallet for this handsome little book and you'll have one less thing in your pocket or purse when you walk out the door. And, as long as you remember your phone, you'll never forget your wallet again.
Put your money where your phone is.
Wallets and phones go hand in hand. You rarely leave home without the two of them. Now you can carry both in one BookBook made exclusively for iPhone 4S / 4. This little book has a convenient ID window and slots for your debit/credit cards, reward cards and cash. Instead of grabbing your wallet, phone and keys when you walk out the door, simply grab BookBook and your keys.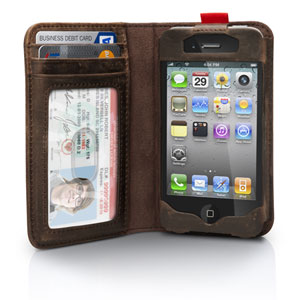 Your phone is safe in a BookBook.
Protect your iPhone 4S / 4 between two hard-back covers. Fold the covers back-to-back to talk. It feels great in your hand. BookBook allows edge-to-edge iPhone 4S / 4 access. No frames in the way of your thumbs here. You can access all iPhone 4S / 4 controls and ports with BookBook. Charge, sync and use the headphone jack while your iPhone 4S / 4 is safe and sound in its phone book.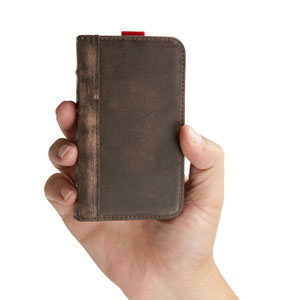 Yes, it's also a quick book.
Need to show your ID? Flip open BookBook and there it is. To quickly remove your ID, simply use the handy thumb slide. To grab a photo or video, pull the book's quick tab and slide your iPhone 4S / 4 one quarter inch to expose the lens and capture the moment. BookBook simplifies your life. It's a cheque book, phone book, address book, picture book, audio book. You get the idea.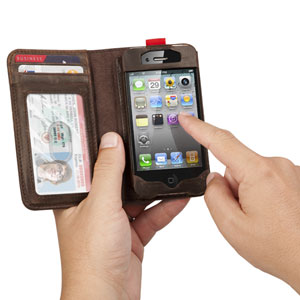 The book of style.
One look and you'll be hooked. Beautifully designed and hand distressed using high quality leather, BookBook is a conversation piece. A totally unique case that disguises your phone and wallet, while protecting both. It's a wallet that looks like no other and a case that keeps your iPhone 4S / 4 from looking like everyone else's.
You can access all controls on your phone while it's in BookBook and you can charge/sync your iPhone 4S / 4 with the wallet open or closed. Unlike bumper style cases, there are no frames to get in your way. BookBook for iPhone 4S / 4 can comfortably hold three to four cards, along with a couple folded notes of cash, receipts or business cards inside the vertical pocket. Simply pull the quick tab and slide your iPhone 4S / 4 up 1/4 inch to expose the lens, then snap a quick picture or video.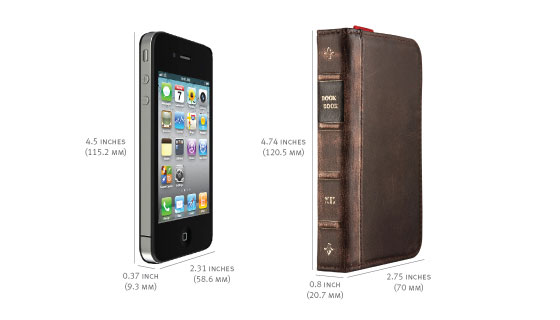 ---
Key Details
Colour: Brown
Part No: TWS121110