Why Buy?
Record your journeys in full HD 1080p

Automatic G-Sensor

Crisp, 2.4 inch display

160 degree wide angle lens

High quality day and night recording with 7 glass lenses

Wi-Fi streaming and downloading of videos

Super slim and lightweight

Micro SD card slot - supports cards up to 32GB

16GB Micro SD card included

Car mount included
---
Why not View a video about this product?
Description

Record your journeys in Full HD 1080p
This ultra-sharp Wi-Fi-compatible dashboard camera from Transcend can be securely mounted, allowing you to get the perfect angle and the clearest view possible. Extremely easy to use and set up, the DrivePro 200 can be mounted and can begin recording within seconds. Recording full 1080p HD video at 30fps, audio, the date and the time - the DrivePro 200 provides the perfect witness for any incident, no matter how big or small.

Automatic G-Sensor
The DrivePro 200 comes complete with an automatic incident detector (G-Sensor). When an incident occurs, your camera realises and instantly saves the current recording. This ensures that a complete record of events has been recorded, giving you the perfect witness in any situation. When a shock is detected the current video being recorded is instantly write protected to avoid any automatic deletion, ensuring that no more nasty accidents will happen and that you'll be able to present a full, detailed record of events.

Crisp, 2.4 inch display
Watch back your recorded data in perfect clarity with the DrivePro 200's stunning 2.4 inch display. With its stunning display, you can watch and re-watch any saved clips easily and navigate through menus effortlessly so you can find particular clips to play or delete when required.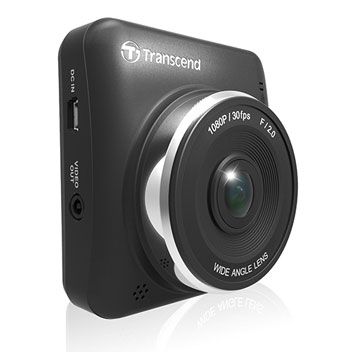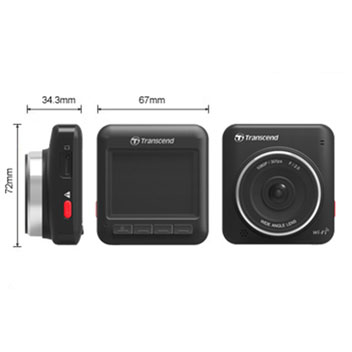 160 degree wide angle lens
Capture even more of the road with the Drive Pro 200. Recording in superb full 1080p HD and featuring an impressive 160 degree wide angle lens, this stylish dash cam is sure to capture everything in perfect detail.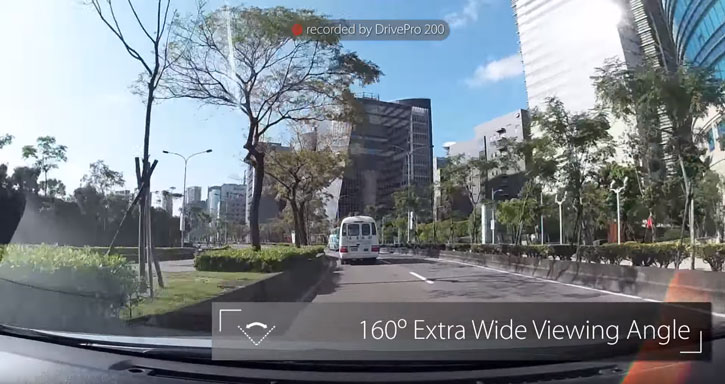 High quality day and night recording with 7 glass lenses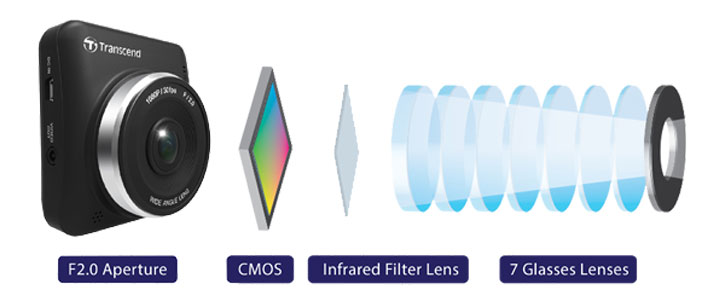 Featuring a large f/2.0 aperture and WDR (Wide Dynamic Range), the Transcend with its 7 high quality glass lens design automatically adjusts to the lighting conditions to ensure that the detail remains no matter whether it is day or night. You will even be able to read the number plates, no matter what time of day it is.

Wi-Fi streaming and downloading of videos
With built-in Wi-Fi, you can connect to your dash cam with your smartphone so you can stream video directly from the DrivePro 200 with the Transcend companion app. This ensures you can view the captured video on your smartphone without the need to remove any storage cards or utilising any complicated transfer procedures. You can also download the videos to view and permanently store the captured footage, all using a wireless connection.

Super slim and lightweight
Extremely thin and bulk-free, the DrivePro 200 is extremely unobtrusive and weighing only 89g - you won't have to worry about any extra weight or the camera obscuring your view.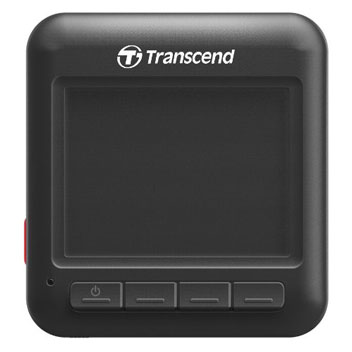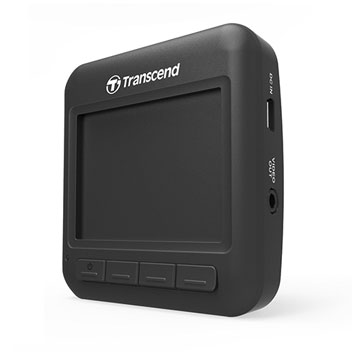 Micro SD card slot - supports cards up to 32GB
The DrivePro 200 Dash Cam requires a Micro SD card to start storing footage. Expandable up to 32GB, you can be sure to capture every part of your journey and even swap between cards when needed. Micro SD cards are great as they can be removed and plugged straight into a memory card reader, which many laptops and smart devices now come with. They can also be replaced with a spare on the go if they run out of memory.
16GB Micro SD card included
The Transcend DrivePro Dash Cam includes a 16GB memory card, so you can begin recording straight away and ensure your journeys are captured in stunning 1080p high definition quality.
Car mount included
Attach within your vehicle with ease with the included car mount. With its 360 degree rotation for the perfect capture position, the Transcend DrivePro 200 1080p Car Video Dash Cam is ready for action from day 1.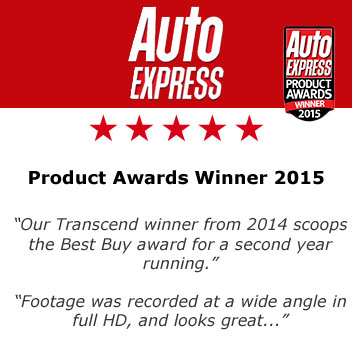 Specifications
Dimensions: 67mm × 72mm × 34.3mm (2.64 x 2.83 x 1.35 inches)
Weight: 89 g (3.13 oz)
Display Type and Size: 2.4" color LCD
Image Sensor: Low-light sensitivity CMOS, 3 mega-pixel
Lens: F/2.0, 160° wide angle
G-Sensor: 3-axis
Microphone: Built-in
Speaker: Built-in
Resolution/Frame rate: Full HD (1920x1080) 30fps | HD (1280x720) 30FPS
Video Formats: H.264 (MOV: up to 1920x1080 30fps)
Memory Card Support: MLC-based Micro SD card, 8GB/16GB/32GB (Class 10 or above)
Connection Interface: USB 2.0
Power Supply: Input: DC 12V~24V
Output: DC 5V 1A
Network Interface: Wi-Fi 802.11b/g/n
---
Key Details
Colour: Black
Part No: TS16GDP200
---
What's In the Box?
DrivePro 200 CVR
Car Mounting Bracket
Car Adapter
16GB Micro SD Memory Card
Video Cable
Quick Start Guide
Warranty Card