Most Useful Customer Reviews
Dennis Bull
London
iPad 3 and a huge sycamore tree
26th November 2013
The 'ultimate test' for Touch Tip Gloves for Capacitive Screens
I would just like to say that I received the gloves in very good time from Mobile Fun - 1 working day after order - as advertised. On receiving the gloves I immediately tried them on and ran through a few disciplines on my ipad with them - normal stuff - reading e-mail- and going through facebook messages etc. The gloves worked perfectly on the i pad screen. A couple of days later I decided that it was time to do some urgent and quite drastic tree surgery on the huge sycamore tree at the bottom of the garden - I donned the nearest pair of gloves I could find and spent the day up and down the tree cutting off branches with a handsaw and dragging the branches away into my car and off to the local recycling centre - three trips in a 7 seater in all. I was in the tree most of the day grabbing branches,sawing through branches and ripping down Ivy - I put the gloves on because of the Ivy - last time I attempted this job I ended up with a rash on my hands and arms. It wasn't until the end of the day that I realised that I had been wearing my Touch Tip Gloves for Capacitive Screenswhilst performing my rugged acts of tree surgery. With some reservations I put the gloves back on and reached for the i pad ...... and I can report that the finger tips on the gloves still worked perfectly on the screen .... So for any tree surgeons out there who may want to check their e-mails whilst suspended from a swinging branch - these are the Gloves for You!
---
22nd February 2012
Awesome!!
I've tried buying the touch screen gloves before from ebay and they were terrible, didn't work (and most of the time didn't keep my hands warm). When I first saw these I was a bit wary from past experience but I'm so glad I spent the £15 on them now!! They keep my hands warm whilst I'm waiting for the bus in the morning or shopping and when I get a text I can access my iPhones screen without taking the gloves off!! Definitely worth the £15 price tag.
Read 76 customer reviews
|
Write a review
---
Why Buy?
Use your phone's touchscreen whilst wearing gloves

Keep your hands warm in the cold weather

Silicone texture for enhanced grip and control
---
Why not View a video about this product?
Description
Use your phone's touchscreen whilst wearing gloves
We all love to tinker with our smartphones as we wander the great outdoors, however on colder days we are often forced to wear a pair of gloves that unfortunately prevents the operation of a touchscreen.
With these special gloves however, you will be able to keep your hands snugly warm and still use your phone just as you would with no gloves on!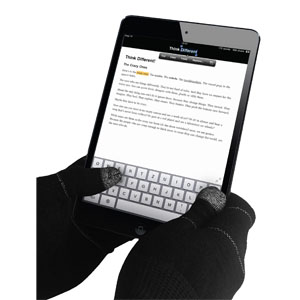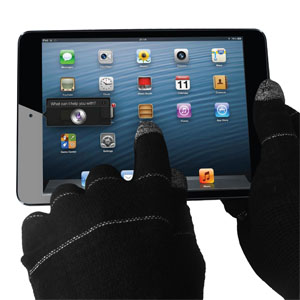 Keep your hands warm in the cold weather
Made from wind resistant fleece, keeping your hands warm and comfortable in the cold weather.
Silicone texture for enhanced grip and control
The Touch Tip Gloves work by using a thin silicone texture applied to the glove's fingertips, creating a recognisable contact with the touchscreen.
They also provide you with more grip, therefore making it less likely that your phone will fall from your grip when in use.