Award winning interactive shapes games for learning, creativity and fun!
Perfect for children aged 2-5, Tiggly Shapes is an ideal learning platform for your little ones who wish to express themselves through art, creativity and interaction. Covering shape recognition, storytelling, creativity and spatial awareness through interactive games, it's a great tool to make learning about shapes enjoyable for all.
Using your iPad or Android tablet, you can transform the physical space in front of your tablet into a digital gaming board of fun, fun and more fun!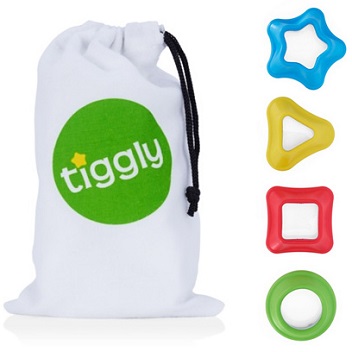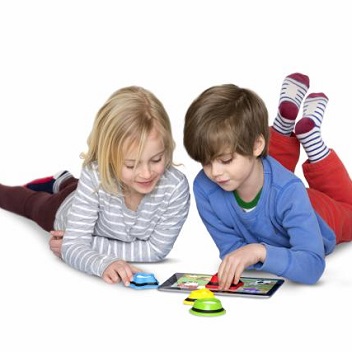 Hands-on play with shapes
Watch as your children enjoy games based around shapes that focus on improving their ability to solve recognise shapes, as well as helping their fine motor skills, hand-eye coordination and metacognitive skills. By monitoring the activity in front of an iPad screen, Tiggly Shapes transforms shape related problems into a playable virtual area that is dynamic, playful and educational.
Children learn and more importantly enjoy working with shapes, without the usual pressure or fear that the answer may be wrong. Learning through experimentation, exploration and play - Tiggly Shapes is a stress-free educational experience.

4 toys and 3 free learning apps included
Tiggly Shapes comes with 5 toys, designed for use with the 3 educational apps - Tiggly Safari (Shape Recognition), Tiggly Stamp (Storytelling) and Draw (Creativity). It also comes complete with a carrying pouch, making it a perfect accessory for car journeys and holidays.
Compatible with both iPads and leading Android devices
Tiggly Shapes is compatible with all iPads, iPad Air and iPad Minis (excluding iPad 1), iPads must be upgraded to iOS 6.1.1 or above. Tiggly Maths is also compatible with the following Android tablets; Samsung Galaxy Tab 3, 4, Pro, S (including Kids & Nook Editions), Samsung Galaxy Note 10.1 (2013 & 2014 editions), Kindle Fire HD & HDK (including Kids Editions) and Nabi Dreamtab. Android tablets must be running Android software 4.3 or higher.
No need for batteries, Bluetooth or Wi-Fi
With no need to connect Tiggly Shapes to your tablet via Bluetooth or Wi-Fi, it is super easy for children to play and learn, undisturbed. And with no batteries required either, the fun can go on forever!