Most Useful Customer Reviews
Kimberley Johnson
United Kingdom
Samsung Galaxy S4
30th January 2014
Ultimate accessory pack
I love my accessory pack, it's really decent, although I don't have use for all the things the things I do use are probably worth more than that if bought individually. I think the great thing about this product is unlike a lot of places I've ordered cases etc off it actually fits the phone. LOVE IT!
---
Tariq Arafa
Bromsgrove
Samsung Galaxy S4
12th May 2013
The Ultimate Pack for the Ultimate experience.
This product is sensationally good value. In another galaxy in fact. It makes my S4 totally indispensable as with the car holder I can use it in the car to navigate, I can charge it in between journeys and of course, not worry about it getting scratched with this stylish but subtle case. The car holder actually makes the smart screen function more relevant as you can scroll the screen without touching it when driving - with your eyes on the road of course! The desk holder means I can properly show it off in the office but seriously it makes it so much easier to notice texts from my other half when it is elevated. That's not necessarily always a good point though. For the price, this is a must-have for any Galaxy lover. Also comes with more than a few protective screens so you can replace these when you want. First-rate product.
---
Read 93 customer reviews
|
Write a review
---
Why Buy?
6 must have accessories for the Samsung Galaxy S4

Custom-made S4 FlexiShield protects your phone from light damage

MFX screen protectors provide clear screen protection

Two included desk stands hold your S4 at the perfect angle

Charge and hold your S4 safely within your car
---
Description
The Ultimate Galaxy S4 accessory pack contains must have items to protect and make the most of your Galaxy S4. It even contains holders which allow you to use your Galaxy S4 at home, in the office or in the car.
Each accessory in the pack is designed to work with each other, so if you want to use your phone in the desk stand or in car holder you don't need to remove the FlexiShield cover that comes with it. Making this the perfect accessory pack for your Galaxy S4.
The pack comes complete with 6 must have items for the Galaxy S4 including:
Galaxy S4 Desk Stand
Galaxy S4 Car Holder
FlexiShield Case for Galaxy S4
Mini Portable Desk Stand
Galaxy S4 Car Charger
5 x MFX Screen Protector
Galaxy S4 Desktop Holder
The desktop holder is perfect for viewing your phone at home or in the office. Its stylish and sleek design means that it won't look our of place on your desk. It comes with a solid metal stand which holds the holder in place without fear of the holder falling over and damaging your Galaxy S4.
The holder uses a special adhesive which holds your Galaxy S4 to it, ensuring that it won't fall off, without leaving any sticky residue behind. It can be used in either portrait or landscape modes making the holder perfect for writing texts/emails, browsing the internet, playing games and even using video calling.
The special adhesive is designed so that it allows you to use the phone on it either with or without the included FlexiShield case and it allows room for you to still use an Galaxy S4 charger whilst its in the holder.
Galaxy S4 Car Holder
The Galaxy S4 car holder is designed to allow you to position your Galaxy S4 in either landscape or portrait modes and either on your cars windscreen or the dashboard. It features soft pads which gently cushion your Galaxy S4 whilst its in the holder ensuring that your Galaxy S4 will not slip out of the holder, but also it won't pick up any scratches whilst its there. The rotating bracket allows you to adjust your Galaxy S4 from portrait to landscape in a matter of seconds and the adjustable arm means it also works with the included FlexiShield case.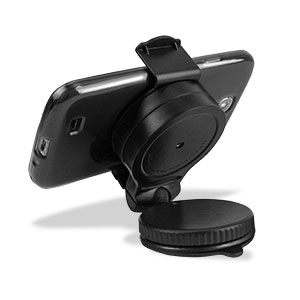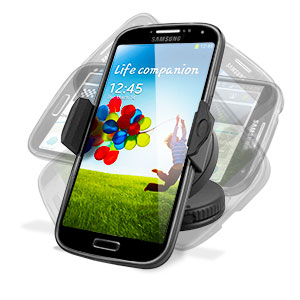 The holder comes with an adhesive plate which fixes on to your dashboard allowing you to use the car holder either on your windscreen or on your dashboard which makes it perfect if you're using your phone as your sat nav while driving. With the adjustable swivel bracket you can easily remove the car holder from your windscreen and place it on the dashboard.
FlexiShield case
The FlexiShield case is a stylish protective case for your Galaxy S4. In a black colour, the case wraps around your phone without adding any additional weight or bulk to your handset but still allowing you complete access to all of the ports and features. Its flexible design means it can be applied and removed from your Galaxy S4 in seconds but with cut outs to use the camera and the charging ports, the case allows you complete access to the Galaxy S4 without having to remove it.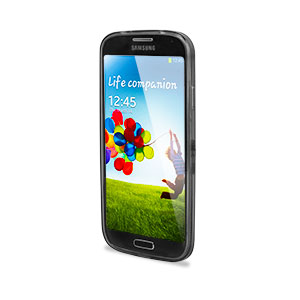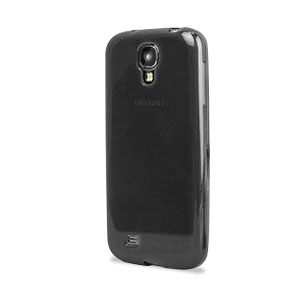 As the case adds no extra bulk to your Galaxy S4, it works perfectly with all of the included accessories in the pack and the unique gel material used allows you to use your phone with the desk stand and the portable desk stand without having to remove the phone from the case.
Mini Portable Desk Stand
Enjoy the convenience of this portable desk stand that you can carry in your pocket or bag.
Attach the portable desk stand to your device using the provided suction cup and then position it in either a portrait of landscape position of your choice.
Galaxy S4 Car Charger
There is nothing worse than realising your smartphone battery is completely empty of charge, usually at the precise moment when you need it the most!
With the included car charger, you can provide power to your phone while you travel or just to give it that essential vital boost to make that all important phone call or check your e-mail.
Ideal for charging your phone while you are using it as a sat nav system, which traditionally uses more power to continually calculate your location and with its powerful 2.4A output - charging will be speedy.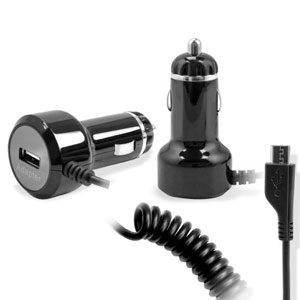 MFX Screen Protector
Keeping your Galaxy S4's precious screen from scratches is always a problem, so the ultimate accessory pack includes 5 MFX screen protectors which provide your screen with an invisible layer of protection. As the screen protector is invisible it offers crystal clear viewing of your Galaxy S4's screen so you can still enjoy the sharp images that the Super AMOLED screen provides.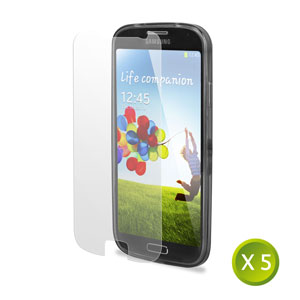 The MFX screen protector doesn't interfere with your Galaxy S4's touchscreen function and combined with the included FlexiShield case it offers 100% protection for your Galaxy S4.
Please note: The component parts of this pack may differ slightly to the images used to illustrate the pack on this page, however, replacements will be of equal or greater quality if an adjustment is made.
---