Most Useful Customer Reviews
26th June 2015
Great pack great price
I wasn't interested in whole pack however wanted a stand for my iPhone. I've used every item from pack. It's great. It was discounted when I purchased it and what I got for my money was well worth it. Wish I had purchased two.
---
Ed Squires
West Sussex
iPhone 6
3rd October 2014
Good quality, at a sensible price
Getting a new device is always fun - particularly when it's a new form factor, as was the case with the iPhone 6. Not only is there the excitement of a new device - there's the new accessories too! Of course, the downside can be the cost of getting those new accessories - a case, screen protector, a car mount capable taking the larger device etc ... the cost soon mounts up. So I was really pleased to see Mobile Fun offer an accessory pack, which includes all the essentials and more! The quality of each individual item is good, though you can likely find better examples of each item in the pack, but you'll also pay 3 times as much and there probably won't be a proportionate benefit. The car mount is a compact unit, that has worked well for me for the last week I've been using it. Coupled with the in-car charger, it will help ensure you can maintain visibility of the screen & power for navigation. The case is very simple and doesn't add too much bulk, nor spoil the aesthetics of the device. The screen protectors do their job and desk holder and portable stand/stylus are a nice bonus. The items probably won't last forever, but as a starter kit for a new device, it can't be beaten for the price
Read 18 customer reviews
|
Write a review
---
Why Buy?
Protect your iPhone 6

Mount and 'charge' your iPhone 6 within the car

View content hands-free with the included holders
---
Description
Own an iPhone 6? Then why not lavish your phone with a number of lightweight, portable and extremely useful accessories - all in one fantastic pack.
The Ultimate iPhone 6 Accessory Pack features six super useful items which will improve its protection, charge the device within a vehicle and provides a selection of phone mounts whether you are at home, in the office or in the car.
The 'Ultimate' pack includes:
Polycarbonate Case
5x MFX Screen Protectors
Car Charger
Car Holder
Desk Holder
Mini Portable Desk Stand and Stylus
Each accessory in the pack is designed to work with each other - so for example if you wish to use your phone within the desk stand or the car holder, you don't need to remove the included polycarbonate case.
Polycarbonate case
The included case provides stylish protection for your iPhone 6. With its clear transparent attributes, it wraps around your phone without adding any additional weight or bulk to your handset, but still allowing you complete access to all of the ports and features. Its design means it can be applied and removed from your iPhone 6 in seconds, but with cut-outs to use the camera and the charging ports that allow you to use the case with complete access to the iPhone 6 without having to remove it.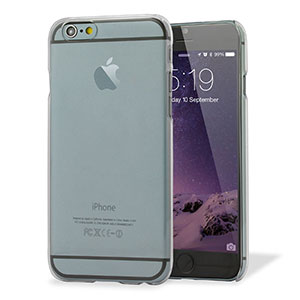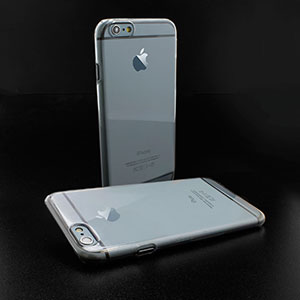 5x MFX Screen Protectors
Prevent scratches appearing on your smartphone display with one of the five included screen protectors.
Crystal clear viewing of the display while not interfering with any of the touchscreen functionality.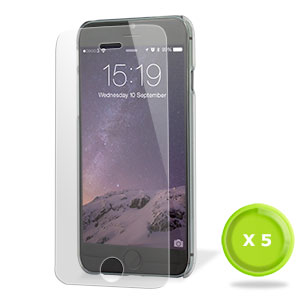 The MFX screen protector doesn't interfere with your iPhone 6's touchscreen functionality and combined with the included polycarbonate case, it offers 100% protection for your smartphone.
Car Holder
Suitable for use attaching to either a car windscreen or dashboard, the iPhone 6 Car Holder positions your smartphone within a comfortable distance from your eyesight.
Folds 90° and rotates a full 360° providing a variety of useful viewing angles, while also allowing you to use either a portrait or landscape position.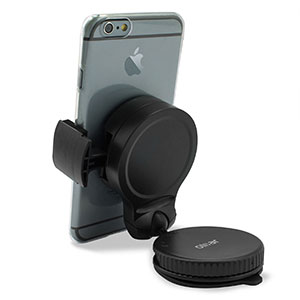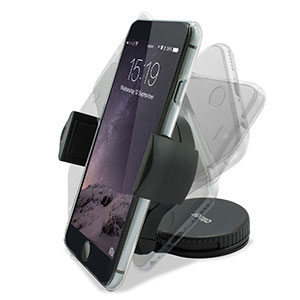 Features soft pads with adjustable arms that carefully cushion and grip your smartphone, even when a slim cover is used.
Ideal for using your handset as a sat nav (satellite navigation) device, providing a location for your smartphone screen that is easy to read at a glance.
Car Charger
There is nothing worse than realising your smartphone battery is completely empty of charge, usually at the precise moment when you need it the most!
With the included car charger, you can provide power to your phone while you travel or just to give it that essential vital boost to make that all important phone call or check your e-mail.
Ideal for charging your phone while you are using it as a sat nav system, which traditionally uses more power to continually calculate your location and with its powerful 2.4A output - charging will be speedy.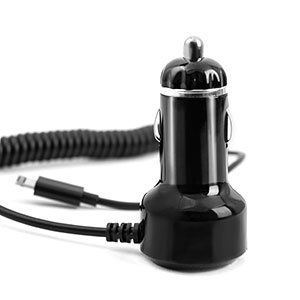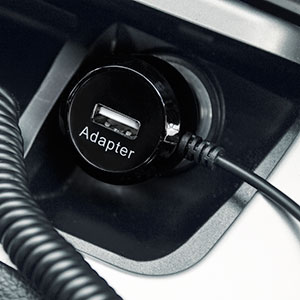 Desk Holder
The desktop holder is perfect for viewing your phone at home or in the office. Its stylish and sleek design means that it won't look our of place on your desk.
Features a special adhesive that doesn't leave any residue that holds your iPhone 6 securely with its impressive grip, without fear of the holder falling over and damaging your iPhone 6. It can be used in either portrait or landscape modes making the holder perfect for writing texts / emails, browsing the internet, playing games, viewing videos and even for making video calls.
Better yet, you can also attach the desktop holder to other flat surfaces including shelves, cabinets and even tiles due to its strong and effortless grip.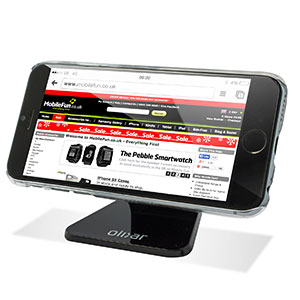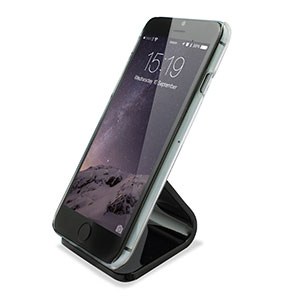 Mini Portable Desk Stand and Stylus
Enjoy the convenience of this portable desk stand and stylus that you can carry in your pocket or bag.
This mini stylus flips open creating a portable desk stand for your iPhone 6. Not only that but it has a microfibre pad on it too that is ideal for helping to get rid of any unwanted fingerprints or marks.