Most Useful Customer Reviews
Greg Lamerton
Wales
I phone 5
7th November 2013
Solved my problem
Fits perfectly on any part of the windscreen and multi angle function makes it invaluable - one of the best gadgets I have ever bought
---
Pete
South East England
iPhone 5
28th September 2012
Definitely worth it!!
I bought my new, and first iPhone - the iPhone 5, but I didn't have a case/screen protector/car kit/desk stand/car charger unit for it. Along comes MobileFun with their Ultimate iPhone 5 kit!!! Just what I needed. The kit arrived swiftly, once in stock, and after fitting, it now protects/holds/charges my iPhone 5 just like it deserves. Well done MobileFun!
---
Read 54 customer reviews
|
Write a review
---
Why Buy?
6 must have accessories for the iPhone 5S / 5

Protect, store and even charge your iPhone 5S / 5

Each accessory is made with a small, discreet and lightweight design

Each accessory is made for the iPhone 5S / 5
---
Description
The ultimate Apple iPhone 5S / 5 accessory pack contains must have items to protect and make the most of your iPhone 5S / 5. It even contains holders which allow you to use your Apple iPhone 5S / 5 at home, in the office or in the car.
Each accessory in the pack is designed to work with each other, so if you want to use your phone in the desk stand or in car holder you don't need to remove the Polycarbonate cover that comes with it. Making this the perfect accessory pack for your iPhone 5S / 5.
The pack comes complete with 6 must have items for the Apple iPhone 5S / 5 including:
Apple iPhone 5S / 5 Desk Stand
Apple iPhone 5S / 5 Car Holder
Polycarbonate Case for Apple iPhone 5S / 5
Mini Portable Desk Stand and Stylus
1 Amp USB Car Charger Adaptor
5 x MFX Screen Protector
Apple iPhone 5S / 5 Desktop Holder
The desktop holder is perfect for viewing your phone at home or in the office. Its stylish and sleek design means that it won't look our of place on your desk. It comes with a solid metal stand which holds the holder in place without fear of the holder falling over and damaging your Apple iPhone 5S / 5.
The holder uses a special adhesive which holds your Apple iPhone 5S / 5 to it, ensuring that it won't fall off, without leaving any sticky residue behind. It can be used in either portrait or landscape modes making the holder perfect for writing texts/emails, browsing the internet, playing games and even using video calling.

The special adhesive is designed so that it allows you to use the phone on it either with or without the included Polycarbonate case and it allows room for you to still use an iPhone 5S / 5 charger whilst its in the holder.
Apple iPhone 5S / 5 Car Holder
The Apple iPhone 5S / 5 car holder is designed to allow you to position your iPhone 5S / 5 in either landscape or portrait modes and either on your cars windscreen or the dashboard. It features soft pads which gently cushion your iPhone 5S / 5 whilst its in the holder ensuring that your iPhone 5S / 5 will not slip out of the holder but also it won't pick up any scratches whilst its there. The rotating bracket allows you to adjust your iPhone 5S / 5 from portrait to landscape in a matter of seconds and the adjustable arm means it also works with the included Polycarbonate Skin.


The holder comes with an adhesive plate which fixes on to your dashboard allowing you to use the car holder either on your windscreen or on your dashboard which makes it perfect if you're using your phone as your Sat Nav whilst driving. With the adjustable swivel bracket you can easily remove the car holder from your windscreen and place it on the dashboard.
Polycarbonate case
The included case provides stylish protection for your iPhone 5S/5. With its clear transparent attributes, it wraps around your phone without adding any additional weight or bulk to your handset, but still allowing you complete access to all of the ports and features. Its design means it can be applied and removed from your iPhone in seconds, but with cut-outs to use the camera and the charging ports that allow you to use the case with complete access to the iPhone 5S/5 without having to remove it.

As the case adds no extra bulk to your iPhone 5S / 5, it works perfectly with all of the included accessories in the pack and the unique gel material used allows you to use your phone with the desk stand and the portable desk stand without having to remove the phone from the case.
Mini Portable Desk Stand
The mini portable desk stand is small and discreet and allows you to carry it virtually anywhere with you. It works using a suction cup which attaches itself to the back of your phone, with or without the Polycarbonate on, and then allows you to position your Apple iPhone 5S / 5 at a comfortable viewing angle either in portrait or landscape viewing modes. Its simple, yet stylish design, means that you can use it anywhere and its small build means that its easy to carry around with you in your suitcase, bag, purse or even your pocket.
1 Amp USB Car Charger Adapter
The car charger ensures that your iPhone 5S / 5's battery stays topped up whilst your in the car. With a built in cut off, the car charger can detect when your iPhone 5S / 5's battery is fully charged and it will automatically cut off to ensure that no damage is caused to your iPhone 5S / 5. The car charger using a 1 amp output through a USB socket you can easily plug in your Lightning USB lead to charge on the go.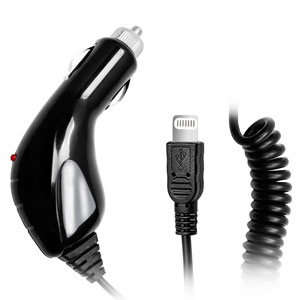 5 MFX Screen Protector
Keeping your iPhone 5S / 5's precious screen from scratches is always a problem, so the ultimate accessory pack includes 5S / 5 MFX screen protectors which provides your screen with an invisible layer of protection. As the screen protector is invisible it offers crystal clear viewing of your iPhone 5S / 5's screen so you can still enjoy the sharp images that the screen provides.

The MFX screen protector doesn't interfere with your iPhone 5S / 5's touchscreen function and combined with the included Polycarbonate skin it offers 100% protection for your Apple iPhone 5S / 5.
---
---
What's In the Box?
1 x Desk Stand
1 x Car Holder
1 x FlexiShield Skin
1 x Mini Portable Desk Stand
1 x Car Charger
5 x MFX Screen Protector