Most Useful Customer Reviews
Mike cLarke
Beverley
I phone 4s accessory pack
3rd December 2014
accessory pack
excellent companion for the phone all you need
---
John Small
Liverpool
Life Proof Indestructible Case for iPhone 4S
9th August 2012
I saw the case advertised stating how good the case was and how it would protect my case. Well, I am glad I did buy it. I telephoned my order through for a change as I normally order through the internet. Firstly, my telephone call was answered so quickly a very pleasant and bubbly young lady. She was so pleasant and she confirmed me order to me this was about 16.30 on a Friday, when I was informed that my order would hopefully be there the next day (Saturday). After I had put the telephone down I thought no it will arrive on Monday. Saturday morning arrived just getting ready to go to the market when the postman knocked with a parcel. Yes, it was my phone case it had arrived by 09:20. All I could say is what a super fast delivery and did MobileFun have a secret way of getting my order to so quickly (A super sonic postman). I could not wait so I went through all the tests they recommend and then placed my phone into it. I went and saw my daughter and her partner telling them about my service I had received and about me phone case. While I was explaining to Peter my daughters partner I threw my iPhone to him, as he caught my phone he dropped into a sink of water you should have seen his face he panicked and was full of apologies while trying to get it out of the water, his face was a picture all he could think off was he had ruined my new iPhone and how much it would cost him to replace it. I walked over to him with a towel and said oh well don't worry it is only a phone. I thought I better put him out of his misery and showed him that the phone and case was fine and no water had ever got into or near the phone. I can't repeat what he called me while I was reassuring him again how goof theLife Proof Indestructible Case was and sating it was the best case i had ever bought. Well, all I can say is I got a fantastic phone case ever, fabulous customer service and delivery and getting one up on my daughter partner, all in less than 24 hours. Keep it up MobileFun I will be order more from you in the future, and if you have an iPhone buy a Life Proof Indestructible Case for it as it makes sense, for the price of the case it is only coppers compared to the cost of replacing your phone. Well, done MobileFun I will always recommend your products and company.
Read 16 customer reviews
|
Write a review
---
Why Buy?
6 must have accessories for the iPhone 4S

Protect, store and even charge your iPhone 4S

Each accessory is made with a small, discreet and lightweight design

Each accessory is made for the iPhone 4S
---
Description
The ultimate iPhone 4S accessory pack contains must have items to protect and make the most of your iPhone 4S. It even contains holders which allow you to use your iPhone 4S at home, in the office or in the car.
Each accessory in the pack is designed to work with each other, so if you want to use your phone in the desk stand or in car holder you don't need to remove the FlexiShield cover that comes with it. Making this the perfect accessory pack for your iPhone 4S.
The pack comes complete with 6 must have items for the iPhone 4S including:
iPhone 4S Desk Stand
iPhone 4S Car Holder
FlexiShield Skin for iPhone 4S
Mini Portable Desk Stand
iPhone 4S Car Charger
MFX Screen Protector
iPhone 4S Desktop Holder
The desktop holder is perfect for viewing your phone at home or in the office. Its stylish and sleek design means that it won't look our of place on your desk. It comes with a solid metal stand which holds the holder in place without fear of the holder falling over and damaging your iPhone 4S.
The holder uses a special adhesive which holds your iPhone 4S to it, ensuring that it won't fall off, without leaving any sticky residue behind. It can be used in either portrait or landscape modes making the holder perfect for writing texts/emails, browsing the internet, playing games and even using FaceTime.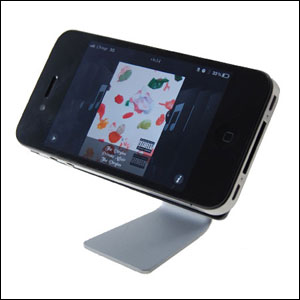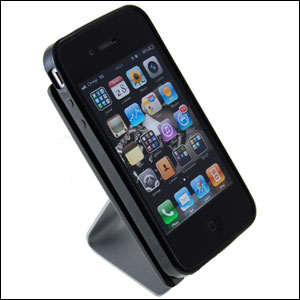 The special adhesive is designed so that it allows you to use the phone on it either with or without the included FlexiShield case and it allows room for you to still use an iPhone 4S charger whilst its in the holder.
iPhone 4S Car Holder
The iPhone 4S car holder is designed to allow you to position your iPhone 4S in either landscape or protrait modes and either on your cars windscreen or the dashboard. It features soft pads which gently cushion your iPhone 4S whilst its in the holder ensuring that your iPhone 4S will not slip out of the holder but also it won't pick up any scratches whilst its there. The rotating bracket allows you to adjust your iPhone 4S from portrait to landscape in a matter of seconds and the adjustable arm means it also works with the included FlexiShield Skin.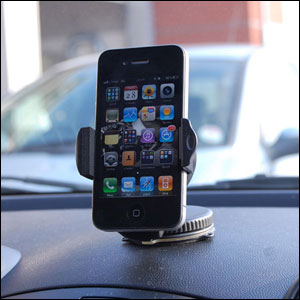 The holder comes with an adhesive plate which fixes on to your dashboard allowing you to use the car holder either on your windscreen or on your dashboard which makes it perfect if you're using your phone as your Sat Nav whilst driving. With the adjustable swivel bracket you can easily remove the car holder from your windscreen and place it on the dashboard.
FlexiShield Skin
The FlexiShield skin is a stylish protective skin for your iPhone 4S. In a solid black colour, the skin wraps around your phone without adding any additional weight or bulk to your handset but still allowing you complete access to all of the ports and features. Its flexible design means it can be applied and removed from your iPhone 4S in seconds but with cut outs to use the camera and the charging ports, the case allows you complete access to the iPhone 4S without having to remove it.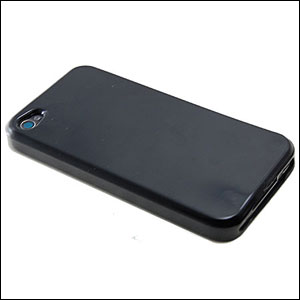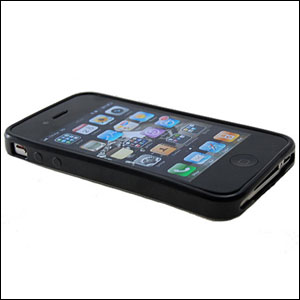 As the case adds no extra bulk to your iPhone 4S, it works perfectly with all of the included accessories in the pack and the unique gel material used allows you to use your phone with the desk stand and the portable desk stand without having to remove the phone from the case.
Mini Portable Desk Stand
The mini portable desk stand is small and discreet and allows you to carry it virtually anywhere with you. It works using a suction cup which attaches itself to the back of your iPhone, with or without the FlexiShield on, and then allows you to position your iPhone 4S at a comfortable viewing angle either in portrait or landscape viewing modes. Its simple, yet stylish design, means that you can use it anywhere and its small build means that its easy to carry around with you in your suitcase, bag, purse or even your pocket.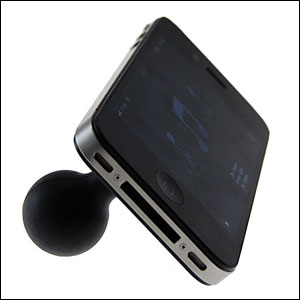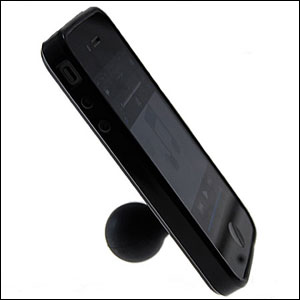 iPhone 4S Car Charger
The iPhone 4S car charger ensures that your iPhone 4S' battery stays topped up whilst your in the car. With a built in cut off, the car charger can detect when your iPhone 4S' battery is fully charged and it will automatically cut off to ensure that no damage is caused to your iPhone 4S. The meter long cable means that you can use it perfectly with the included car holder so if you need to use your iPhone 4S as a Sat Nav you can be sure that you're battery won't run out whilst your on your journey.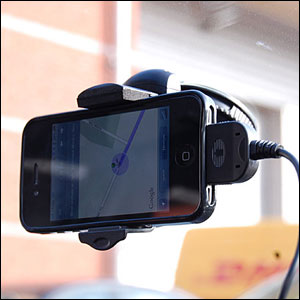 The slim design of the 30 pin connector means that you can use the car charger without having to remove the FlexiShield skin from your iPhone 4S first, making it quick and easy to plug into your iPhone 4S to ensure that your battery won't run out during your journey.
MFX Screen Protector
Keeping your iPhone 4S' precious screen from scratches is always a problem, so the ultimate accessory pack includes an MFX screen protector which provides your screen with an invisible layer of protection. As the screen protector is invisible it offers crystal clear viewing of your iPhone 4S' screen so you can still enjoy the sharp images that the retina screen provides.
The MFX screen protector doesn't interfere with your iPhone 4S' touch screen function and combined with the included FlexiShield skin it offers 100% protection for your iPhone 4S.
---
---
What's In the Box?
iPhone 4S Desk Stand
iPhone 4S Car Holder
FlexiShield Skin for iPhone 4S
Mini Portable Desk Stand
iPhone 4S Car Charger
MFX Screen Protector