Most Useful Customer Reviews
George Rahman
Argyll,Scotland
2nd October 2010
Family Mobile Charger
A very usefull addition to the "Family" Office,no more tripping over wires and plugs. wall mountable A1 idea,have already recommended it to family members and friends. Delivery was well within period expected,will be watching this site with interest,more than great value for money.
---
4th July 2010
Does the job asked of it
I got sick and tired of my wife and sons mobiles running flat as they had misplaced their charger. This product does the job of neatly storing and charging different makes of mobiles perfectly. Now there is a central point in the house to charge up mobiles that wont be lost. Can also be wall mounted. Good value.
Read 46 customer reviews
|
Write a review
---
Description
Keep all your phones and chargers in one place and free up extra plug sockets with the Premier Family Charging Station.
Why buy?

Neat and tidy - Avoid tangling cables

Saves plug sockets - By allowing you to plug in 3 devices at one time

Adjustable holders - Designed to fit any phone

Mount anywhere - Mount it on your desk or on the wall
Clutter Free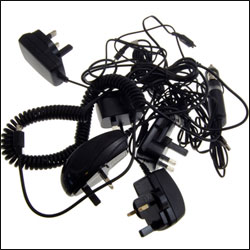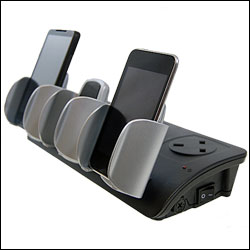 Are you forever trying to untangle all of your charger wires or do you keep having to wait for someone else to finish with the wall socket before you can charge your phone? The Premier family charging station takes away all the frustration of trying to charge your phone by giving you 3 extra charging sockets to charge your phones and MP3 players simultaneously.
The Premier Family Charging Station is designed to eliminate the mess that multiple chargers can provide by offering a tidy alternative. Simply plug your chargers into the provided sockets and store your cords in the compartments at the base of the Charging Station.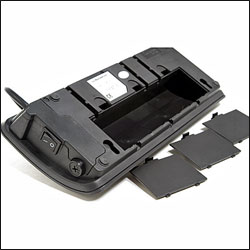 Easy And Convenient Charging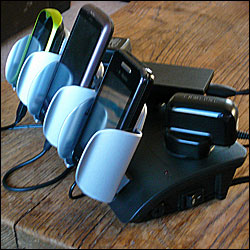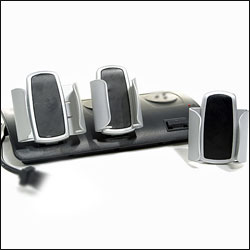 To avoid leaving your phones lying around whilst they charge, the Premier family charger comes with 3 adjustable holders which are designed to fit every phone available. This allows you to keep your phone in a comfortable postition whilst its charging. Making this perfect for charging multiple items on your desk at work or at home so you can still keep an eye on your phone calls, texts, emails or to use your MP3 player or iPod whilst its still charging.
The holders are adjustable and are designed to fit even the largest of phone. This means that it'll also fit handheld games consoles, digital camera's and MP3 players.
Dimensions:
Maximum width - 75mm
Minimum width - 54mm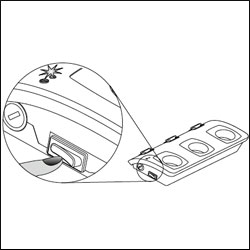 The Premier family charger also comes with a energy saving switch which allows you to quickly turn off all 3 sockets when they are not in use.
Mount It Anywhere!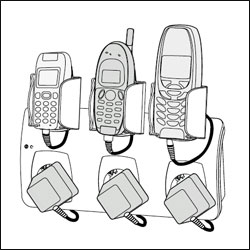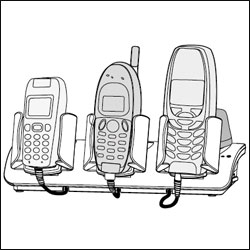 The Premier Family Charging Station has brackets which allow you to wall mount it or have it sitting on your desk surface. This allows you to use it as a designated charging station for all the family. The phone holders can be turned upside down to allow you to simply drop your phone into the holder and plug your charger in without the mess of tangled cables running up and down your walls.
Alternatively you can elimate all the wires from your desk at work or at home and also use it as a desk stand for your devices.