Most Useful Customer Reviews
10th November 2014
Great items
Super quality.
---
Anonymous
Unknown
iPhone 5S
27th February 2014
Works amazingly, and was free!
Very small and portable (carry it around in your purse/wallet), and it's surprisingly sturdy! I've had no problems with it so far, it comfortably holds my phone in the horizontal position. It even (slightly less securely) holds it when my iPhone is upright! I can have it positioned vertically and it doesn't tip over when it vibrates, which is a plus. Very pleased!
Read 9 customer reviews
|
Write a review
---
Why Buy?
Extremely simple to use

Ultra small and light weight

Multiple viewing angles

Matte black finish complementing your Smartphone

Pack includes 3 x OriCardi holders
---
Description
Extremely simple to use
The OriCardi earns its name for two different reasons, the first is due to its size and shape being the same as a standard debit/credit card. The second is due to the simple and easy to use origami folding style.
Within two simple folds of the OriCardi - you can turn it from a flat credit card shape, into a perfect desk stand to hold your device at a horizontal angle.
The material used is a hard wearing plastic, so it won't break from over-bending.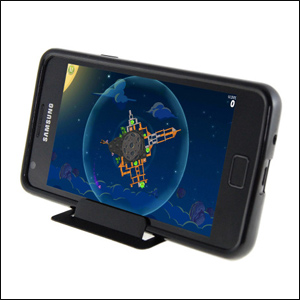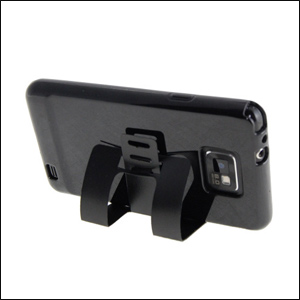 Once you've finished using the OriCardi, it can easily be folded back into its original credit card shape - so it can be easily stored in your wallet or purse and be carried around with you.
Ultra small and light weight
The OriCardi is designed to be the same shape and weight as a credit card, so it adds no additional bulk or weight to your pocket or wallet. This keeps the stand ultra lightweight and easy to carry around with you whilst you're on your travels.
Even though the OriCardi weighs virtually nothing, the carefully placed folding points are designed to securely hold your device in a horizontal orientation without the risk of your device falling over and becoming damaged.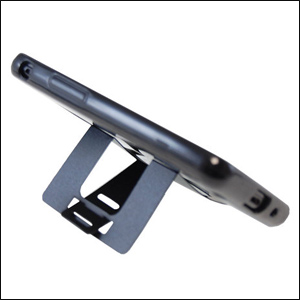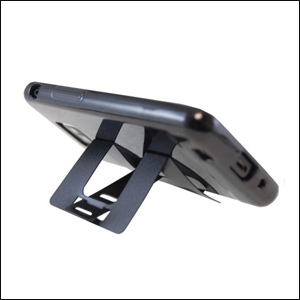 Multiple viewing angles
The small and discreet design of the OriCardi doesn't prevent it from featuring multiple viewing angles.
The holder includes three different cutouts, which allow you to position the device at three different angles - providing the perfect view of your device's screen at all times.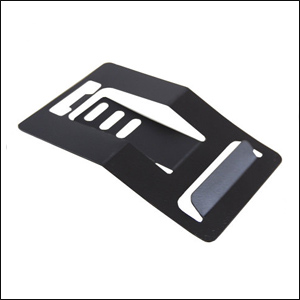 Matte black finish complementing your Smartphone
The simple matte black finish makes the OriCardi stand look simple and elegant.
It's also designed to complement your Smartphone or whichever device you decide to use with the stand.
Pack includes 3 x OriCardi holders
The pack includes 3 OriCardi holders, so if one does become damaged over time - you can easily replace it for another. This also makes the pack perfect if you own more than 1 device which you wish to hold on your desk.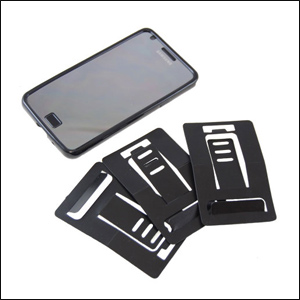 ---
What's In the Box?
x3 OriCardi Horizontal Desk Stands