Most Useful Customer Reviews
25th January 2013
Great
I bought 2 of these however one stopped charging. I returned it to Mobile Fun and they sent me a replacement immediately, great service and great product.
---
SJK
Milton Keynes
iPhones 4s & Jawbone ERA
9th April 2012
Kinda genius!
This thing is pretty amazing. If you need multiple connectors I would definately recommend it. Build quality is good and it's easy to use. If you only need an iPhone cable there's probably no need for this, but I wanted something that would charge my Jawbone ERA and my iPhone 4S. During car journeys it's perfect to keep both topped up and even works on the wife's HTC wildfire S. A 5 Star product, and excellent delivery from MobileFun as usual - Considering a second one just for work.
---
Read 22 customer reviews
|
Write a review
---
Why Buy?
Provides quick and easy charging over a wide range of devices

Perfect for syncing as well as charging your device

3 Cables in 1 which allows you to carry less cables and charge more devices

MicroUSB, MiniUSB and Apple connectors to charge and sync a wide range of devices
---
Why not View a video about this product?
Description
Apple, MicroUSB and MiniUSB connectors making the OneCable futureproof
The OneCable is designed to be the one cable that you will ever need. The OneCable features an Apple, MiniUSB and MicroUSB connectors which are designed to charge any device which uses any of these adapters. With more and more devices using MicroUSB charging adapters, the OneCable is also designed to be future proof so you won't need to keep purchasing new cables to match your numerous devices.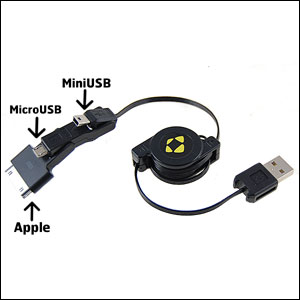 Provides quick and easy charging of a wide range of devices
Quickly and easily sync and charge your mobile device with the OneCable Sync and Charge kit. The OneCable is designed to give you complete freedom to manage all of your devices without having to carry around different cables with you at all times. This is the perfect solution for on-the-go lifestyles and multiple device owners.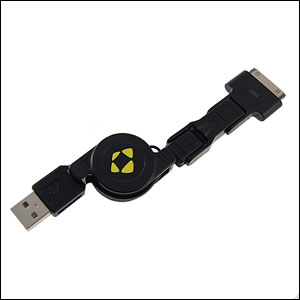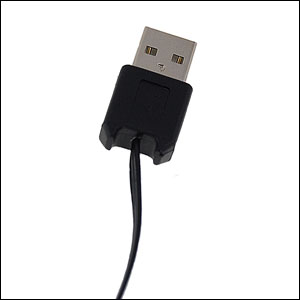 Carry less cables and charge more
The cable comes with 3 built in adapters, for Apple, MicroUSB and MiniUSB, so it will work with all of your mobile devices. This gives you the freedom to carry less cables around with you and charge more. It's also perfect for if you need to charge your devices if you are on the road as you can easily swap adapters to suit your phone and whoever else's device that you're travelling with or even your Sat Nav, at work, home and even if you're going abroad, the OneCable will be the only cable you need to pack as it will charge all of your devices.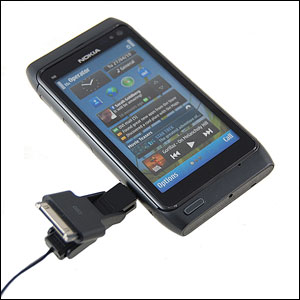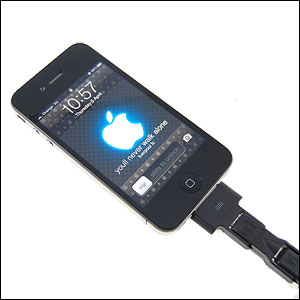 3 adapters to charge a wide range of devices
The OneCable is designed to work with a wide range of devices so it's perfect if you've got multiple mobile phones, bluetooth headsets, MP3 players or any other device which uses either a MicroUSB, MiniUSB or Apple charging connection. It works with iPod touch (1st, 2nd, 3rd and 4th generation), iPod classic, iPod nano (1st, 2nd, 3rd, 4th, 5th and 6th generation), iPhone 4, iPhone 3GS, iPhone 3G, iPhone, new iPad, iPad 2 and iPad, as well as Android devices, BlackBerry, Smartphones, Cameras, Gaming devices, Amazon Kindle (1st, 2nd, 3rd, 4th generation) and other micro USB devices.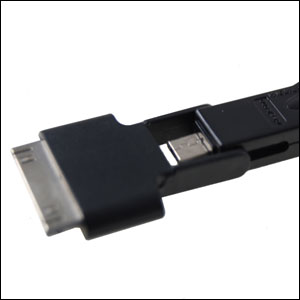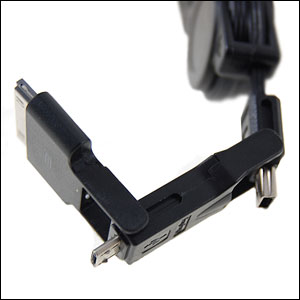 70cm cable makes gives you enough to charge your phone and keep it in view
The OneCable features a 70cm retractable cable gives you the freedom to be able to sync and charge your phone whilst still being able to use it. It gives you enough room to still be able to sit your phone in a windscreen holder whilst it's charging in the car, view it comfortably on your desk at work, or still use it whilst it's syncing/charging on your home PC or laptop.