Most Useful Customer Reviews
Andrew Phillips
Unknown
Tetra Fix In Car holder
22nd March 2016
Simple and effective
Very easy to install - no mess no fuss to either the dash or the back of the phone. Excellent stability for equipment when driving. Class product.
---
Daniele Iannarelli
Edinburgh
iPhone 6 Plus
24th April 2015
A Versatile and Highly Effective Product of Excellent Quality
This is a wonderful item! Having researched in-car iPhone holders, it was a pleasure to find the Tetrax concept of mobile phone securing. The (strong) magnet attaches to any iPhone cover and is very strong when located onto the base part secured on the facia of the car's dashboard. Even on bumpy roads it holds with no problem whatsoever. Easily removable, it 'slides' off its 'base' magnet (secured on dashboard). Magnetically secured to the base holder, the iPhone can also be rotated/swivelled to any position required, although you have to be sure when rotating it not to accidentally slide it off the holder. The package also comes with free additional magnets. This is definitely the best in-car iPhone holder I have seen... no silly suction pads, cables etc. I have absolutely no hesitation in highly recommending it... in fact, dump your old holder and buy this! I can't imagine you'll regret it! D (Edinburgh)
Read 28 customer reviews
|
Write a review
---
Why Buy?
Attach and remove your phone in seconds with one hand

Universal compatibility

Air vent holder without harming your car

No need to obstruct your windscreen

Different sized magnets for universal compatibility
---
Description
Attach and remove your phone in seconds with one hand
The simple design makes attaching and removing your phone a quick and easy process. No fiddling around to achieve the most secure fit and certainly no aggravation, the Tetrax Fix Universal in-Car Phone Holder is designed so that with just one hand you can easily attach and remove your phone. Within a second, you can be ready to drive or get out of your car.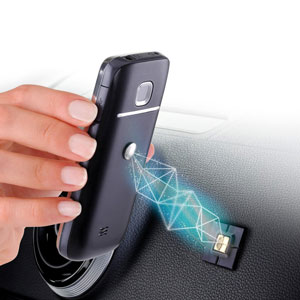 Universal compatibility
Unlike most magnetic car holders, the Tetrax Fix doesn't require your phone to be in a specifically designed case in order to attach. Simply use the provided magnets, which attach to the back of your smartphone, smartphone's case or sat nav unit - allowing you to quickly and easily secure your device. The Tetrax Fix can accommodate any smartphone or sat nav up to a weight of 150g, making this unique car holder truly universal.
Dashboard holder without harming your car
The Tetrax Fix Universal Car Holder has been designed specifically to attach to your car's dashboard. This means you won't have to suffer the usual visual distraction with a holder that is placed on your windscreen, ensuring your journey is safer and also has the added benefit of not advertising to thieves you have technology in the car or on your person.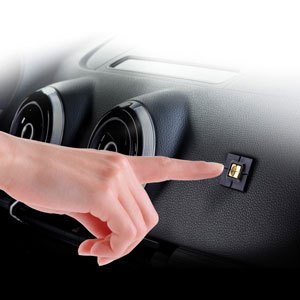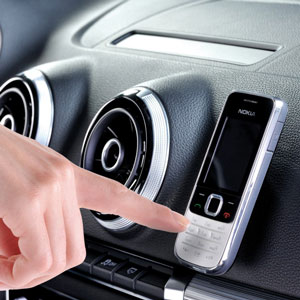 Mount in either landscape or portrait modes
The Fix's magnetic connection enables quick and easy phone placement in a range of positions, no more messing around with latches and bolts to switch between landscape and portrait orientations, as you would with more traditional car holders.
Different sized magnets for universal compatibility
Included in the packaging are four magnets for various devices. Simply stick the relevant sized magnet to your phone or other device and enjoy securely holding it in your car with a no-nonsense attaching and detaching action.
---
Key Details
Colour: Black
Mounting Type: Dashboard