Most Useful Customer Reviews
Chris Bloomfield
Bournemouth
SupertoothTalk N Go Bluetooth Mono Headset
14th June 2016
Not good for Oldies
Whilst this item is as described,a reasonable price, works very well, and was dispatched promptly, it is not for me, and I suspect many others my age. (over 60) I find the button to switch on and off very fiddly, and I am never sure which light means it is on, and which means it is charging etc, and several times I went to answer a call, and a voice asked me to repeat, as they had not heard, meaning I had to stop to sort it out and ring the person back, which rather negates the idea of "Hands Free" I am a fully paid up member of the Confused.Com club. I have since seen someone else's device which clips on the sun visor, and is much better to operate for us oldies, and so I would recommend it to anyone older, who is thinking of buying such a device.
---
5th October 2015
Excellent purchase
Prompt delivery as usual. Works well - ready for changing from a car with fixed hands free.
Read 7 customer reviews
|
Write a review
---
Why Buy?
2 phones can be paired simultaneously

Superior sound quality

Car charger included

Bluetooth version 3.0

4 hours talk time

Headset and hands-free profiles

10 metre operating range

Lithium-Ion power pack battery
---
Description
The SuperTooth TALK N GO is a Bluetooth headset featuring an avant-garde design, small size and light weight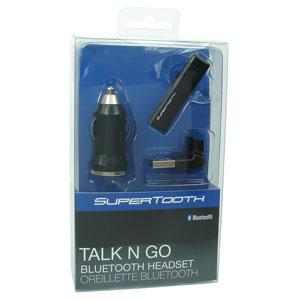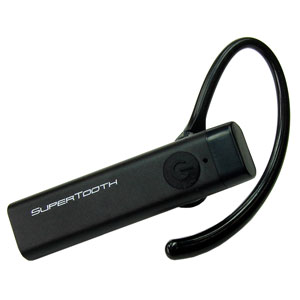 2 phones can be paired simultaneously
Connect up to two phones simultaneously so you aren't forced to choose a single device to be used with the SuperTooth headset.
Using Multipoint technology, the SuperTooth TALK N GO allows you to use a personal and business Bluetooth compatible mobile phone - both connected to the SuperTooth headset.
Car charger included
The SuperTooth TALK N GO Bluetooth Mono Headset includes a car charger, so you can ensure your headset never runs out of charge while you are on the move.
Can also be charged by a USB compatible device, including your computer or laptop.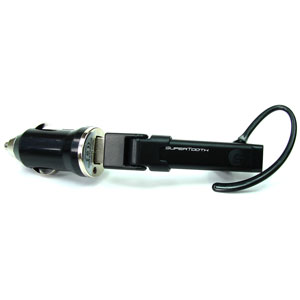 Bluetooth 3.0 connectivity for easy pairing
This SuperTooth headset features Bluetooth 3.0, enabling you to easily and quickly connect to any Bluetooth enabled smartphone.
Bluetooth provides wireless connectivity, so no need for any messy wires when you wish to wear your SuperTooth headset.
4 hours talk time
The SuperTooth TALK N GO Bluetooth Mono Headset provides up to 4 hours of talk time from just a 2 hour charge.
Not only that, but the SuperTooth headset also features a 100 hour standby time.
---
Key Details
Bluetooth: Yes
Colour: Black
Multipoint: Yes
Part No: BTTALKNGO