Most Useful Customer Reviews
23rd May 2006
Excellent
Very easy to install and much smaller than expected. Class 1 product
---
Gordon Chapman
Andover, UK
13th July 2006
Great All-rounder
I took a risk and bought 2 for both our cars. Me and the Mrs have three phones between us, A Sam D500 a Sony E W500i and an old Nokia (company phone). The car holder takes each one easily, with no effort needed still leaving room for cable hands free sets. The photo doesnt do the product justice as when the phone is in place you can hardly see it. It's smaller than you think. If you've been browsing for a car holder, this one will be perfect.
---
7th September 2010
Just what I wanted
The item was so good I have purchased a second. I use it with an iPhone4 with the bumber case and it is great. Holds it steady and allows access to the connection for charging.
---
16th December 2012
Excellent for the price
A product that looks the part and was very simple to fit. I was concerned that it would look like a cheap piece of plastic but it is very discrete and does the job. I have installed the product in our Lexus and Saab and both took no longer than 5 minutes to fit. It sits quite flush and is very easy to insert our iPhones - there is no adjustment required. We both have covers for our phones and the phones slide in very easily. There is some slight movement back and forth but this does not create a problem. Very happy with the product for the price.
---
18th November 2011
Style Universal Premium Car Holder.
I had twice purchased other cheaper products but found both of them did not work and ultimately to be safe I bought this universal kit for my HTC wildfire phone. It works brilliantly and is strong enough and reusable for other cars. I would highly recommend for the air vents. The stick on pads are also strong.
Read 69 customer reviews
|
Write a review
---
Description
Stay legal on the roads with our unique Style Universal Holder. A combination of simple installation and a huge compatibility range make this the ultimate phone holder. The Style Universal Holder will attach to your windscreen or dashboard thanks to its suction cup and dashboard mount disc.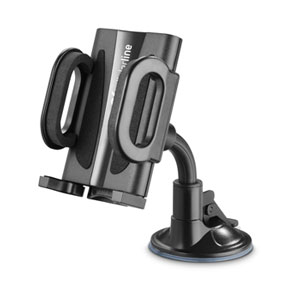 With so many universal holders available it is hard to know which one to go for. Look no further than the Style Universal Holder, as it offers so much more than any other holders.
The holder is so small and discrete, when your mobile is inserted it almost disappears behind the phone.
Provides two adjustable arms, the side arms can be adjusted to any width and depth to hold your phone whilst the base arm supports your phone underneath.
The rear of the holder at the bottom has a block of sponge that can be cut to size. This will rest against your car to absorb any bumps helping your phone to stay in place in all conditions.
Ideal for clampshell phones and other unusual designs (see picture above). By retracting the base arm you can position your open clamshell phone on the holder so the keypad and screen are always visible.
Maximum width 60mm
---
Key Details
Mounting Type: Dashboard, Windscreen
Part No: bigcrabdualfix