Most Useful Customer Reviews
Adrian Van Neste
Jersey, C.I.
Samsung Galaxy S5
11th July 2014
Wonderful Case
I wanted a case that worked, while looking terrific on my S5. Research done, I chose the Spigen Tough Armor Case - Gunmetal. The two-tone case looks superb. When I first put it on my phone, I just said, "Wow!" Has it bulked things? Well, some! If a case is to protect, that's part of the deal. But the bulking, minimal whilst being effective, simply works. My phone, in its case, feels and looks great. With the subtle just-raised edge around the front, picking up from a flat surface is now secure (used to feel my phone could slip when I picked it up). The 'buttons' on the sides are purpose-marked and, unlike with some cases I've tried previously, you connect through them easily to the phone's buttons beneath. Charging flap access is slightly more difficult with the case on, but I reckon a little practise is all that's needed. The flap still opens to just-past-ninety degrees. One superb element is the tiny corner 'feet' on the case's base. Now, I place my phone down on a flat surface unconcerned for the camera, knowing that the attractive back of the case is perfectly safe too. I'm totally delighted!
---
Anonymous
Unknown
SAMSUNG S5
27th June 2014
Spigen Tough Armor Case for Samsung Galaxy S5 - Gunmetal.
Excellant choice! After the building anticipation of a new phone arrival I decided to invest in some serious phone protection and SPIGEN very soon came to the top. The Tough Armour case comes as a 2 part case. Inner case is flexible Silicon / rubber that snugly fits around the S5 and the outer clips over the back to fully protect sides and back of phone from impacts. The neat design allows full access to Mini USB port and has flexible rubber grommits to work both power buttons and adjust volume. Cut away ports for the camera lense / Flash are both funky and practical. The Spigen brand name engraved on the back some how gives the phone a different identity and certainly makes it stand out. From a practical point of view the phone covers I have had before that were intirely silicon / rubber based were arkward and ''stuck ''to your pockets making removal slow and clumsy, this case is the opposite and slides in and out with no fuss allowing simple phone answering.The silicon inner case has a 1.5mm overhang that protects the phones screen , it is a snug fit but will allow a screen cover to be added (I have left the factory protection as is on mine and it fits perfectly) or you could add an alternative screen saver and still fit this case. All in all for £24.00 A GOOD CASE THAT DOES NOT DISSAPOINT.
Read 16 customer reviews
|
Write a review
---
Why Buy?
Extreme protection from drops and scratches

Air-cushioned TPU case

1.5mm lip to protect the screen

Slimmer yet more protective than other 'protective' cases on the market

Made specifically for the Samsung Galaxy S5
---
Why not View a video about this product?
Description
Extreme protection from drops and scratches
The Spigen SGP Tough Armor case is impressively hard and made of TPU. The construction techniques used in creating this case ensure you have the most reliable solution for protecting your Samsung Galaxy S5 from external impacts. The case is also designed with extra grip in mind.
Yes, it will take some punishment if you drop it, but it's always best to avoid dropping your phone - so with this in mind, the anti-slip finish and extra grip this case provides will minimise the chance of you dropping your device.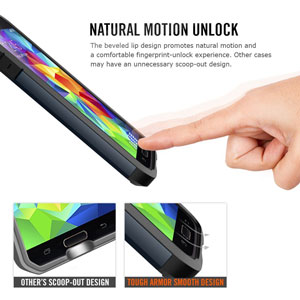 Air-cushioned TPU case
The Spigen SGP Tough Armor case features air-cushioned corners to take the force of drops and impacts. This ingenious feature greatly reduces the potential for damage.
This case also features a 1.5mm lip on the front edges to keep your screen off a flat surface. This reduces the risk of scuffs, dirt and scratches to your screen.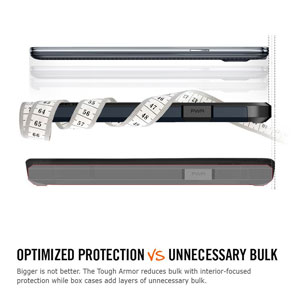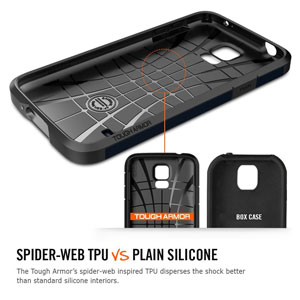 Slimmer yet more protective than other 'protective' cases on the market
You will not find any better protection for your Galaxy S5, especially for the size and weight this case adds - which is to say, very little.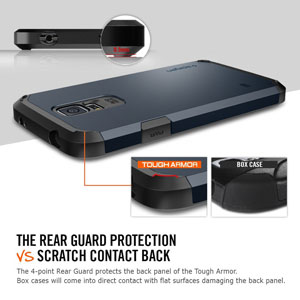 Made specifically for the Samsung Galaxy S5
The case optimises functionality to all of the Samsung Galaxy S5's ports and features, so you can use your phone without ever needing to remove it from its case.
---