Most Useful Customer Reviews
13th July 2016
Fantastic
I have dropped my phone so many times and not a scratch I was most impressed when my phone flew out of the basket while cycling onto the pavement I was sure that my screen would if been smashed ! I was delighted to find that there was no even a tiny scratch on the phone best cover ever
---
Anonymous
Unknown
Iphone 5s
4th November 2013
Good quality case
A really excellent quality case with good protection. The power and volume buttons are covered and do not interfere with their operation.The case does not add that much bulk and allows a good grip. It can be a bit tricky to take off as it is snug. I would recommend the Spigen screen protector as it does not go all the way to the edge (by a couple of mm) and does not interfere with the edge of the case. The camera cut out does not produce any flash back. All in all an excellent choice. If I'm being picky I would have preferred it with a white bumper instead of black. Well worth the money.
Read 132 customer reviews
|
Write a review
---
Why Buy?
Combination of TPU and Polycarbonate for dual protection from drops and scratches

Advanced Shock Absorption Technology

Seamless Style

Easily access all ports, controls & connectors
---
Description
Combination of TPU and Polycarbonate for dual protection from drops and scratches
The Tough Armor case for iPhone 5S / 5 is a double layered TPU and a polycarbonate hard case to provide the best protection in a form-fitted design. The web patterned TPU case features improved shock absorption on the top, bottom, and corners to provide extreme protection to your iPhone 5S / 5 from drops and scratches.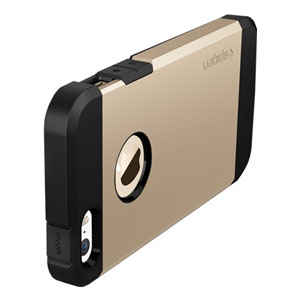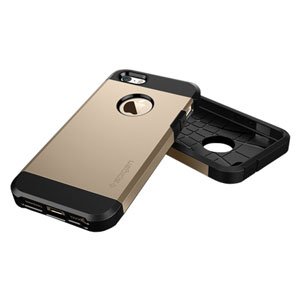 Advanced Shock Absorption Technology
The Spigen Tough Armor case features state of the art shock absorption technology, with Air Cushion Technology on all 4 corners to effectively protect the device from drops.
Seamless Style
The case fits precisely onto the iPhone 5S / 5 for a natural and sleek look, and the speaker opening is specifically designed to fully utilize the speaker without reducing sound quality.
Easily access all ports, controls & connectors
The case also features cutouts for the ports and features of the iPhone 5S / 5 such as the dock connector and camera. It has raised areas for the volume and home keys to make them easy to press whilst encased.
What is it that makes Spigen SGP cases one of the best choices on the market?
Air cushion technologies
Sometimes, the smallest of innovations and features can make the biggest difference. Spigen SGP cases, including this product listing, feature air cushion technologies in each of the corners, which absorbs and disperses the force of a drop through the TPU material, which will provide your handset with the utmost protection.
Box design versus iPhone design
With Spigen SGP cases, there is no need to get protection for your handset through a bulky case. Spigen SGP Tough Armour cases pride themselves on being inspired by iPhone, featuring tapered edges, complimenting colours and a paralleled design, to minimise bulky and boxy casing.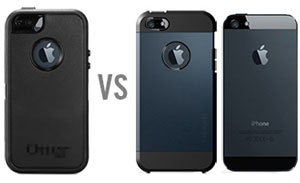 Protection and air circulation
Many cases on the market trap and absorb heat with their foam-like interior, which can cause the device in question to overheat and damage. The Spigen SGP Tough Armor features a spider web inspired TPU, which provides a better drop protection and a better air circulation to help to keep the device cool.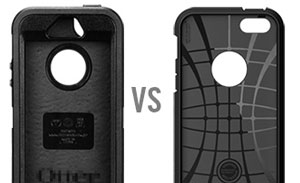 Bulk and size differentiation
There is no point in having a bulky, exterior focussed protection without any interior consideration. The Spigen SGP Tough Armor case reduces unnecessary bulk with innovative interior focused protection. This image highlights these differences, comparing Spigen SGP cases to alternative Tough Cases on the market.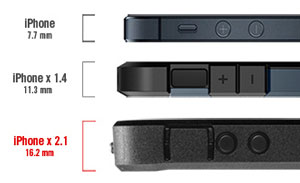 Optimal lift combined with a "lay on the table" capability
With the Spigen SGP Tough Armor case, you can lay your phone on the table screen down without worry. The TPU features a tapered lip that raises the iPhone a comfortable 1.5mm off from the surface. this leaves the screen safe and protected while optimizing comfort in hand and during use.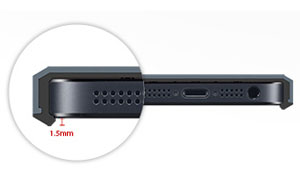 ---
Key Details
Colour: Black, Gold
Part No: 041CS20252