Most Useful Customer Reviews
brendathemender
Basildon Essex
Moto G
23rd February 2014
Loving my 'spider'
I bought this as I wanted something not too cumbersome to hold my phone during the night. I usually just lay it on my bedside table, but was worried I might spill water onto it, during the night I can bend ' spider' into so many different positions and ways , to hold my Moto, I'm more than happy with what it can do. I've seen cheaper similar items in a high street store, but it was so fragile looking I decided to go with the best, and glad that I did.....
---
12th August 2010
A very versatile and cleaver holder
The Spider Podium just looked like what I have been after for months to hold my phone in my car without suction or screws. My first trial was a huge success, my phone was held securely to the airvent, no movement and exactly where I needed it. The added benefit, is I will even be able to use it on my bike, or as a tripod to use the phone camera. This is better than anything else I have seen to date.
Read 24 customer reviews
|
Write a review
---
Why not View a video about this product?
Description
Spiderpodium can be utilised as an accessory to virtually any handheld portable device available. Spiderpodium is very lightweight and compact making it particularly portable.
Why Buy?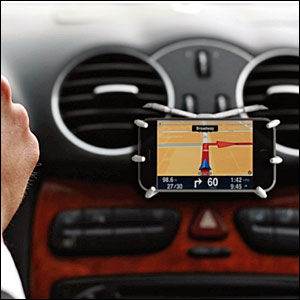 Designed with today's portable handheld consumer electronics in mind, the 'take it everywhere, use it anywhere' Spiderpodium portable dock & podium is a universal, multi-purpose, gadget grip, holster, dock and display podium which is compatible with most all compact handheld devices including smartphones, portable phones, portable movie players, mp3/4 players, gaming systems, SatNav's, camcorders, portable projectors, compact camera's, e-readers and more!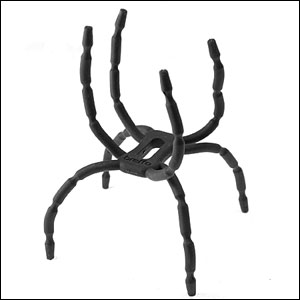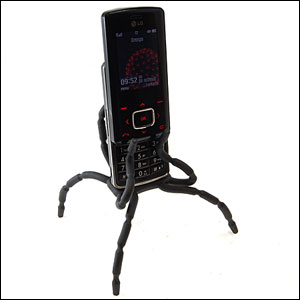 Spiderpodium has been designed, re-designed and then designed again to accomodate virually every handheld portable device available both now, and in the future. Yes. It's that well designed! The product's compact nature allows for Spiderpodium to be tucked into a pocket or packed into a handbag with ease. Spiderpodium is a fantastic travel companion.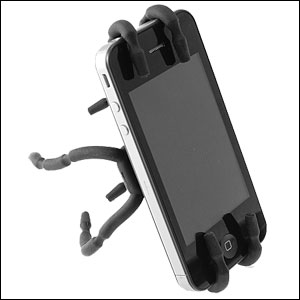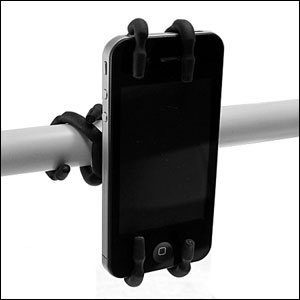 The hole in the body is specifically designed to allow most all proprietary chargers fit through for charged docking. Thus eliminating need for additional purchase of a Spider Podium for each device or gadget you own! Clever? Yes. Very!

The spider Podium is Ideal for Bikes, Cars, desktops and many more.