Why Buy?
Colourful and fluffy phone case

Perfect gift for kids as well as adults

Zip closing

Fluffy fabric with fastened strap

Teddy bear shape with smiling face design
---
Description
Discover the child within yourself! Or maybe you're looking for the perfect gift for a child with a phone. This colourful, fluffy and smiling case in original shape will help you to release it. They make you smile every time you look at them, but they are also a perfect gift for kids, who will be delighted as they can not only pop their mobiles inside, but also any other valuables they like to cart about. It's a guaranteed winner for the little folk!

Awww... look at it's little face!

Made of soft, fluffy fabric with a fastened strap and closed with a zipper so it's easy to get in and out without fuss and it feels and looks just like any other teddy bear. Awww... just look at it's little face!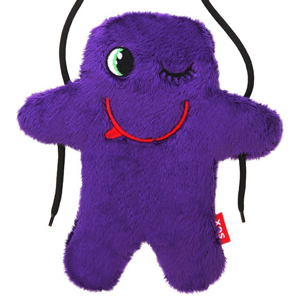 Suitable for a wide variety of smartphones
This cuddly little fellow will accomodate a wide variety of the smaller smartphones including all iPhones, Samsung Galaxy minis and many more. The inner pouch is approximately 125mm x 65mm and will fit phones up to that size comfortably.

---
Key Details
Colour: Purple
Part No: SOX LKL 01