Sale – Limited Stock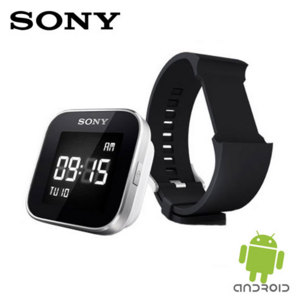 Sony SmartWatch Android Watch

Product Reference: 33781
"Great Move."
"This really is just what I wanted."
Most Useful Customer Reviews
Anonymous
Stafford
Samsung Galaxy Note 2
31st January 2014
Great Move.
I bought the item as an inexpensive and affordable alternative to the Galaxy Gear smart watch. This is the best thing I could have done. The watch is brilliant. It does exactly what it says on the box. I love the way it tells me I've received a text or phone call, and that I can answer the call with, or read the text on the watch. Facebook statuses are the same, which is fantastic. I can control the media players on my phone too via the watch too. I don't think there are any features on the Gear watch that I haven't got on my Sony smart watch, and this is just the best news and discovery I've made. You could have told me I'd won the lottery and I wouldn't be happier...well, nearly anyway! But even if I did win the lottery, I would still buy this Sony version of a smart watch, it works so well. It charges really quickly, no messing there, and over all I'm absolutely delighted. The features I wanted are all there, and work flawlessly. And - icing on the cake - it tells me the time too.
---
Mike Ball
Nottingham, UK
Samsung Galaxy S2 NDROID 4.0
14th October 2012
This really is just what I wanted.
I got the watch in Early October. After installing the bits and pieces on to my phone, I have had the best experience with this watch. I am so pleased with the way it works, I have only had to charge it up 3 times. It holds the charge well. If you use the smaller watch display then this does drain the battery, but I use the large display. Every thing works as it should. The best thing to do is not switch the watch off, as it can take a long time to reconnect you watch to the phone, but I learn quick and have not done so since the 1st time. I can view FB posts, miss calls if I don't want to answer,even check on the weather. The best thing is at work I have to silence my phone and if we are caught using the phone could get a warning etc. With the Sony watch, I can see everything I need to see and know I am not being caught out. It really is the "Muts Nuts" to coin a phrase.
---
Read 23 customer reviews
|
Write a review
---
Why Buy?
Keep up to date without having to touch your phone

Downloadable apps allow you to fully customise your SmartWatch

Pairs to your device via Bluetooth removing the hassle of tangled cables

Compatible with any 20mm wrist band so you can change it to suit your mood
---
Why not View a video about this product?
Description
Keep up to date without having to touch your phone
Convenient, good looking and distinctive, the Sony SmartWatch Android watch allows you to check your Facebook, catch up on your Tweets, texts and emails, make calls and also listen to your music whilst keeping your hands free. The SmartWatch features an easy to use, ultra-responsive touch display making it simple and easy to navigate your way around the SmartWatch with a simple touch, press or swipe.
Downloadable apps to customise your SmartWatch
The SmartWatch also features exclusive apps which are available to download from the Android Market so you can personalise your SmartWatch and make it your own.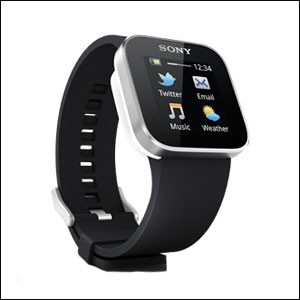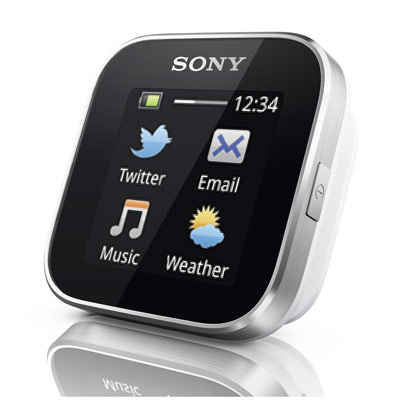 Pairs to your phone via Bluetooth removing the hassle of tangled cables
Missed an important call or SMS because you couldn't hear or find your phone at the bottom of your handbag? With the SmartWatch this is now a thing of the past. Using innovative Bluetooth technology, the watch displays the caller ID and vibrates as your phone is ringing or when you receive an SMS. Reject or mute the call with a button on the watch or use the Bluetooth headset or mobile phone to answer the call and start chatting.
The SmartWatch was designed to impress
The SmartWatch is designed so that it will work with any 20mm wrist band so you can change the colour of your watch to suit your mood. You can even remove the SmartWatch from the wrist band and wear it as a clip on accessory so it is fully portable and you can wear it any way that you want.
Acer: Acer Liquid Z3, Allegro, Iconia A1-830, Iconia B1-720, Liquid E1, Liquid E2, Liquid E3, Liquid Jade, Liquid Jade Z, Liquid M220, Liquid Metal, Liquid S1, Liquid S2, Liquid X1, Liquid X2, Liquid Z200, Liquid Z4, Liquid Z5
Alcatel: Idol Alpha, Touch Idol X 6040D, One Touch Evo 7, One Touch Hero 2C, One Touch T10, OneTouch Hero 2, OneTouch Idol, OneTouch Idol X+ 6043D, OneTouch Pop C3, OneTouch Pop C7, OneTouch SPop, OT 990, OT 991, OT-292, POP S3, POP S7, POP S9
Allview: V1 Viper S
Amazon: Kindle Fire HD 8 9, Fire Phone, Kindle 6th Gen, Kindle Fire HD 2013, Kindle Fire HD 6, Kindle Fire HD 7, Kindle Fire HDX, Kindle Fire HDX 8.9, Kindle Voyage
Apple: iPad Mini 3, iPhone 6, iPhone 6 Plus
Archos: 45 Helium 4G, 50 Oxygen, 50 Platinum, 50c Oxygen, 80 Helium 4G
Asus: Memo Pad 10, MEMO Pad 8, PadFone E, PadFone Mini, PadFone X, Transformer Book Duet, VivoTab Note 8, Zenfone 2, ZenFone 4, ZenFone 5, ZenFone 6, ZenFone Zoom
BlackBerry: Classic, Leap, Passport, Q10, Q5, Z10, Z20, Z3, Z30
BLU: Neo 4
BQ: Aquaris 5 HD, Aquaris 5.7, Aquaris E10, Aquaris E4, Aquaris E4.5, Aquaris E5, Aquaris E5 4G, Aquaris E6, Curie 2, Curie 2 Quad Core, Edison 2, Edison 2 Quad Core
Dell: Streak, Streak 7, Venue 8 7000, Venue 8 Pro
EE: Eagle, Harrier, Harrier Mini, Kestrel
Energy: Energy Phone Pro, Phone Neo, Phone Pro Qi
Gionee: Elife S5.5, GPad G2
GoClever: Terra 70 L
Google: Android One, Nexus 4, Nexus 5, Nexus 6, Nexus 9, Nexus One
Hisense: U980
HP: 8 1401, Slate 7, Slate6 VoiceTab, Slate7 VoiceTab, Steam 7
HTC: 8S, 8X, Butterfly, Butterfly 2, Butterfly 3, Desire, Desire 200, Desire 210, Desire 262, Desire 300, Desire 310, Desire 320, Desire 500, Desire 501, Desire 510, Desire 516, Desire 601, Desire 610, Desire 616, Desire 620, Desire 626, Desire 700 Dual SIM, Desire 709d, Desire 816, Desire 820, Desire 826, Desire C, Desire Eye, Desire HD, Desire S, Desire VC, Desire X, Desire Z, EVO 3D, Evo 4G LTE, Explorer, First, Gratia, HD mini, Incredible S, Inspire, Legend, M8 Ace, One 2014, One Dual SIM, One E8, One E9, One E9 Plus, One M7, One M8, One M8 Ace, One M8 Dual SIM, One M8 Eye, One M8s, One M9, One M9 Plus, One Max, One Mini, One Mini 2, One S, One SV, One V, One X, One X Plus, One XL, Radar, Rezound, Rhyme, Sensation, Sensation XE, Sensation XL, Thunderbolt, TITAN, Ville, Wildfire, Wildfire S
Huawei: Ascend D Quad, Ascend D Quad XL, Ascend D1, Ascend G300, Ascend G330, Ascend G510, Ascend G526, Ascend G6, Ascend G6 4G, Ascend G600, Ascend G7, Ascend G730, Ascend Mate, Ascend Mate 2, Ascend Mate 3, Ascend Mate 7, Ascend P1, Ascend P6, Ascend P7, Ascend P7 Mini, Ascend P8, Ascend W1, Ascend Y100, Ascend Y210D, Ascend Y530, Blaze, C199, Honor, Honor 3, Honor 4X, Honor 6, Honor 6 Plus, Honor Holly, MediaPad M1, MediaPad T1 8.0, MediaPad X2, P8, P8 Max, Vision, Ascend Y300, Y600
Ice-Phone: Forever
Intex: Aqua i5 Mini, Aqua i7, Aqua Superb
Karbonn: A30, A9 Plus, K450, S5 Titanium, Sparkle V, Titanium Hexa, Titanium Octane
Kazam: Thunder2 4.5L, Thunder2 5.0, Tornado2 5.0, Trooper2 5.0
Konka: Expose 960, Expose 970
Lava: Iris 351, Iris 454, Iris 502
Lenovo: A10, A526, A7000, Golden Warrior A8, IdeaTab A2107, K80, K900, Miix 300, P90, S660, S850, S860, Tab 2 A10, Tab 2 A8, Tab S8, ThinkPad 8, Vibe Shot, Vibe X2, Vibe Z2, Vibe Z2 Pro, X2 Pro, Yoga Tablet 10
LG: A 225, Escape, F60, G Flex, G Flex 2, G Pad 10.1, G Pad 7.0, G Pad 8.0, G Pad 8.3, G Pro 2, G2, G2 Mini, G3, G3 Beat, G3 Mini, G3 S, G3 Stylus, G4, G4 Stylus, G4c, GT540 Optimus, Intuition, Joy, L Bello, L Fino, L35, L40, L70, L80 Dual, L90, L90 Dual, Leon, Magna, Optimus 2X, Optimus 3D, Optimus 3D Max, Optimus 4X HD, Optimus Black, Optimus Chic, Optimus F3Q, Optimus F6, Optimus G, Optimus G Pro, Optimus Hub, Optimus L7 II, Optimus L9, Optimus Me, Optimus One, Optimus Pad, Optimus True HD, Prada 3.0, Rumor Reflex, Spectrum VS920, Spirit, Spirit 4G
Maxtouuch: 7 Inch Android Tablet
Micromax: A116 Canvas HD, Canvas Elanza 2, Canvas Turbo
Microsoft: Lumia 1330, Lumia 430, Lumia 435, Lumia 532, Lumia 535, Lumia 540, Lumia 640, Lumia 640 XL, Lumia 940, Lumia 940 XL, Surface 2, Surface 3
Motorola: Atrix HD, DEFY, DEFY Mini, DEFY Plus, DEFY Plus JCB Edition, Droid RAZR, Droid Razr HD, Droid RAZR Maxx, Droid Razr Maxx HD, Droid Ultra, DVX, Flipout, Milestone, Milestone 2, Moto E 1st Gen, Moto E 2nd Gen, Moto G 1st Gen , Moto G 2nd Gen, Moto G 4G 2015, Moto G 4G LTE, Moto G Forte, Moto X 1st Gen, Moto X 2nd Gen, MOTOLUXE, MotoSmart, Photon 4G, Photon Q 4G, RAZR, RAZR HD, RAZR i XT890, XT316, XT720
Nodis: ND 503
Nokia: 106, 130, 208, 215, 301, Asha 210, Asha 502, Lumia 735, N1, X, X Plus, XL
OnePlus: One
Oppo: Find 5, Find 7, Find 7a, R3, R5, R7, R7 Plus
Orange: Dallas, Gova, San Diego, San Francisco II
Panasonic: Eluga, Eluga Power, Lumix CM1
Prestigio: MultiPhone 5300 DUO, MultiPhone 5450 DUO, MultiPhone 5500 DUO
Samsung: Ativ S, ATIV SE, Champ Deluxe Duos, Core LTE, E2600, Exhilarate i577, G9098, Galaxy A3, Galaxy A5, Galaxy A7, Galaxy Ace 3 4G, Galaxy Ace 4, Galaxy Ace Duos S6802, Galaxy Ace Style, Galaxy Advant, Galaxy Alpha, Galaxy Avant, Galaxy Axiom, Galaxy Beam 2, Galaxy Chat B5330, Galaxy Core, Galaxy Core 4G, Galaxy Core Advance, Galaxy Core II, Galaxy Core Prime, Galaxy E5, Galaxy E7, Galaxy Europa I5500, Galaxy Express, Galaxy Express 2, Galaxy Extreme, Galaxy F, Galaxy Fame, Galaxy Grand, Galaxy Grand 2, Galaxy Grand Prime, Galaxy Grand Z, Galaxy J1, Galaxy K Zoom, Galaxy M Pro, Galaxy Mega 2, Galaxy Mega 5.8, Galaxy Mega 6.3, Galaxy Next Turbo, Galaxy Note, Galaxy Note 2, Galaxy Note 3, Galaxy Note 3 Neo, Galaxy Note 4, Galaxy Note 8.0, Galaxy Note Edge, Galaxy Note Pro, Galaxy Pocket, Galaxy R, Galaxy Round, Galaxy S Advance, Galaxy S Duos, Galaxy S I9000, Galaxy S Plus I9001, Galaxy S2, Galaxy S2 Skyrocket, Galaxy S3, Galaxy S3 LTE, Galaxy S3 Mini, Galaxy S3 Neo, Galaxy S4, Galaxy S4 Active, Galaxy S4 Mini, Galaxy S4 Zoom, Galaxy S5, Galaxy S5 Active, Galaxy S5 Mini, Galaxy S5 Neo, Galaxy S5 Prime, Galaxy S5 Sport, Galaxy S6, Galaxy S6 Active, Galaxy S6 Edge, Galaxy Star 2, Galaxy Stellar, Galaxy Tab 3 Lite , Galaxy Tab 4 10.1, Galaxy Tab 4 7.0, Galaxy Tab 4 8.0, Galaxy Tab A 8.0, Galaxy Tab A 9.7, Galaxy Tab Pro 10.1, Galaxy Tab Pro 12.2, Galaxy Tab Pro 8.4, Galaxy Tab S 10.5, Galaxy Tab S 2 8in, Galaxy Tab S 2 9.7in, Galaxy Tab S 8.4, Galaxy Trend Plus, Galaxy Victory 4G, Galaxy W, Galaxy Xcover, Galaxy Xcover 2, Galaxy Y, Galaxy Y Pro, Galaxy Young, Galaxy Young 2, Grand Neo, i5500 Corby, I9003 Galaxy SL, I9010 Galaxy S Giorgio Armani, Mega 6.3, Omnia M , Rex 60, Rex 70, Rex 80, Rex 90, S2 Plus, Tocco Lite 2, Tocco Quick Tap, Z, Z1
Sharp: Aquos Xx 302Sh
Smartisan: T1
Sony: acro S, Xperia A2, Xperia C, Xperia C3, Xperia C4, Xperia E, Xperia E1, Xperia E3, Xperia E4, Xperia E4g, Xperia go, Xperia i1, Xperia ion, Xperia J, Xperia L, Xperia M, Xperia M Dual, Xperia M2, Xperia M2 Aqua, Xperia M4 Aqua, Xperia Miro, Xperia P, Xperia S, Xperia SL, Xperia Sola, Xperia SP, Xperia T, Xperia T2 Ultra, Xperia T2 Ultra Dual, Xperia T3, Xperia Tipo, Xperia tipo dual, Xperia TX, Xperia U, Xperia V, Xperia XL, Xperia Z, Xperia Z Tablet, Xperia Z Ultra, Xperia Z1, Xperia Z1 Compact, Xperia Z1f, Xperia Z1S, Xperia Z2, Xperia Z2 Compact, Xperia Z2 Tablet, Xperia Z3, Xperia Z3 Compact, Xperia Z3 Tablet Compact, Xperia Z3+, Xperia Z4, Xperia Z4 Compact, Xperia Z4 Tablet, Xperia Z4 Ultra, Xperia ZL, Xperia ZL2, Xperia ZR, Z2a Compact, Z3 Plus
Sony Ericsson: txt, Txt Pro, X10, Xperia Active, XPERIA Arc, Xperia arc S, XPERIA Kyno, XPERIA Mini, XPERIA Mini Pro, XPERIA Neo, Xperia neo V, Xperia Play, XPERIA Pro, Xperia Ray, XPERIA X10 Mini, XPERIA X10 Mini Pro
Spice: Dream Uno, Stellar Mi-520, Stellar Mi-526
Swipe: Fablet F2, Fablet F3, MTV Volt 1000
TMobile: Beat, Energy, Groove, Vivacity
Toshiba: Encore 2 10, Encore 2 8, Excite Go
Turkcell: T50
Videocon: A 27
Vodafone: Smart 4 Mini, Smart 4G, Smart first 6, Smart Mini, Smart prime 6, Smart Tab II 10, Tab prime 6
Wiko: Barry, Birdy 4G, Bloom, Cink Five, Cink Peax 2, Cink Slim, Cink Slim 2, Darkmoon, Darknight, Darkside, Fizz, Getaway, Goa, Highway, Highway 4G, Highway Pure 4G, Highway Signs, highway Star 4G, Jimmy, Kite 4G, Lenny, Mazing, Rainbow, Rainbow 4G, Ridge 4G, Ridge Fab 4G, Slide, Stairway, Sunset, Wax
Wolder: mismart XLIM
Woxter: Zielo S11
Xiaomi: Mi 3, Mi 4, Mi 4i, Mi Note, Mi Pad 7.9, RedMi, RedMi 2, RedMi Note
Xolo: A500, A500s, Play, Q1000, Q1000s, Q1100, Q2000, Q3000, Q700, Q800, X1000
Yarvik: Luna 7 101
Yota Devices: YotaPhone 2
Zen: Ultrafone 502
ZTE: Blade 2, Blade A430, Blade L2, Blade S6, Blade S6 Plus, Blade Vec 3G, Blade Vec 4G, Grand Memo II LTE, Grand S, Grand X, Grand X Max+, Kis 3, Kis 3 Max, KPN Smart 200, Libra, Nubia X6, Nubia Z9, Open, Racer, Skate, Tania, Tureis, ZTE Blade Q Mini
Blade A430 Spares
,
Blade A430 Novelty and Fun
,
Xperia Z3 Plus Spares
,
Xperia Z3 Plus Novelty and Fun
,
Z3 Plus Spares
,
Z3 Plus Novelty and Fun
,
R7 Plus Spares
,
R7 Plus Novelty and Fun
,
R7 Spares
,
R7 Novelty and Fun
,
Honor Holly Spares
,
Honor Holly Novelty and Fun
,
G4 Stylus Spares
,
G4 Stylus Novelty and Fun
,
Butterfly 3 Spares
,
Butterfly 3 Novelty and Fun
,
Xperia Z3 Compact Smartwacthes
,
Xperia Z3 Smartwatches
,
Nexus 6 Smartwatches
,
Galaxy Note Edge Smartwatches
,
Lumia 640 Smartwatches
,
One M9 Smartwatches
,
G4 Smartwatches
,
Galaxy S6 Edge Smartwatches
,
Galaxy S6 Smartwatches
,
Galaxy Note 4 Smartwatches
,
One M8s Spares
,
One M8s Novelty and Fun
,
Galaxy Tab S 2 97in Spares
,
Galaxy Tab S 2 97in Novelty and Fun
,
Galaxy Tab S 2 8in Spares
,
Galaxy Tab S 2 8in Novelty and Fun
,
Nubia Z9 Spares
,
Nubia Z9 Novelty and Fun
,
Lumia 940 XL Spares
,
Lumia 940 XL Novelty and Fun
,
Lumia 940 Spares
,
Lumia 940 Novelty and Fun
,
G4c Spares
,
G4c Novelty and Fun
,
Xperia C4 Spares
,
Xperia C4 Novelty and Fun
,
Tab prime 6 Spares
,
Tab prime 6 Novelty and Fun
,
Smart prime 6 Spares
,
Smart prime 6 Novelty and Fun
,
Smart first 6 Spares
,
Smart first 6 Novelty and Fun
,
Mi 4i Spares
,
Mi 4i Novelty and Fun
Questions and answers: