Why Buy?
Superior Sound - Clear sound with deep bass

Built in SD card slot turns the headset into a personal MP3 player

Built in screen and text to speech means you don't have to look at your phone every time you get a message or an incoming call

Built in FM Radio - Adds a FM radio, even if your phone doesn't have it

Built in Handsfree - Answer those important calls

Compatible with any phone using Android operating software

Wireless streaming - Play music from your phone without wires

3.5mm Jack - Plug in your own set of headphones for optimum comfort
---
Why not View a video about this product?
Description
Rock to the radio. Groove to your tunes. Network. Gossip. While you're hands are free to do as they please.Enjoy exceptional on-the-go audio.Join the wireless revolution.
Superior Sound
Each element of a Sony Ericsson music accessory is designed for the best audio performance. Clear sound, deep bass and better performance are standard. Expect nothing less.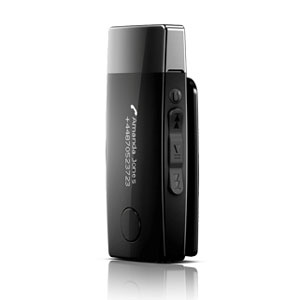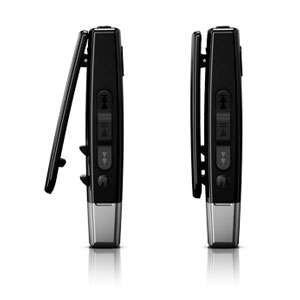 Built in SD card slot
The SmartWireless headset can also be turned into your own personal MP3 player thanks to its built in SD card slot. This means that you can plug in an SD card loaded with your favourite tunes and listen to your music without draining your phones battery.
Built in screen and text to speech
The SmartWireless Headset also features a stylish built in screen which lets you see whats going on with your phone. The screen displays useful information, such as messages, caller ids, calendar events and many more. If that's not enough the headset will also read your messages too you, via text to speech, making your life a lot easier when you're on the go.
Built in FM Radio
The built in FM Radio will allow you to listen to the radio, whether you are connected via Bluetooth to your phone or not. Tune into your favourite radio channel and enjoy listening to your favourite radio shows without draining power from your phone.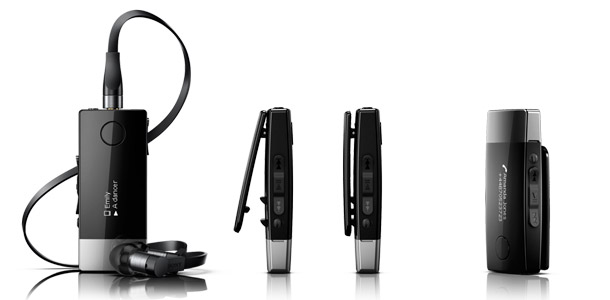 Built in Handsfree
It's called a stereo portable handsfree because it's for more than listening. A built in microphone, call answer key and 3.5mm jack to swap headphones are all included. The microphone coupled with the included earphones will enable you to continue your conversation wherever you are. This is extremely useful for staying on the correct side of the law whilst driving.

Universal Compatibility
The SmartWireless Headset is designed to work with any Sony Ericsson device and devices from other manufacturers that use the Android operating platform. So it can be used with a wide variety of mobile devices.
Wireless Streaming
A2DP is the technology that enables you to stream music wirelessly through Bluetooth. As long as your phone has A2DP, you will be able to stream music to the attached headphones.
3.5mm Jack
The 3.5mm jack output will allow you to connect this headset to a variety of output devices such as the included set of headphones or another larger set of speakers, as long as they have a 3.5mm input.
Technical Specification:
Dimensions
Main unit: 60 x 25 x 8 mm
With clip = 12 mm wide
Power
Portable FM radio playing time (up to) 11 h
Standby time (up to) 650h
Talk time (up to) 11h
MP3 streaming time (up to) 12h
BT Streaming A2DP (up to) 8.5h
Charging connector: Micro USB
---
Key Details
Multipoint: Yes
Micro USB Charging: Yes
Part No: SmartWireless
Acer: Liquid Metal
Alcatel: OT 990
Amazon: Kindle Fire HD 2012, Kindle Fire HD 2013
HTC: 8S, 8X, Desire, Desire C, Desire HD, Desire S, Desire X, Desire Z, EVO 3D, Evo 4G LTE, Explorer, Gratia, HD mini, Inspire, Legend, One S, One V, One X, One X Plus, One XL, Radar, Rezound, Rhyme, Sensation, Sensation XE, Sensation XL, Thunderbolt, TITAN, Ville, Wildfire, Wildfire S
Huawei: Ascend D Quad, Ascend D Quad XL, Ascend D1, Ascend G300, Ascend G330, Ascend G600, Ascend P1, Ascend Y100, Blaze, Honor, Vision
LG: Optimus L9
Motorola: Atrix HD, DEFY, DEFY Mini, DEFY Plus, DEFY Plus JCB Edition, Flipout, Gleam, Gleam Plus, Milestone, MOTOLUXE, MotoSmart, RAZR i XT890, XT316, XT720
Orange: Dallas, San Diego, San Francisco II
Panasonic: Eluga, Eluga Power
Samsung: Ativ S, E2600, Galaxy Ace Duos S6802, Galaxy Europa I5500, Galaxy Extreme, Galaxy M Pro, Galaxy Nexus, Galaxy Pocket, Galaxy R, Galaxy S Advance, Galaxy S Duos, Galaxy S I9000, Galaxy S Plus I9001, Galaxy S2, Galaxy S2 Skyrocket, Galaxy S3, Galaxy S3 LTE, Galaxy S3 Mini, Galaxy W, Galaxy Xcover, Galaxy Y, Galaxy Y Pro, i5500 Corby, I9003 Galaxy SL, I9010 Galaxy S Giorgio Armani, Omnia M , Tocco Lite 2, Tocco Quick Tap
Sony: acro S, Xperia go, Xperia ion, Xperia J, Xperia Miro, Xperia P, Xperia S, Xperia SL, Xperia Sola, Xperia Tipo, Xperia tipo dual, Xperia U, Xperia V
Sony Ericsson: txt, Txt Pro, X10, XPERIA Arc, Xperia arc S, XPERIA Kyno, XPERIA Mini, XPERIA Mini Pro, XPERIA Neo, Xperia neo V, Xperia Play, XPERIA Pro, Xperia Ray, XPERIA X10 Mini, XPERIA X10 Mini Pro
TMobile: Beat, Energy, Groove, Vivacity