Most Useful Customer Reviews
30th April 2013
Excellent headphones
I had many Bluetooth headsets during the past years, I know it's limitations, but this headsets are superbe! Excellent sound quality, deep bass and no distortion. The connection is steady, no disconnections and battery life are very good. In one sentence - the best I had.
---
Flann
London
iPhone 5, Windows 7 laptop, my car
11th November 2012
Almost faultless. Best available in the class
This is my second SonyEricsson MW600 (dropper the last one in a river!). I looked around at alternative bluetooth adapters and this was again, the one I chose because: 1. It is very very light. Great clip and perfect for listening to iPhone when running on the road or gym 2. Works perfectly with iPhone/IOS6. Display of incoming call number, track being played etc. 3. I can add my own headphones (Shure 545 in my case - I had the cable shortened). Sound quality is as good as you will get with bluetooth. Range is very good as well. I can walk around the office and leave my PC/phone on the desk. I rarely use the FM radio but good to know that it is there if I need it. Also have this paired with my laptop for Messenger/OCS/Lync/listening to music on iTunes. Battery (rechargeable) life is very good for something so light. remember, lightweight makes a massive difference for running. Not banging about and falling off. Have recommended to many friends already. Can't go wrong, especially at that price.
Read 95 customer reviews
|
Write a review
---
Why Buy?
Superior Sound - Clear sound with deep bass

Built in FM Radio - Adds a FM radio, even if your phone doesn't have it

Built in Handsfree - Answer those important calls

Universal Compatibility - Compatible with any stereo bluetooth enabled phone

Multipoint - Connect to two devices at the same time

OLED Screen - Crisp display shows you who is calling

Wireless streaming - Play music from your phone without wires

3.5mm Jack - Plug in your own set of headphones for optimum comfort
---
Description
Rock to the radio. Groove to your tunes. Network. Gossip. While you're hands are free to do as they please.Enjoy exceptional on-the-go audio.Join the wireless revolution.
Superior Sound
Each element of a Sony Ericsson music accessory is designed for the best audio performance. Clear sound, deep bass and better performance are standard. Expect nothing less.
Built in FM Radio
The built in FM Radio will allow you to listen to the radio, whether you are connected via Bluetooth to your phone or not. Tune into your favourite radio channel and enjoy listening to your favourite radio shows without draining power from your phone.
Built in Handsfree
It's called a stereo portable handsfree because it's for more than listening. A built in microphone, call answer key and 3.5mm jack to swap headphones are all included. The microphone coupled with the included earphones will enable you to continue your conversation wherever you are. This is extremely useful for staying on the correct side of the law whilst driving.
Universal Compatibility
This headset will work with any device which has a Bluetooth headset or handsfree profile built in. This will work with 99.9% of the currently available.
Multipoint
The multipoint will allow you to connect with more than one device at the same time. This is useful for wanting to connect, for example to your computer and phone.
OLED Screen
The built in OLED screen will allow you to see which track is currently playing or who is calling (Phone dependant, to view full list click here.) It will also allow you to see which FM frequency is currently playing.
Wireless Streaming
A2DP is the technology that enables you to stream music wirelessly through Bluetooth. As long as your phone has A2DP, you will be able to stream music to the attached headphones.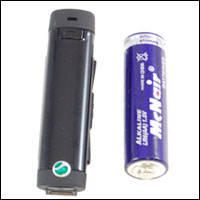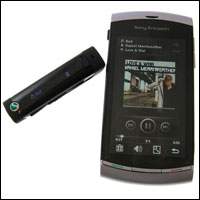 3.5mm Jack
The 3.5mm jack output will allow you to connect this headset to a variety of output devices such as the included set of headphones or another larger set of speakers, as long as they have a 3.5mm input.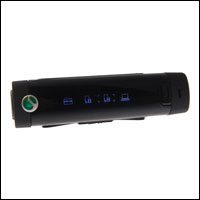 Specifications
Talk time: 11 Hours
Stand by time: 500 hours
Streaming time: 8.5 hours
Radio time: 11 hours
Charging time: 2 hours
Dimensions: 17.5 x 15.0 x 62.0 mm.
Weight: 13g
What's in the Box

Sony Ericsson MW600 Bluetooth Headset
Sony Ericsson HPM-78 Earphones
Spare ear buds
Sony Ericsson Micro USB Mains Charger
Not quite what you want?: