Sony Digital Noise Cancelling Headset MDR-NC31EM - White

Product Reference: 44448
Also available:
Why Buy?
No noise, just great sounding music

Precise listening

Hands-free calling
---
Description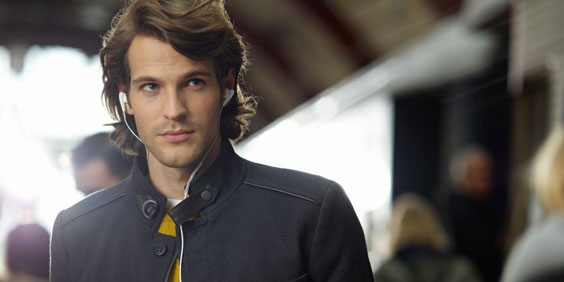 No noise, just great sounding music
When travelling, you'll want to block out the background noise that surrounds us all, so you can enjoy your journey your own way. The Sony MRD-NC31EM earphones leave you with the best of your music and style thanks to the high comfort earbuds, which complement your listening experience and lets you enjoy your favourite songs, videos and other entertainment for hours on end.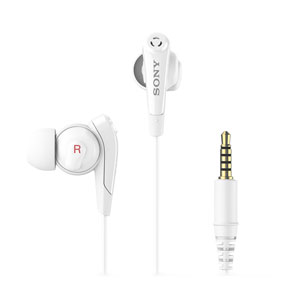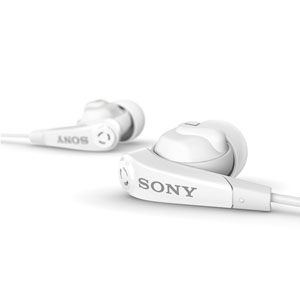 Precise listening
Cancel out all the noise around you, no matter where you are and listen to your music in all its glory. The digital noise-cancelling earphones will give you full-range audio with deep bass, strong medium register and clear highs.
Hands-free calling
When a call comes in there's no need to reach for your phone to answer it, with the Sony MDR-NC31EM earphones you can answer and reject calls at a touch of a button, leaving your hands free for driving or while working.
Please Note: Call handling is only possible when the MDR-NC31EM is connected to a device with a 3.5 mm 5-pole audio contact. Check your device specifications for details.
Technical Specifications:
Length: 1m
Weight: 21g
Connector: 3.5mm audio jack, 5 pole
Frequency Response: 20Hz - 20000Hz
Speaker Type: 13.5mm dynamic
Microphone: ECM
Nominal Impedance: 31Ohm
---
Key Details
Colour: White
Multipoint: No
Part No: 1279-6826
Acer: Acer Liquid Z3, Iconia A1-830, Iconia B1-720, Liquid E2, Liquid E3, Liquid S2, Liquid Z4, Liquid Z5
Alcatel: OneTouch Idol X+ 6043D, OT 990, OT 991, POP S3, POP S7, POP S9
Archos: 50 Oxygen, 50c Oxygen, 80 Helium 4G
Asus: Memo Pad 10, PadFone E, PadFone Mini, PadFone X, Transformer Book Duet, VivoTab Note 8, ZenFone 4, ZenFone 5, ZenFone 6
BlackBerry: 8120 Pearl, 8300 Curve, 8310 Curve, Z3, Z30
BQ: Aquaris 5 HD, Aquaris 5.7, Curie 2
Creative: Zen Stone, Zen V, Zen Vision M
Dell: Axim 51, Venue 8 Pro
GoClever: Terra 70 L
Google: Nexus 4, Nexus 5 2013, Nexus 5X
HP: hw6500, hw6900, hx2100, hx2700, hx4700, rx5915, Slate6 VoiceTab, Slate7 VoiceTab
HTC: 7 Pro, 8S, 8X, Advantage, ChaCha, Desire, Desire 300, Desire 310, Desire 501, Desire 601, Desire 610, Desire 816, Desire C, Desire HD, Desire S, Desire VC, Desire X, Desire Z, Dream, Droid DNA, EVO 3D, Evo 4G LTE, Explorer, Google Nexus One, Gratia, HD mini, HD2, HD7, HD7S, Hero, Incredible S, Inspire, Legend, Magic, Mozart, MTeoR, One Dual SIM, One M7, One M8, One Max, One Mini, One S, One V, One X, One X Plus, One XL, P3300, P3350, P3400, P3470, P3600, P4350, P6300, P6500, Radar, Rezound, Rhyme, S310, S620, S710, S730, S740, Salsa, Sensation, Sensation XE, Sensation XL, Smart, Snap, Tattoo, Thunderbolt, TITAN, Touch 3G, Touch Cruise, Touch Cruise 09, Touch Diamond, Touch Diamond2, Touch Dual, Touch HD, Touch phone, Touch Pro, Touch Pro2, Touch Viva, Touch2, Trophy, TyTN, TyTN II, Ville, Wildfire, Wildfire S
Huawei: Ascend D Quad, Ascend D Quad XL, Ascend D1, Ascend G300, Ascend G330, Ascend G510, Ascend G600, Ascend Mate, Ascend Mate 2, Ascend P1, Ascend Y100, Ascend Y210D, Honor, Honor 3, Ascend Y300
Karbonn: A30, A9 Plus, K450, S5 Titanium
Kazam: Thunder2 4.5L
Konka: Expose 960, Expose 970
Lava: Iris 351, Iris 454, Iris 502
Lenovo: IdeaTab A2107, ThinkPad 8
LG: Escape, G Flex, G Pro 2, G2 Mini, G3, Intuition, L40, L70, L90, Optimus F3Q, Optimus G Pro, Optimus Hub, Optimus L9, Optimus True HD, Spectrum VS920, Spirit 4G, U400
Maxtouuch: 7 Inch Android Tablet
Meizu: MX3
Micromax: A116 Canvas HD
Microsoft: Surface 2, Surface Pro 2
Motorola: Atrix HD, Droid Razr HD, Droid Razr Maxx HD, DVX, Moto G 1st Gen , Moto G 2nd Gen, Moto X 2nd Gen, MotoSmart, Photon 4G, RAZR i XT890
Nokia: 220, 3230, 3250, 3300, 5200, 5310, 5500, 5610, 5700, 6085, 6086, 6103, 6111, 6125, 6131, 6136, 6151, 6170, 6230, 6230i, 6233, 6234, 6260, 6267, 6270, 6280, 6290, 6630, 6650, 6670, 6680, 6681, 7210, 7370, 7373, 7390, 7600, 7610, 7700, 7710, 9300, 9300i, 9500, Asha 230, Asha 306, E50, Lumia 525, Lumia 625, Lumia 820, Lumia 925, Lumia 929, Lumia Icon, N81, N82, N91, N95, N95 8GB, X Plus, XL
O2: XDA Exec
Oppo: Find 7
Orange: Dallas, Gova, SPV M5000, San Diego
Palm: LifeDrive
Panasonic: Eluga, Eluga Power
Qtek: 9000
Samsung: Ativ S, C3350 Solid X Cover, Champ Deluxe Duos, Core LTE, E2600, Exhilarate i577, Flutter, Galaxy 550, Galaxy Ace 2, Galaxy Ace 3 3G, Galaxy Ace Duos S6802, Galaxy Ace Plus, Galaxy Apollo i5801, Galaxy Chat B5330, Galaxy Core, Galaxy Core Advance, Galaxy Extreme, Galaxy Fit S5670, Galaxy Grand 2, Galaxy M Pro, Galaxy Nexus, Galaxy Note, Galaxy Note 2, Galaxy Note 3, Galaxy Note 3 Neo, Galaxy Note Pro, Galaxy Pocket, Galaxy R, Galaxy Round, Galaxy S Advance, Galaxy S Duos, Galaxy S I9000, Galaxy S Plus I9001, Galaxy S2, Galaxy S2 Skyrocket, Galaxy S3, Galaxy S3 LTE, Galaxy S3 Mini, Galaxy S4, Galaxy S4 Active, Galaxy S4 Mini, Galaxy S4 Zoom, Galaxy S5, Galaxy Stellar, Galaxy Tab 3 Lite , Galaxy Tab Pro 10.1, Galaxy Tab Pro 12.2, Galaxy Tab Pro 8.4, Galaxy Tab S 8.4, Galaxy Teos, Galaxy Victory 4G, Galaxy W, Galaxy Xcover, Galaxy Y, Galaxy Y Pro, Google Nexus S, Galaxy Grand Neo, i5500 Corby, i5500 Galaxy 5, i5700 Galaxy Portal, I9010 Galaxy S Giorgio Armani, Omnia M , Omnia W, Rex 60, Rex 70, Rex 80, Rex 90, S5230 Star, Tocco Lite 2, Tocco Quick Tap
SanDisk: Sansa E200
Sony: acro S, NW-E Series, NWA Series, PSP, PSP Slim and Lite, Xperia C, Xperia E1, Xperia go, Xperia J, Xperia M2, Xperia Miro, Xperia S, Xperia SL, Xperia Sola, Xperia T, Xperia T2 Ultra, Xperia Tipo, Xperia tipo dual, Xperia TX, Xperia V, Xperia Z1, Xperia Z1 Compact, Xperia Z1f, Xperia Z1S, Xperia Z2
Sony Ericsson: D750i, K750i, W200i, W550i, W580i, W610i, W700i, W710i, W800i, W810i, W850i, W880i, W890i, W910i, W960i, Xperia Ray, Z530i
Swipe: Fablet F2, Fablet F3, MTV Volt 1000
T Mobile: MDA Pro
TMobile: Beat, Energy, Vivacity
Videocon: A 27
Vodafone: v1640
Wiko: Cink Five, Cink Peax 2, Cink Slim, Darkmoon, Darkside, Stairway
Yarvik: Luna 7 101
Zen: Ultrafone 502
ZTE: Blade 2, Grand Memo II LTE, Grand X2, KPN Smart 200, Tania
Questions and answers: