Sorry, but Smart Stand for the HTC HD7 has been discontinued and is no longer available to order. For your convenience we've selected some alternative items that we think you may be interested in.



Smart Stand for the HTC HD7

Product Reference: 26621
"Solid and stable but a bit awkward to use in pract"
Most Useful Customer Reviews
12th November 2010
Solid and stable but a bit awkward to use in pract
Just received this Smart stand today and initial view is that it is a solid, well put together, simple piece of kit. Base is reassuringly heavy, plastic looks tough too. At the top of the actual cradle there is a clip so as to securely keep the phone in place. What is not shown is that this can be removed. While a nice touch it's probably not really necessary. The actual cradle is very secure, in fact probably too tight. I found it a bit of a chore to remove the phone from the stand (release the clip and edge the phone out of the stiff cradle), so I removed it. Still the removal of the phone is probably not as easy as it should be. If you receive a call you may find it easier to just pick up the whole cradle. This may get better over time.
Read 1 customer review
|
Write a review
---
Description
The Smart stand for the HTC HD7 provides an elegant solution to storing your phone on your desk be it at work or at home thanks to the black finish. The shape of the holder allows you you to put the handset in a more comfortable reading position and allows you to plug in your charger or data cable without moving the handset. The holder's plate rotates and can be used both horizontally and vertically.
Why Buy:
Solid metal stand
Designed to work with the HD7
Works in both horizontal and vertical positions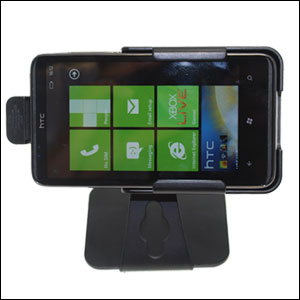 Questions and answers: