Most Useful Customer Reviews
26th February 2007
Could be a bit smaller!
I love this item. While its made from plastic, it feels quite sturdy and solid. The nicest feature is the way the individual "blades" slide in and out, but locks out the other blades until you slide it shut again. I tend to travel a lot and have been through several different adapters, but I've been using this one now for over 6 months, an while its a bit battered, it works just fine. The blade lock feature is great, stops you breaking it accidently. The USB socket even powers my XDA Exec (most chargers don't charge it!). Only downer, it could be a tiny bit smaller, but for everything it does I can't really complain. I'd buy another if this one wasn't so tough!
---
Vic
Chelmsford
Nokia Lumia 820
19th April 2013
Clever design, truely a worldwide adapter.
This is a versatile and compact device, the USB charger seemed faster than the charger supplied with the phone.
---
14th March 2011
Just what I needed!
Great item! Works perfect in Western Europe and Cuba. Worth the money!
Read 10 customer reviews
|
Write a review
---
Description
One adapter, four options for more than 150 countries. It's the elegant, compact and safe way to plug in your portable appliances worldwide. Suitable for all equipment without ground pin (2-pin connections; 2.5A; 110V – max. 275W; 220V – max. 550W). Includes an essential USB converter - charge or operate your iPod, laptop, travel speakers, PDA, MP3 player and mobile phone via USB cable (not included).
The various pins can only be moved by pushing the safety release button situated on the side. Only 1 pin can be pulled out at the same time thus eliminating the risk of short circuits.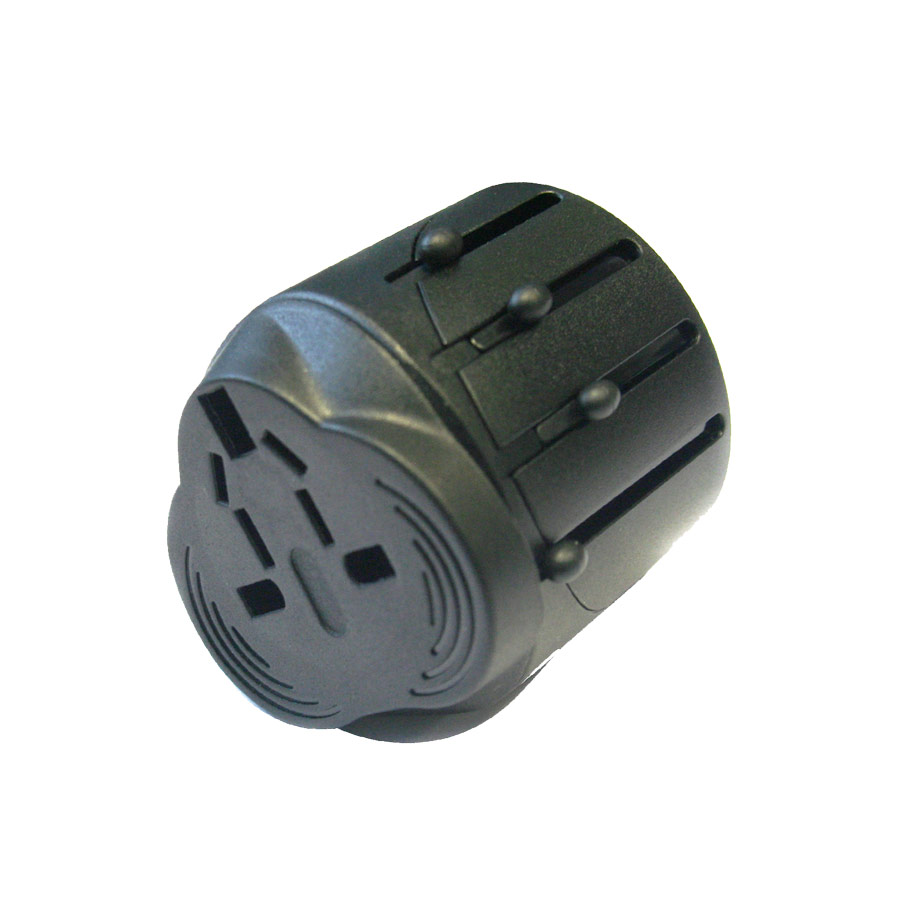 Features:
Dimensions: 61x51x57 mm
Weight: 0.114 kg
Compatibility: 240V /120V - IP20 ta40
Interface Input: Euro, UK, USA, Aus
Interface Output: Euro, UK, USA, Aus, USB
Lifetime Warranty
When USB module is connected, voltage is reduced to 5 volts as per a standard USB outlet socket
Note: This adapter does not convert voltage.
List of countries where adapter can be used:
EURO
Albania, Algeria, Angola, Argentina, Austria, Azores, Balearic Islands, Bangladesh, Belgium, Bolivia, Bosnia, Brazil, Bulgaria, Burkina Faso, Burundi, Cameroon, Canary Islands, Cape Verde, Central African Republic, Channel Islands, Chile, Comoros, Congo, Croatia, Dem. Rep. of Congo (Zaire), Cote d'Ivoire (Ivory Coast), Cyprus, Denmark, Djibouti, Egypt, El Salvador, Equatorial Guinea, Eritrea, Faeroe Islands, Finland, France, Gabon, Germany, Gibraltar, Greece, Greenland, Guadeloupe, Guinea, Guinea-Bissau, Hungary, Iceland, India, Indonesia, Iran, Iraq, Israel, Italy, Kazakhstan, Korea, Kuwait, Laos, Lebanon, Lithuania, Luxembourg, Macedonia, Madagascar, Madeira, Mali, Martinique, Mauritania, Mauritius, Monaco, Morocco, Mozambique, Myanmar, Nepal, Netherlands, Niger, Norway, Oman, Pakistan, Paraguay, Peru, Philippines, Poland, Portugal, Romania, Russia, Rwanda, St. Vincent, Senegal, Somalia, Spain, Sudan, Suriname, Sweden, Switzerland, Syria, Thailand, Togo, Tunisia, Turkey, Uruguay, Vietnam, Yugoslavia (former), Zambia.
UK
Bahrain, Bangladesh, Belize, Botswana, Brunei, Cameroon, Channel Islands, China, Cyprus, Dominica, El Salvador, Gambia, Ghana, Gibraltar, Grenada, Guatemala, Guyana, Hong Kong, Iraq, Ireland, Isle of Man, Jordan, Kuwait, Lebanon, Macau, Malawi, Malaysia, Maldives, Malta, Mauritius, Myanmar, Nigeria, Oman, Qatar, St. Kitts-Nevis, St. Lucia, St. Vincent, Saudi Arabia, Seychelles, Sierra Leone, Singapore, Tanzania, Uganda, United Arab Emirates, United Kingdom, Vietnam, Yemen, Zambia, Zimbabwe.
USA
American Samoa, Anguilla, Antigua, Aruba, Bahamas, Bangladesh, Barbados, Bermuda, Bolivia, Brazil, Cambodia, Canada, Cayman Islands, China (without holes in blades and slightly shorter blades), Colombia, Costa Rica, Cuba, Ecuador, El Salvador, Guam, Guatemala, Guyana, Haiti, Honduras, Jamaica, Japan, Laos, Lebanon, Liberia, Maldives, Mexico, Micronesia, Montserrat, Netherlands, Antilles, Nicaragua, Niger, Okinawa, Panama, Peru, Philippines, Puerto Rico, St. Vincent, Saudi Arabia, Tahiti, Taiwan, Thailand, United States, Venezuela, Vietnam, Virgin Islands (U.S. & British), Yemen.
AUS
American Samoa, Argentina, Australia, China, El Salvador, Fiji, Guatemala, Kiribati, Nauru, New Zealand, Okinawa, Panama, Papua New Guinea, St. Vincent, Tajikistan, Tonga, Urugua.
---
Key Details
Charger Type: Charger Adapters