Most Useful Customer Reviews
29th October 2011
Great value for £190
If you're into games (particularly using emulators to play classic games), this phone is well worth a look. The gaming controls are great, there are a number of free games included and new games are cheap (usually less than £4). The game selection is maybe a bit limited but it's still noticeably better than I was expecting, and the upcoming PlayStation Suite will keep the games flowing. Aside from games, the phone works well and the hardware is more than sufficient to run the Android OS and apps smoothly. Performance and animation smoothness is noticeably better than my old HTC Desire, and gaming graphics can be impressive (particularly the included Dead Space game, which looks great and runs at a very high framerate). It's also nice to have a 4 inch screen; I don't think I'll go back to a smaller one in future. Lastly, the phone has a Micro SD slot so can easily be upgraded to 32GB of storage (£30-£40 extra). It came with 8GB. Disadvantages? There is only 380MB of app memory (some of which is already used by preinstalled games that cannot be removed). However, most apps/games can be moved to the SD card, leaving only a few MB or two (at most - some leave a few hundred kilobytes) on the phone. I haven't encountered 30-50MB unmovable games yet. Secondly, the screen is a little loose given the slider design. Neither of these is a big problem, especially given the price. It's also bigger and heavier than other phones, but this is inevitable, and it hasn't been a problem for me. A hands-free headset with reasonable quality earphones is included.
---
27th December 2011
Excellent Choice
I had an old Nokia that had seen better days, and the wife and my son kept on at me to get a Smartphone. Having given it much thought, I decided on the Xperia Play. The best decision I have made since marrying the missus. It is so easy to use, even for someone like me, who takes a while to grasp new phone technology. The phone reception is second to none, sound quality 10/10 camera 10/10 (photos and video) like I said dead easy to use. Skype on it is a great way to keep in touch with loved one's too! My son is in Dubai, so it great to be able to have a video call with him while on the move! The Bravia engine in it is great for watching tv, like BBC i player. I have even found myself playing the brilliant choice of games on it. I don't know how I managed so long without this phone, and what a bargain at £200. Would recommend this phone to anyone. 10/10 for everything!!!
---
21st October 2011
Amazing phone
I searched around for the Experia play for a while and was amazed to see it being sold for under £200 by Mobilefun. So I placed the order and as always they had it delivered to me the next day. The phone is an amazing piece of kit, I have only had a quick mess around with it as it is a Christmas present for my Son. But I have to say that the quality is excellent, the screen is very clear and bright. I had a quick go on one of the games and the graphics are amazing, I am almost tempted to keep it for myself! If you are into playing games and want a mini computer then this is the phone for you. Highly recommended!!
Read 10 customer reviews
|
Write a review
---
Why Buy?
PlayStation Certified Android smartphone

Comes with a total of 11 games inc. Fifa 12, Battlefield 2 and Crash Bandicoot

Dedicated console controls

Features Android 2.3 (Gingerbread)

Powerful 1GHz processor & 8Gb memory card

4" multi-touch, scratch resistant display
---
Why not View a video about this product?
Description
PlayStation Certified Android smartphone
Built upon the expansive expertise of Sony Computer Entertainment and Sony Ericsson mobile platforms, the Xperia Play is an exciting new handset which combines a phone and a games console. Offering full smartphone capabilities such as an intuitive user interface, android app store, fast e-mail access and access to the Sony Entertainment Network the Xperia Play is unrivalled in offering fantastic features.
Dedicated console controls
The Playstation Xperia Play is the first ever PlayStation® Certified smartphone with a dedicated gaming interface. SImply slide the bottom part of the phone to reveal dedicated gaming keys, L/R shoulder buttons and four action buttons.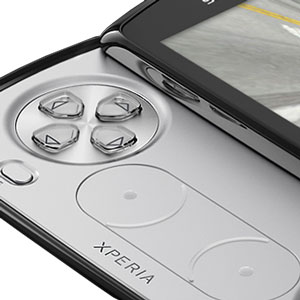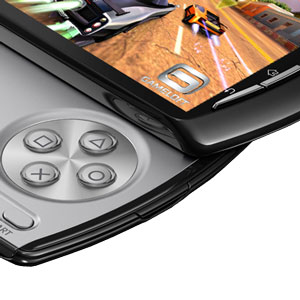 Features Android 2.3 (Gingerbread)
The preloaded Android 2.3 Gingerbread is a very stable system with many applications available for it. The gingerbread features include a Wi-fi hotspot, new status icons, new text selection tool and a glowing visual aid when you hit the top or bottom scroll menus. The phone can also support 720p H.264 video clips, making watching HD videos easy. The Play also incorporates Sony Ericsson's new homescreen feature of pinching on the homescreen to bring all widgets onto one screen, making it easier and quicker to find what you want.
Powerful 1GHz processor & 8Gb memory card
Powered by SnapDragon, the Xperia Play features an impressive 1Ghz CPU and a powerful 205 graphical processor specifically optimised for advanced gaming. The Play also comes with an 8Gb mempry card included to allow you to download and store an impressive library of games and apps.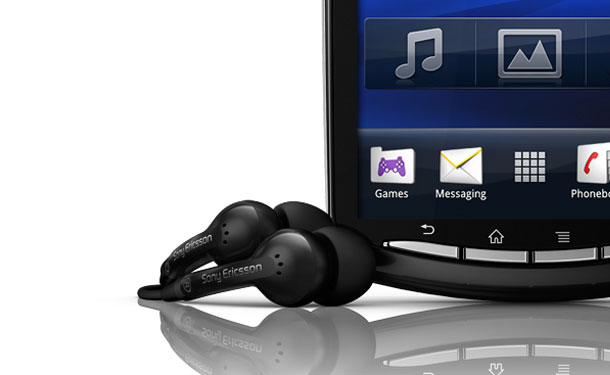 4" multi-touch, scratch resistant display
This HSDPA phone with Gingerbread has a 4" multi touch 854 x 480 pixel LCD screen. The Xperia's 16 million colour screen produces deep, rich blacks thanks to the screen being closer to the glass as well as a Sony Bravia engine for improved video playback.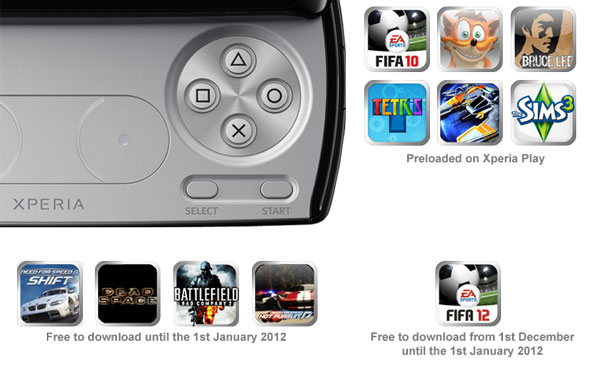 Comes with a total of 11 games inc. Fifa 12, Battlefield 2 and Crash Bandicoot
The Play comes with 6 pre installed games (see below) and 5 free downloads available from the Playstation Network. All games are available to download until the 1st January 2012. Fifa 12 is available from 1st December to 1st January 2012.
Crash bandicoot (Pre installed)
The Sims 3 (Pre installed)
Star Battalion (Pre installed)
FIFA 10 (Pre installed)
Tetris (Pre installed
Bruce Lee dragon warriors (Pre installed)
Need for speed shift (Download)
Need for speed hot pursuit (Download)
Deadspace (Download)
Battlefield 2: Bad company (Download)
FIFA 12 (Download)
Warranty Information
This handset is covered by a full 24 month manufacturer's warranty. Important SIM Free Information This SIM free handset is unlocked and compatible with any 2G/GSM or 3G SIM card. Some network & 3G specific services may be unavailable with this handset.
Product images are for illustrative purposes only, specific colour variants cannot be guaranteed unless otherwise specifically stated on the page.
---
What's In the Box?
1 x Sim Free Sony Ericsson Xperia Play
6 x Preloaded games titles inc. Fifa 10, The Sims 3 and Crash Bandicoot
5 x Free downloadable games titles inc. Fifa 12, Need for Speed Shift and Battlefield 2: Bad Company
1 x Sony Ericsson battery BST-41
1 x Sony Ericsson headset MH650
1 x Sony Ericsson charger EP-800
1 x 8Gb Micro SD Memory card