Most Useful Customer Reviews
1st December 2012
Better than the jcb phone
Brought a jcb site master 2 of mobile fun send it back three times because of very poor voice. Then got the samsung nice hard wearing phone easy to use.
---
Rebecca Searle
fife, Scotland
8th January 2012
good phone
I purchased this phone for my clumsy husbands Christmas! He has a shocking track record with mobile phones, (his personal best being half a day before breaking his last phone), and he works on building sites so after a fair amount of research, well a couple of evenings of frantic pre-christmas searching and review reading, i decided that this was the phone for him! I ordered the phone on Thursday morning, and to be honest the main reason I ordered from this website was the guaranteed christmas delivery. I was disappointed that evening to receive an e-mail stating the product had gone out of stock and therefore delivery would be expected in the next 10-14 days! However I then received another e-mail on the Friday to say the item had been dispatched and was woken on Saturday morning by the postman delivering itl Hooray! Christmas is saved! So am very impressed with the delivery service, especially considering we live fairly rurally and quite a distance from the dispatch warehouse. So onto the phone! I think its the nicest aesthetically of the so called 'tough phones' in this price bracket on the market at the moment. However is a far cry from the sleek look of a smart phone. But the main reason for buying this phone was not to look nice and I still think its quite nice. My husband loves it. He has big chunky fingers and finds the buttons easy to use and prefers the more traditional 'push' buttons than touch screen which he struggles with. The screen is a good size and the menu etc easy to navigate. The torch is very useful, and has been used quite a lot, but can sometimes take a few attempts to turn on as you seem to need to hold the button in for a few seconds then release. However unless you find yourself in a 'torch emergency' I can't see this being too big a problem. My husband tells me that its fairly easy to text on, well once I pointed out to him that the reason he could only seem to get numbers and not letters to type was that he was trying to write the message in the recipients phone number box! I had read that the battery life was excellent and it seems to be true. I think it has been charged twice since christmas day, 2 weeks ago, and has never run out completely. I think the only downside is that the internet is not great. He can get access to sites such as Facebook etc but doesn't seem to be the full site just seems to be able to access his home page and not the news feed. However I would not be surprised to learn that you can and that my husband is just a bit brain dead when it comes to 'technology'! My husband doesn't go back to work until tomorrow so its robustness has not really been tested yet but it seems to be fairly tough! The phone has a camera and video camera. One of the deciding factors for me as the other phone I was considering did not have one. My husband tells me its fairly basic but does the job! The phone has a slot to use an sd card for extra memory. Unfortunately it must be a smaller than standard size card as we can't get any of our current cards to fit so will have to purchase a new one. I have also subscribed to tesco mobiles sim only deal to use with this phone. They offer a good bundle of minutes, texts and data for 10 pound a month. As the phone is network free any sim from any network can be used. Overall my husband is very happy with this phone and I am happy if he is! If it stands up to the rigors a digger driver will put it through then I feel its been a top purchase and a great success as a christmas present!
Read 3 customer reviews
|
Write a review
---
Description
Why Buy?
Comes with IP67 Certification
Water Proof upto 1 metre, and also 30 minutes
Micro SD slot upto 8GB
Bluetooth v2.1 with A2DP
Noise cancellation with dedicated microphone
Anti-shock materials
Introducing Samsung's B2710 Solid Immerse which continues their line of rugged handsets. With an International Protection code 67 the B2710 is even tougher than its predecessors; dust tight and able to withstand shock and submersion in up to 1m of water for up to half an hour, this phone is seriously resilient and perfectly designed for the adventurous and outdoors type.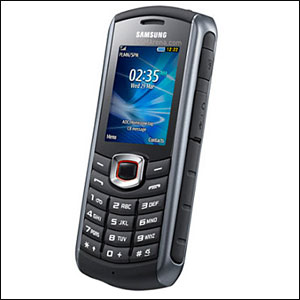 Whilst still a sleek and attractive phone to look at and hold, the sturdy exterior protects very intelligent features: 3G support with video calling on a scratch-resistant 2-inch display, GPS, FM Radio and talk time of up to 19 hours (2G) or up to 7 hours (3G), just to list a few. For those needing a phone that will brave the elements with them then the urethane body armour, noise cancellation microphone, digital compass, pedometer, altimeter, and flashlight will also be of particular interest. This phone is a personal guide and expert for the intrepid and tenacious.
Stay in touch whether you're up a mountain or buried in a cave with Facebook, Twitter, Yahoo and Gtalk apps, and record your experiences for your friends with a far from shameful 2 megapixel camera, and share them with the B2710's Bluetooth v2.0 connectivity or microUSB 1.1.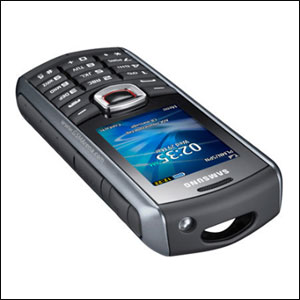 Affordable, reliable and versatile the Orange Samsung B2710 is a perfect companion for users who're tough on their phone, but don't want their phone to be tough on their pocket.
Main Features:
Specification:
| | |
| --- | --- |
| System: | GSM 850 / 900 / 1800 / 1900 |
| Size: | 104.4 x 49.9 x 18.6 mm |
| Weight: | 115 g |
| Standby time: | 600 Hours |
| Talk Time: | 19 Hours |
| Display: | 240 x 320 pixels, 2 inches TFT |
Samsung B2710 Handset
Genuine Samsung Standard Battery
Genuine Samsung headset
Genuine Samsung Mains Charger
User Manual
This handset is covered by a full 12 month manufacturer's warranty.
This SIM free handset is unlocked and compatible with any 2G/GSM
Product images are for illustrative purposes only, specific colour variants cannot be guaranteed unless otherwise specifically stated on the page.