Most Useful Customer Reviews
Sandra Ward-Brown
Chichester
Nokia 100
9th October 2012
Does what it says . . . .
I wanted a simple phone to use for ringing and texting friends. This does exactly that. Earlier reviews were helpful in my decision.
---
Briaqn Tarr
Cardiff
Sim Free Nokia 100
2nd July 2012
Does exactly what is required
My wife needed a phone that was easy to use, a clear screen, separate key pads, as it is an on call phone for a nursing agency, and a lot of texts are sent and recieved daily. there are two other staff which have expressed an interest in this model phone. The instruction booklet was easy to use unlike many others.
Read 2 customer reviews
|
Write a review
---
Why Buy?
Long lasting battery is capable of 35 days standby time

Simple user interface makes calling and texting easy

Built in flashlight, calendar and alarm clock
---
Description
Long lasting battery
The Nokia 100 is made for your everyday life – it's small and light, and durable too so you can take it anywhere. The battery just goes and goes – up to 35 days standby time, and up to seven hours talk time so you know you can keep the conversation flowing. The Nokia 100 comes with its vibrant colour screen you can you take some style with you.
Made for calling and texting
This phone will fit so comfortably into your daily life. It's almost effortless to use, whether you're calling or texting. Its large, separated keys help make sure you never put a finger wrong. Its 1.8 inch screen makes it easy to see who's calling and what you are typing, and the Nokia 100's memory is big enough to store up to 500 contacts and 250 text messages.
FM radio and headset
You'll have entertainment with you wherever you go with the Nokia 100. Pop on your easy-to-use Nokia WH-102 Stereo Headset that comes with the phone and tune into your favourite FM stations and enjoy the hours of listening that are always at your fingertips.
Built in flashlight, calendar and alarm clock
The Nokia 100 has what you need for staying in touch on the go, including some useful additional features to help make your life even easier. Things like a built-in flashlight to use when you need to light your way, a calendar to help you manage your busy timetable, and a speaking alarm clock to make sure you're always on time.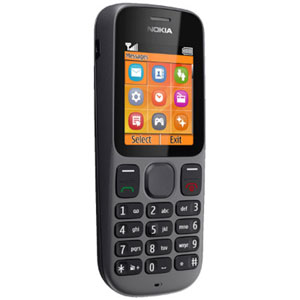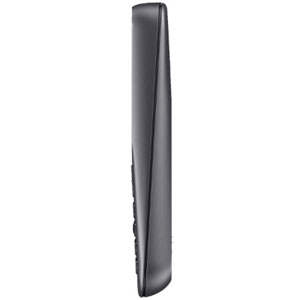 Specifications:
Size: 110 x 45.5 x 14.9mm
Weight: 70g
Screen size: 1.8" with 128 x 160 pixels
Connectivity: 2mm charging connector, 3.5mm AV connector
Warranty Information
This handset is covered by a full 24 month manufacturer's warranty.
Important SIM Free Information
This SIM free handset is unlocked and compatible with any 2G/GSM network. Some network specific services may be unavailable with this handset.
Product images are for illustrative purposes only, specific colour variants cannot be guaranteed unless otherwise specifically stated on the page.
---
What's In the Box?
Nokia 100
Nokia Battery BL-5CB
Nokia Stereo Headset WH-102
Nokia Charger AC-3
Visual user guide