Why Buy?
Worlds first glasses free 3D phone

Capture and record 3D video and photos

Switchable between 3D and 2D with the touch of a button
---
Description
As the world's first smartphone on which you can watch 3D images glasses-free, the LG Optimus 3D promises to change the way you interact with a phone. Press the Optimus 3D's dedicated button and you're enjoying a beautiful 3D display, press again and you're back to 2D, wonderfully simple. The Optimus 3D uses a clever piece of tech called the parallax barrier to create the 3D effect by showing your left eye and right eye slightly different images, and 3D display's effect in games, film, and even navigation screens is fantastically convincing.
Aside from the 3D content, the Optimus 3D is a high-performing smartphone with smooth navigation and no lag. It offers superb performance when web surfing, running apps or enjoying multimedia content thanks to the cutting-edge dual-core processor. The Optimus 3D sports LG's biggest screen, a 4.3 inch WVA resolution touchscreen, and there are two 5 megapixel cameras on the back, letting you instantly capture stunning 3D photos or video. The cameras record in HD quality at 1080p in 2D or 720p in 3D. There's also multiple connectivity options such as an HDMI output and DLNA, so you can watch your images on your 3D TV.
The Optimus 3D's hardware is supported by plenty of content, such as games from Gameloft (three come pre-installed; Nova, Let's Golf 2 and Asphalt 6) and access to YouTube 3D, where you can upload your videos instantly.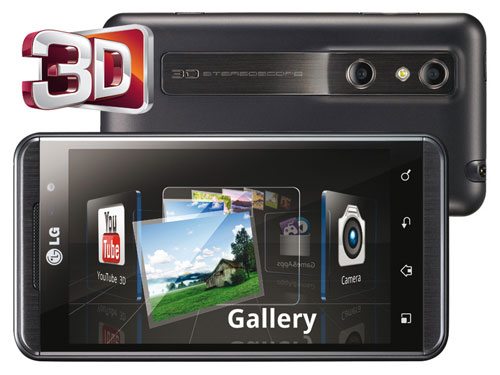 The mobile revolution begins:
The LG Optimus 3D is the world's first full 3D smartphone promising to change the way you interact with your phone. This high-performance smartphone lets you record, view and share 3D content without glasses. The 4.3" WVGA display provides bright images allowing users to view 2D (up to 1080p) and 3D (up to 720p) multimedia content. You can share content on YouTube's dedicated 3D channel directly from your smartphone or share via an HDMI 1.4 connection to your TV or DLNA Certified products.
Unparalleled performance:
LG Optimus 3D is the world's first smartphone to combine a dual-core, dual-channel and dual-memory architecture. Equipped with OMAP4, showcasing the ultimate in speed, power and task efficiency among the latest dual-core processors, it stands as the most advanced, high-performing smartphone.
3D viewing via glasses-free 3D display:
LG Optimus 3D is a glasses-free 3D smartphone, allowing consumers to watch 3D content in plain sight without wearing glasses. It provides consumers with bright and flicker-free images, and less eyestrain.
3D interface for user convenience:
Users can navigate through the device's 3D interface at the click on LG's unique 3D Hot Key. LG Optimus 3D also supports most 3D file codecs and comes equipped with Full HD 1080p content playback functionality.
3D recording:
LG Optimus 3D's dual 5MP lens camera allows users to capture and record their best moments as images and videos in 3D whenever and wherever, as long as they have the device in the palm of their hands. Two lenses are located at a particular distance which is most optimized for improved capturing and recording capabilities.
3D content sharing through HDMI and YouTube 3D:
LG Optimus 3D is equipped with the advanced HDMI 1.4 port on the side, and allows for easy connectivity of the device to 3D TV and monitors allowing for broad enjoyment of 3D content created by LG Optimus 3D. Through a pre-loaded 3D YouTube application in the Optimus 3D, consumers are able to upload or download their own 3D videos freely and immediately.
Specification:
Dimensions: 128.8 x 68 x 11.9mm
Weight: 168g
Connectivity: 3.5mm jack, Bluetooth, Wi-Fi, microUSB
Camera: Dual 5MP with autofocus and LED Flash, 1080p video recording
OS: Android 2.2 (Froyo)
CPU: Dual-core 1GHz
Battery: 1500 mAh
Standby Time: Up to 100 hours
Talk Time: Up to 4 hours
This handset is covered by a full 24 month manufacturer's warranty.
This SIM free handset is unlocked and compatible with any 2G/GSM or 3G SIM card. Some network & 3G specific services may be unavailable with this handset.
Product images are for illustrative purposes only, specific colour variants cannot be guaranteed unless otherwise specifically stated on the page.
---
What's In the Box?
LG Optimus 3D
Battery
USB Mains Charger
microUSB Data Cable
Stereo Handsfree Kit
Quick Start Guide