Most Useful Customer Reviews
25th December 2012
A refreshingly fast replacement for my Dell Streak
My phone contract came up for renewal in early December and rather than get a new handset under contract I decided to buy a SIM free phone. After doing a good amount of review hunting online I settled on the HTC Desire X. Although this phone is considered a mid-range Android device I found it a breath of fresh air coming from a two year old Dell Streak. The dual core makes the phone fast and responsive with ICS and although some criticism was levelled in reviews at removing the back of the phone for access I found it to be a relatively easy task, as was inserting both my SIM card and 32GB micro SD card, although it is true that the back when off feels a bit flimsy. Having a Google account meant that syncing all of my contacts and email was a superbly simple task. The screen is very good too I have found it to be sharper by comparison to my old handset. The only thing missing from this phone that I would have liked is a digital compass, none of the reviews listed this lack in the tech specs. Having said that, for the price, I am very happy with this handset and do not see this lack as a deal breaker.
---
6th November 2012
Good mid level phone
I am a moderate user with little Android experience having freshly come from iOS. I am using a Google account to sync calendar, contacts and email. This phone and HTC's Sense UI make that very simple. The handset is light and slim with a 4 inch screen, the rear is slightly rubberised making it wonderfully tactile and unlikely to slip from your grip. I cannot quote screen res but it is a excellent screen, comparable to my recent iOS handset. This handset will take a micro SD card I am using a 16 GB one with no issues. One is NOT supplied with the handset, it is also not accessible without taking the back off. Taking the back off is easy but not something I would guess you would want to do often as the rear case once off is quite fragile, the volume rocker looks easily broken for example. However once back on the phone it is robust. The build quality is good but it is not as bullet proof as the HTC Desire's predecessor. Also to note is that it takes a full sized sim card, although I am using a micro sim with an adaptor. It comes with ICS which is fast and easy to use. You can have only 5 home screens but with an excellent range of widgets. Battery life is good but not great. I get one day really heavy use or two days normal use, this is about normal for most of the recent handsets I've had. It does 3G and the HSPA data and of course wifi, although oddly enabling the wifi does affect battery life a little. I also dimmed the screen to extend battery life which is not a problem as the screen is so good. Touch sensitively of the screen is good, I have stuck with the standard keyboard without a problem. Summary. I like this phone, quick, easy to use and robust ( for a modern 4' screen smart phone) with a good screen. I would like a bigger battery and slightly quicker processor however this is a mid range phone and what's on offer here is really good for the price and that probably sums up this phone- a very good mid range phone.
Read 2 customer reviews
|
Write a review
---
Why Buy?
1GHz dual core Snapdragon S4 processor

Super LCD 4" touchscreen with WVGA resolution

5MP camera with auto-focus and LED flash

Ice Cream Sandwich pre-installed
---
Description
1GHz dual core Snapdragon S4 processor
The Desire X, although it is a budget friendly handset, it has a 1GHz processor which will power through your apps.
Super LCD 4" touchscreen with WVGA resolution
The Desire X features a 4" WVGA touch screen which makes navigating the phone's interface much easier and improves the viewing of media and taking of photos using the phone. The phone also has a 480 x 800 resolution.
5MP camera with auto-focus and LED flash
See the world in a different way, the HTC Desire X brings some more upgrades compared to its predecessors. The camera is a 5MP unit with auto focus, LED flash, BSI sensor. 28mm wide angle lens and WVGA video recording, which allows you to take great quality photos simpy at the click of a button.
Ice Cream Sandwich pre-installed
The HTC Desire X comes pre-loaded with Android Ice Cream Sandwich, giving you full access to the latest Android features and the Android Market Place. It also features the latest HTC Sense technology, 4.0, which is a collection of tools, features, and innovative user interfaces. HTC Sense is a software and hardware innovation that enhances the user experience. Customizable, powerful and surprising, HTC Sense is at the center of the HTC experience, creating a device that's less about technology and more about you.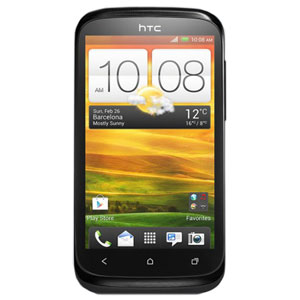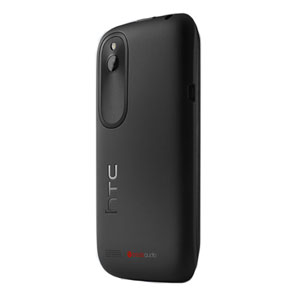 ---
Key Details
Bluetooth: Yes
Capacity: 4GB
Colour: Black
Part No: 99HSP003-00