Seek Thermal Imaging Camera for Android Devices

Product Reference: 51358
Also available:
Why Buy?
Thermal imaging is no longer just for Sci-Fi and the military

Lets you see in total darkness

Moisture detection

Personal safety

Pest control

Energy efficiency

Capture images and videos with the Seek Thermal app

Tons of other fun and practical uses
---
Why not View a video about this product?
Description
Thermal imaging is no longer just for Sci-Fi and the military
Meet the Seek Thermal Imaging Camera - an ingenious device that detects infrared energy (heat) using FLIR (Forward Looking InfraRed) technology and converts it into an electronic signal, which is then processed to produce a thermal image on your phone screen and perform temperature calculations. Heat sensed by an infrared camera can be very precisely measured, allowing you to use the Seek Thermal Camera in a variety of practical and fun ways by revealing a thermal world not visible to the naked eye.
Just insert the Micro USB connection into your phone and run the app. Please be aware that the direction of the Micro USB connector on your phone is important. Even though your phone may be technically compatible, the Thermal Imaging Camera is designed to be rear facing so that you can point it away from the phone while viewing the results on your screen - much like the rear facing camera on your phone.
Your phone needs to be running Android 4.3 or later and support powered USB On the go (OTG).
So now technology that was once seen only in Sci-Fi or the military is yours to command.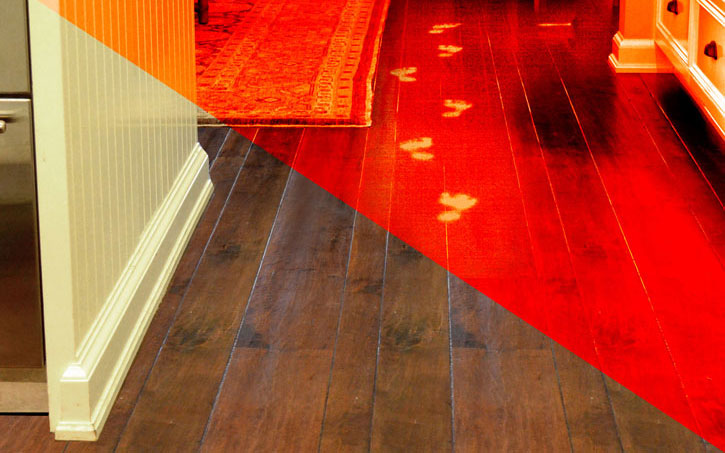 Lets you see in total darkness
Everything around you either emits or reflects heat energy. Thermal imaging makes the otherwise invisible world of heat energy visible to your eyes. Visible light doesn't affect the thermal infrared world, so you can see equally well in highly lit and totally dark environments — the thermal image is the same. This allows you to visualise the effects of many real-world events and conditions that are otherwise impossible to detect. There are countless new, useful, and fun ways thermal imaging will integrate into your daily life. See the unseen.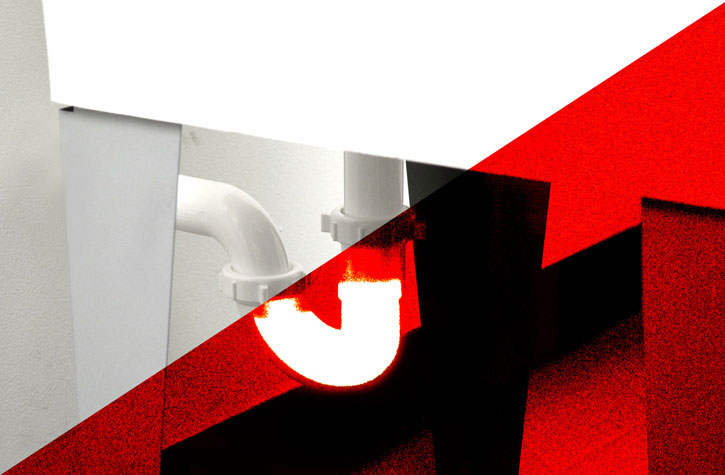 Moisture detection
This camera can sense wet areas that often remain invisible to the eye. Find wet areas and leaks in ceilings, walls, and floors before mold starts or see spots left by pet waste.
Personal safety
The Seek Thermal is a powerful tool to help you protect your home and family. Use it to reveal suspicious activity at night, at home and on the road. Reveal people and animals lurking in the shadows and enjoy security while camping or hiking at night.
Pest control
Find and monitor pest activity in your back yard. Maybe find your own pets if they are missing too. The possibilities are endless.
Energy efficiency
Identify heat loss around windows and doors, see areas of poor insulation around pipes or spot overloaded electrical circuits.
Capture images and videos with the Seek Thermal app
See live images in B/W, W/B, rainbow, contrast, arctic, hot/cold, iron colour palettes and add visible spectrum detail to thermal images. Capture still images and video and even get a temperature readout in Fahrenheit or Celsius for the objects in range - all with the free app.
Tons of other fun and practical uses
Use your imagination to find plenty more uses for the Seek Thermal, including finding your kids anywhere when playing hide and seek.
Technical information:
36º Field of View
Fixed Focus
Resolution: 206 x 156 Array
-40C to 330C Detection
< 9Hz
Long Wave Infrared 7.2 – 13 Microns
12 µ Pixel Pitch
Vanadium Oxide Microbolometer
Chalcogenide Lens
Magnesium Housing
Protective Waterproof Case
---
Key Details
Colour: Black
Part No: UW-EAA
Acer: Acer Liquid Z3, Iconia A1-830, Iconia B1-720, Liquid E1, Liquid E2, Liquid E3, Liquid Jade, Liquid Jade Primo, Liquid Jade Z, Liquid M220, Liquid Metal, Liquid S1, Liquid S2, Liquid X1, Liquid X2, Liquid Z200, Liquid Z4, Liquid Z5, Liquid Zest, Liquid Zest Plus
Alcatel: A3, A5 LED, Fierce XL, Idol 4, Idol 4S, Idol Alpha, Touch Idol X 6040D, One Touch Evo 7, One Touch Hero 2C, One Touch T10, OneTouch Hero 2, OneTouch Idol, OneTouch Idol 3 4.7 inch, OneTouch Idol 3 5.5 inch, OneTouch Idol X+ 6043D, OneTouch Pop C3, OneTouch Pop C7, OneTouch SPop, OT 990, OT 991, OT-292, Pixi 4 5, PLUS 12, Pop 4, Pop 4 Plus, Pop 4S, POP S3, POP S9, U3
Amazon: Fire, Fire 7, Fire 7 2017, Fire HD 10, Fire HD 8, Fire HD 8 2017, Fire Kids Edition, Fire Phone, Kindle 6 Inch 2015, Kindle 6th Gen, Kindle Fire 7, Kindle Fire HD 6, Kindle Fire HD 7, Kindle Oasis, Kindle Voyage
Apple: iPad Mini, iPad Mini 2, iPad Mini 3, iPad Mini 4, iPad Pro 12.9 2015, iPad Pro 12.9 2017, iPad Pro 12.9 inch, iPhone 7S, iPhone 7S Plus, iPhone 8, iPod Touch 6G, MacBook Pro 13 with Touch Bar, MacBook Pro 15 with Touch Bar
Archos: 40 Power, 45 Helium 4G, 50 Diamond, 50 Oxygen, 50 Platinum, 50c Oxygen, 55 Helium, 55 Helium 4 Seasons, 55 Helium Ultra, 80 Helium 4G, Diamond 2 Plus
Asus: Live, Memo Pad 10, MEMO Pad 8, PadFone E, PadFone Mini, PadFone X, Transformer Book Duet, Zenfone 2, Zenfone 2 Deluxe, Zenfone 3, Zenfone 3 Deluxe, Zenfone 3 Ultra, Zenfone 3 Zoom, Zenfone AR, Zenfone Max, ZenFone Zoom, ZenPad 7.0 Z370CG, ZenPad C 7.0, ZenPad C 7.0 Z170MG, ZenPad S 8.0 Z580C, ZenPad S 8.0 Z580CA
Barnes & Noble: Nook 7
BlackBerry: Aurora, Classic, DTEK50, KEYone, Leap, Passport, Passport Silver Edition, Q10, Q5, Vienna, Z10, Z20, Z3, Z30
BLU: Vivo 6
BQ: Aquaris 5 HD, Aquaris 5.7, Aquaris E10, Aquaris E4, Aquaris E4.5, Aquaris E5, Aquaris E5 4G, Aquaris E6, Aquaris M10, Aquaris X5, Curie 2, Curie 2 Quad Core, Edison 2, Edison 2 Quad Core
Bush: Eluma
Coolpad: Torino S
Coship: Moly X1
Dell: Streak, Streak 7, Venue 8 7000, Venue 8 Pro
Doro: Liberto 810, Liberto 820, Liberto 820 Mini, Liberto 825
EE: Eagle, Harrier, Harrier Mini, Harrier Tab, Kestrel, Rook
Essential: Phone
Google: Android One, Nexus 5 2013, Nexus 6, Nexus 9, Nexus One, Pixel C
HP: 8 1401, Elite X3, Slate 7, Slate7 VoiceTab, Steam 7
HTC: 10 evo, 8S, 8X, Bolt, Butterfly, Butterfly 2, Butterfly 3, Desire, Desire 10, Desire 10 Lifestyle, Desire 10 Pro, Desire 200, Desire 210, Desire 300, Desire 310, Desire 320, Desire 500, Desire 501, Desire 510, Desire 516, Desire 526, Desire 530, Desire 601, Desire 612, Desire 616, Desire 620, Desire 626, Desire 628, Desire 630, Desire 650, Desire 700 Dual SIM, Desire 709d, Desire 728, Desire 820, Desire 825, Desire 826, Desire 828, Desire 830, Desire C, Desire Eye, Desire HD, Desire S, Desire VC, Desire X, Desire Z, EVO 3D, Evo 4G LTE, Explorer, First, Gratia, HD mini, Incredible S, Inspire, Legend, M8 Ace, One A9, One A9s, One Dual SIM, One E8, One E9, One E9 Plus, One M8 Ace, One M8 Dual SIM, One M8 Eye, One M8s, One M9, One M9 Plus, One ME, One Mini, One Remix, One S, One S9, One SV, One V, One X, One X Plus, One X10, One X9, One XL, Radar, Rezound, Rhyme, Sensation, Sensation XE, Sensation XL, Thunderbolt, TITAN, U Play, U Ultra, U11, Wildfire, Wildfire S
Huawei: Ascend D Quad, Ascend D Quad XL, Ascend D1, Ascend G300, Ascend G330, Ascend G510, Ascend G526, Ascend G6 4G, Ascend G600, Ascend G610, Ascend G7, Ascend Mate, Ascend Mate 2, Ascend Mate 3, Ascend Mate 7, Ascend P1, Ascend P6, Ascend W1, Ascend Y100, Ascend Y210D, Blaze, C199, G8, G9 Plus, Honor, Honor 3, Honor 3C, Honor 4X, Honor 5C, Honor 5X, Honor 6, Honor 6 Plus, Honor 6C, Honor 6S, Honor 6X, Honor 7, Honor 7 Premium, Honor 8 Pro, Honor 9, Honor Holly, Honor Magic, Honor V8, Honor V8 Max, Mate 8, Mate 9 Lite, Mate 9 Pro, Mate S, MediaPad M1, MediaPad T1 8.0, MediaPad X2, Nova, Nova 2, Nova 2 Plus, Nova Plus, P10, P10 Lite, P10 Plus, P8, P8 Lite, P8 Lite 2017, P8 Max, P9 Lite, P9 Plus, Raven LTE, Union LTE, Vision, Y3, Ascend Y300, Y5, Y5II, Y6, Y6 II, Y600, Y635
Intex: Aqua i5 Mini, Aqua i7, Aqua Superb
Karbonn: A30, A9 Plus, K450, S5 Titanium, Sparkle V, Titanium Hexa, Titanium Octane
Kazam: Thunder2 4.5L, Thunder2 5.0, Tornado2 5.0, Trooper 240, Trooper2 5.0
Konka: Expose 960, Expose 970
Kyocera: DuraForce PRO, Hydro AIR, Hydro VIEW
Lava: Iris 351, Iris 454, Iris 502
Lenovo: A10, A526, A7000, Golden Warrior A8, IdeaTab A2107, K4 Note, K80, K900, Lemon 3, Miix 300, P2, P90, Phab 2 Pro, S660, S850, S860, Tab 2 A10, Tab 2 A8, Tab S8, ThinkPad 8, Vibe k5, Vibe Shot, Vibe X2, Vibe Z2, Vibe Z2 Pro, X2 Pro, Yoga Tablet 10, ZUK Edge, ZUK Z1
LG: A 225, Class, Enact, Escape, Escape 2, Escape 3, Exalt 2, F60, G Flex, G Flex 2, G Pad 10.1, G Pad 7.0, G Pad 8.0, G Pad 8.3, G Pad II 10.1, G Stylo, G Vista, G Vista 2, G3 Stylus, G4, G4 Stylus, G4c, G5 SE, G6, G6 Plus, Intuition, Joy, K10, K10 2017, K3 2017, K4, K5, K7, K8, K8 2017, L Bello, L Fino, L35, L40, L90 Dual, Lancet, Leon, Lucid 3, Magna, Optimus 2X, Optimus 3D, Optimus 3D Max, Optimus 4X HD, Optimus Chic, Optimus F3Q, Optimus F6, Optimus G Pro, Optimus Hub, Optimus L7 II, Optimus L9, Optimus True HD, Prada 3.0, Ray, Rumor Reflex, Spectrum VS920, Spirit, Spirit 4G, Spree, Stylo 2, Stylo 2 Plus, Stylus 2, Stylus 3, Tribute 2, Tribute 5, Tribute HD, V10, V20, V30, Volt, X Cam, X Power, X Screen, X Venture, Zero
Meizu: M3 Max, MX3, MX4, MX4 Pro, Pro 5, Pro 6, Pro 7, U10, U20
Microsoft: Surface 2, Surface 3, Surface Pro, Surface Pro 4
Motorola: Atrix HD, DEFY Mini, DEFY Plus, DEFY Plus JCB Edition, Droid Maxx 2, Droid Mini, Droid Razr HD, Droid Razr Maxx HD, DROID Turbo, Droid Turbo 2, Droid Ultra, DVX, Flipout, Milestone, Milestone 2, Moto C, Moto C Plus, Moto E 2nd Gen, Moto E 3rd Gen, Moto E3, Moto E4, Moto E4 Plus, Moto G 3rd Gen, Moto G Forte, Moto G Turbo Edition, Moto G4 Play, Moto G4 Plus, Moto G5, Moto G5 Plus, Moto X Play, Moto X Pure Edition, Moto X Style, Moto Z, Moto Z Force, Moto Z Play, MOTOLUXE, MotoSmart, Photon 4G, Photon Q 4G, RAZR, RAZR HD, XT316, XT720
Nextbit: Robin
Nokia: 106, 110, 112, 130, 208, 215, 220, 230, 301, 6, Asha 210, Asha 230, Asha 306, Asha 502, N1, Nokia 3, Nokia 5, X Plus, XL
Oppo: Find 5, R3, R5, R7, R7 Plus
Orange: Dallas, Gova, San Diego, San Francisco II
Panasonic: Eluga, Eluga Power, Lumix CM1
Samsung: Ativ S, ATIV SE, Champ Deluxe Duos, Core LTE, E2600, Exhilarate i577, G9098, Galaxy A3, Galaxy A3 2015, Galaxy A3 2017, Galaxy A5, Galaxy A5 2015, Galaxy A5 2016, Galaxy A5 2017, Galaxy A7 2015, Galaxy A7 2017, Galaxy A8, Galaxy A9, Galaxy Ace 3 4G, Galaxy Ace 4, Galaxy Ace Duos S6802, Galaxy Amp 2, Galaxy Amp Prime, Galaxy Avant, Galaxy Axiom, Galaxy Beam 2, Galaxy Book 10.6, Galaxy Book 12.0, Galaxy Chat B5330, Galaxy Core, Galaxy Core 4G, Galaxy Core Advance, Galaxy Core II, Galaxy Core Prime, Galaxy E5, Galaxy E7, Galaxy Europa I5500, Galaxy Express 2, Galaxy Express Prime, Galaxy Extreme, Galaxy F, Galaxy Fame, Galaxy Folder 2, Galaxy Grand Prime, Galaxy Grand Z, Galaxy J Max, Galaxy J1, Galaxy J1 2015, Galaxy J1 Ace 4G, Galaxy J1 Mini, Galaxy J2, Galaxy J2 2015, Galaxy J3, Galaxy J3 2017, Galaxy J3 Pro, Galaxy J3 V, Galaxy J5, Galaxy J5 2015, Galaxy J5 2016, Galaxy J5 2017, Galaxy J5 Prime, Galaxy J7, Galaxy J7 2015, Galaxy J7 2017, Galaxy J7 Prime, Galaxy M Pro, Galaxy Mega 2, Galaxy Mega 6.3, Galaxy Next Turbo, Galaxy Note, Galaxy Note 7, Galaxy Note 8, Galaxy Note Pro, Galaxy On5, Galaxy On7, Galaxy Pocket, Galaxy R, Galaxy Round, Galaxy S Advance, Galaxy S Duos, Galaxy S I9000, Galaxy S Plus I9001, Galaxy S2, Galaxy S2 LTE, Galaxy S2 Skyrocket, Galaxy S3 LTE, Galaxy S3 Mini, Galaxy S5 Prime, Galaxy S5 Sport, Galaxy S6 Active, Galaxy S7 Active, Galaxy S8, Galaxy S8 Active, Galaxy S8 Plus, Galaxy Star 2, Galaxy Stellar, Galaxy Tab 3 Lite , Galaxy Tab 4 10.1, Galaxy Tab 4 7.0, Galaxy Tab A 10.1 2016, Galaxy Tab A 7.0, Galaxy Tab A 8.0, Galaxy Tab A 9.7, Galaxy Tab E 9.6, Galaxy Tab Pro 10.1, Galaxy Tab Pro 12.2, Galaxy Tab Pro 8.4, Galaxy Tab S 10.5, Galaxy Tab S 8.4, Galaxy Tab S3, Galaxy TabPro S, Galaxy Trend Plus, Galaxy Victory 4G, Galaxy View, Galaxy W, Galaxy Xcover, Galaxy Xcover 2, Galaxy Xcover 3, Galaxy Xcover 4, Galaxy Y, Galaxy Y Pro, Galaxy Young, Galaxy Young 2, Galaxy Grand Neo, i5500 Corby, I9003 Galaxy SL, I9010 Galaxy S Giorgio Armani, Omnia M , Rex 60, Rex 70, Rex 80, Rex 90, S2 Plus, Tocco Lite 2, Tocco Quick Tap, Z, Z1
Sharp: Aquos Crystal, Aquos Crystal 2, Aquos Xx 302Sh
Smartisan: T1
Sony: acro S, Xperia E5, Xperia A2, Xperia A4, Xperia C, Xperia C3, Xperia C4, Xperia C5 Ultra, Xperia E, Xperia E3, Xperia E4, Xperia E4g, Xperia go, Xperia J, Xperia L, Xperia L1, Xperia M Dual, Xperia M2 Aqua, Xperia M4 Aqua, Xperia M5, Xperia Miro, Xperia SL, Xperia T, Xperia T3, Xperia Tipo, Xperia tipo dual, Xperia TX, Xperia V, Xperia X, Xperia X Compact, Xperia X Performance, Xperia XA, Xperia XA Ultra, Xperia XA1, Xperia XA1 Ultra, Xperia XL, Xperia XZ Premium, Xperia XZs, Xperia Z Ultra, Xperia Z1, Xperia Z1f, Xperia Z3, Xperia Z3 Compact, Xperia Z3 Tablet Compact, Xperia Z3+, Xperia Z4, Xperia Z4 Tablet, Xperia Z4 Ultra, Xperia Z5, Xperia Z5 Compact, Xperia ZL2, Z2a Compact
Sony Ericsson: XPERIA Mini, XPERIA Mini Pro, XPERIA X10 Mini, XPERIA X10 Mini Pro
Spice: Dream Uno, Stellar Mi-520, Stellar Mi-526
Tesco: Hudl 2
TMobile: Beat, Energy, Groove, Vivacity
Toshiba: Encore 2 10, Encore 2 8, Excite Go
VAIO: Phone Biz
Vodafone: Smart 4 Mini, Smart 4 Turbo, Smart 4G, Smart first 6, Smart Mini, Smart N8, Smart Platinum 7, Smart Prime 6, Smart Prime 7, Smart Speed 6, Smart Tab II 10, Smart Ultra 6, Tab prime 6
Wiko: Barry, Birdy 4G, Bloom, Bloom 2, Cink Five, Cink Peax 2, Cink Slim 2, Darkmoon, Darknight, Darkside, Fever 4G, Fever SE, Fizz, Freddy, Getaway, Goa, Highway, Highway 4G, Highway Pure 4G, Highway Signs, highway Star 4G, Jerry, Jimmy, Kite 4G, Lenny, Lenny 2, Lenny 3, Mazing, Night Fever, Pulp 4G, Pulp Fab 4G, Rainbow, Rainbow 4G, Rainbow Jam, Rainbow Jam 4G, Rainbow Lite, Rainbow Lite 4G, Rainbow UP, Rainbow UP 4G, Ridge 4G, Ridge Fab 4G, Robby, Selfy 4G, Silde 2, Slide, Stairway, Sunny, Sunset, Sunset 2, Tommy, U Feel, U Feel Lite, Wax
Wileyfox: Spark, Spark Plus, Spark X, Storm, Swift, Swift 2, Swift 2 Plus, Swift 2 X
Xiaomi: Mi 3, Mi 4, Mi 4i, Mi 5, Mi 5s, Mi 5s Plus, Mi Mix, Mi Note, Mi Note 2, Mi Pad 7.9, RedMi, RedMi 2, Redmi 3, Redmi 3S, RedMi Note, Redmi Note 2, Redmi Note 3, Redmi Note Prime
Xolo: A500, A500s, Play, Q1000, Q1000s, Q1100, Q2000, Q3000, Q700, Q800, X1000
YU: Yutopia
ZTE: Avid Plus, Axon 7, Axon 7 Mini, Axon Lux, Axon Pro, Blade 2, Blade A430, Blade D6, Blade L2, Blade S6, Blade S6 Plus, Blade S7, Blade V7, Blade V7 Lite, Blade V8 Lite, Blade V8 Mini, Blade V8 Pro, Blade Vec 3G, Blade Vec 4G, Grand Memo II LTE, Grand S, Grand X Max+, Grand X2, Grand X3, Grand X4, Kis 3, Kis 3 Max, KPN Smart 200, Martin II, Nubia Prague S, Nubia Z11, Nubia Z9, Obsidian, Open, Salem, Sonata 3, Tania, Warp 7, Zmax 2, Zmax Pro, ZTE Blade Q Mini
Questions and answers: