Why Buy?
Protective case for iPad 2

Guards against bumps and scratches

Provides secure anchor point for cable lock security systems

Comes with a security cable to secure your iPad 2 preventing it from being stolen
---
Description
Protect your iPad 3 / iPad 2 from scratches, bumps and thieves with the security case and lock.
The case is made from a rigid, clear plastic which allows you to leave it on your iPad 3 / iPad 2 for every day protection. The case features cut outs which allow you to fully use your iPad 2 without having to remove it from the case. The case also features a built in stand which allows you to view your iPad 3 / iPad 2 in either vertical or horizontal rotations so you can easily play games, browse the internet and use FaceTime in comfort.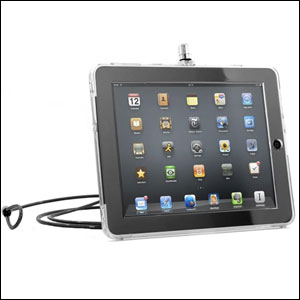 Your iPad 3 / iPad 2 can contain various amounts of personal information such as email accounts, social networks and maybe even finanical accounts so protecting it from would be thieves is a must. For this reason the security case comes with a built in security slot so you can attach a universal lock to keep your iPad 2 safe and secure whilst you're not using it.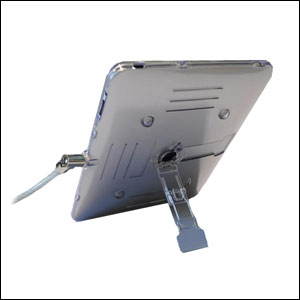 The case comes with a strong steel cable that will discourage any thief. Weighing less than one pound, the cable is extremely sleek and its lock-head has the smallest diameter of any computer lock in the world. This makes the iPad Lock flexible and light, not to mention stylish, so you can easily pack it in your bag and take it with you wherever you go.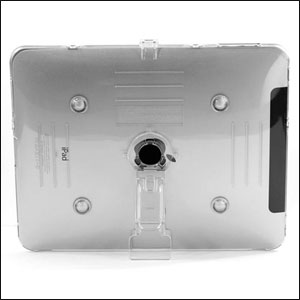 ---