Most Useful Customer Reviews
Michael Millington
Wakefield
Sony Xperia xz
21st March 2017
Brilliant products
Brilliant products excellent service
---
mandeep mahay
darlaston, west midlands
samsung galaxy note
13th June 2012
impressive
Keeping it simple, it works. Usually some micro SD cards are set to not work on some devices. This is the first 64gb card which not only works, but is simple to use. No need to configure the card, just slot it in, put files on and off you go! If you need memory I would recommend the SD card, as it is cheap and practical!
Read 16 customer reviews
|
Write a review
---
Why Buy?
More storage - more speed

Use it on a wide range of devices

Store more of what you love
---
Why not View a video about this product?
Description
Store more of anything you want with one of the biggest memory cards available.
More storage - more speed
The SanDisk 64GB memory card, which has more space to store your photos, videos, games, and much, much more. The memory card comes with a class 6 speed rating, which allows you to transfer items at 48Mbps. This means that not only will it hold more of your items, but it will also provide super fast transfer rates, so if you're transferring files from your memory card to your computer - or vise versa - it will allow you to do it within seconds.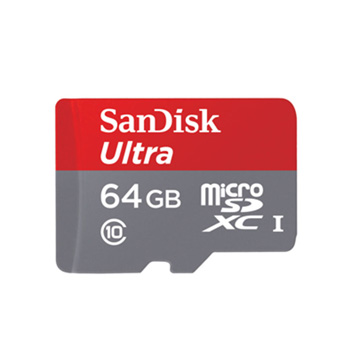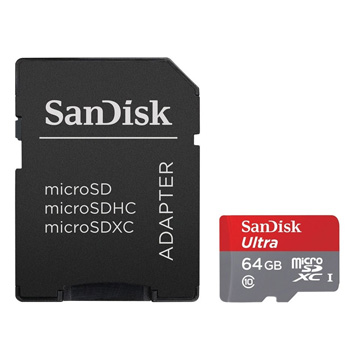 Use it on a wide range of devices
The card also comes with an adapter, which allows you to convert it from Micro SD to full SD so you can use it in other devices, such as digital camera, which is perfect if you love to take loads of pictures or record videos on equipment other than your phone.
SD card adapter included
Need 64GB for storage for an SD device? No problem, simply slip the micro SD card inside the SD card adapter and use your memory with other .
Store more of what you love
This tiny memory card will allow you to store approximately 30,000 digital photos, more than 2,000 albums of your favourite music artists or more than 24 hours of 720p HD video. Giving you more than enough space to store everything you want (and more) on this memory card.
Features:
No additional card adapters required
View, edit, and copy photos/data/music
Compatible with Windows Vista, XP, 2000 and Mac OS X
Easy to install and use
---
Key Details
Capacity: 64GB
Class: 6
Part No: SDSQUNC-064G-GN6IA
---
What's In the Box?
64GB SanDisk microSDXC memory card
Full SD adapter
Acer: Acer Liquid Z3, Iconia A1-830, Iconia B1-720, Liquid E1, Liquid E2, Liquid Jade, Liquid Jade Primo, Liquid Jade Z, Liquid M220, Liquid S1, Liquid S2, Liquid X1, Liquid X2, Liquid Z200, Liquid Z5, Liquid Zest, Liquid Zest Plus
Alcatel: A5 LED, Fierce XL, Idol 4, Idol 4S, Touch Idol X 6040D, One Touch Evo 7, One Touch Hero 2C, One Touch T10, OneTouch Hero 2, OneTouch Idol, OneTouch Idol 3 4.7 inch, OneTouch Idol 3 5.5 inch, OneTouch Idol X+ 6043D, OneTouch Pop C3, OneTouch Pop C7, OneTouch SPop, OT 990, OT 991, PLUS 12, Pop 4, Pop 4S, POP S3, POP S9
Amazon: Fire, Fire 7, Fire HD 10, Fire HD 8, Fire Kids Edition, Kindle 6 Inch 2015, Kindle Fire 7, Kindle Fire HD 6, Kindle Fire HD 7
Archos: 40 Power, 45 Helium 4G, 50 Diamond, 50 Oxygen, 50 Platinum, 50c Oxygen, 55 Helium, 55 Helium 4 Seasons, 55 Helium Ultra, 80 Helium 4G, Diamond 2 Plus
Asus: Live, Memo Pad 10, MEMO Pad 8, PadFone E, PadFone Mini, PadFone X, Zenfone 2, Zenfone 2 Deluxe, Zenfone 3, Zenfone 3 Deluxe, Zenfone 3 Ultra, Zenfone 3 Zoom, ZenFone 4, ZenFone 5, ZenFone 6, Zenfone AR, Zenfone Max, ZenFone Zoom, ZenPad 7.0 Z370CG, ZenPad C 7.0, ZenPad C 7.0 Z170MG, ZenPad S 8.0 Z580C, ZenPad S 8.0 Z580CA
BlackBerry: 9320 Curve, Aurora, Classic, DTEK50, DTEK60, KEYone, Leap, Passport, Passport Silver Edition, Priv, Q10, Q5, Vienna, Z10, Z20, Z3, Z30
BLU: Vivo 6
BQ: Aquaris 5 HD, Aquaris 5.7, Aquaris E4, Aquaris E4.5, Aquaris E5, Aquaris M10, Aquaris X5, Cervantes, Curie 2, Curie 2 Quad Core, Edison 2, Edison 2 Quad Core
Bush: Eluma
Coship: Moly X1
Dell: Venue 8 7000, Venue 8 Pro
Doro: Liberto 810, Liberto 820, Liberto 820 Mini, Liberto 825
EE: Harrier, Harrier Mini, Harrier Tab, Kestrel, Rook
Google: Android One, Nexus 5 2013
HP: Elite X3, Slate 7, Slate6 VoiceTab, Slate7 VoiceTab, Steam 7
HTC: 10, 10 evo, 8S, Bolt, Butterfly, Butterfly 2, Butterfly 3, Desire 10, Desire 10 Lifestyle, Desire 10 Pro, Desire 200, Desire 300, Desire 310, Desire 320, Desire 500, Desire 501, Desire 510, Desire 516, Desire 526, Desire 530, Desire 601, Desire 610, Desire 612, Desire 616, Desire 620, Desire 626, Desire 628, Desire 630, Desire 650, Desire 700 Dual SIM, Desire 709d, Desire 728, Desire 816, Desire 820, Desire 825, Desire 826, Desire 828, Desire 830, Desire Eye, Desire VC, Desire X, Evo 4G LTE, Inspire, M8 Ace, One A9, One A9s, One Dual SIM, One E8, One E9, One E9 Plus, One M8, One M8 Ace, One M8 Dual SIM, One M8 Eye, One M8s, One M9, One M9 Plus, One ME, One Mini 2, One Remix, One S9, One SV, One X10, One X9, Rezound, Sensation, Thunderbolt, U Play, U Ultra, U11, Ville
Huawei: Ascend D Quad, Ascend D Quad XL, Ascend D1, Ascend G300, Ascend G510, Ascend G526, Ascend G6 4G, Ascend G610, Ascend G7, Ascend G730, Ascend Mate, Ascend Mate 2, Ascend Mate 3, Ascend Mate 7, Ascend P1, Ascend P6, Ascend P7, Ascend W1, Ascend Y210D, Ascend Y530, C199, G8, G9 Plus, Honor, Honor 3C, Honor 4X, Honor 5C, Honor 5X, Honor 6, Honor 6 Plus, Honor 6C, Honor 6X, Honor 7, Honor 7 Premium, Honor 8, Honor 8 Pro, Honor 9, Honor Holly, Honor V8, Honor V8 Max, Mate 8, Mate 9, Mate 9 Pro, Mate S, MediaPad T1 8.0, MediaPad X1, MediaPad X2, Nova, Nova 2, Nova 2 Plus, Nova Plus, P10, P10 Lite, P10 Plus, P8, P8 Lite, P8 Lite 2017, P8 Max, P9, P9 Lite, P9 Plus, Raven LTE, Union LTE, Y3, Y5, Y6, Y6 II, Y600, Y635
Intex: Aqua i5 Mini, Aqua i7, Aqua Superb
Karbonn: A30, A9 Plus, K450, S5 Titanium, Sparkle V, Titanium Octane
Kazam: Thunder2 4.5L, Thunder2 5.0, Tornado2 5.0, Trooper 240, Trooper2 5.0
Kyocera: DuraForce PRO, Hydro VIEW
Lenovo: A10, A526, A7000, Golden Warrior A8, K4 Note, K80, K900, Lemon 3, Miix 300, P2, P90, Phab 2 Pro, S660, Tab 2 A10, Tab 2 A8, ThinkPad 8, Vibe k5, Vibe Shot, X2 Pro, Yoga Tablet 10
LG: Class, Enact, Escape, Escape 2, Exalt 2, G Flex, G Flex 2, G Pad 10.1, G Pad 8.0, G Pad 8.3, G Pad II 10.1, G Pro 2, G Stylo, G Vista, G Vista 2, G2, G2 Mini, G3, G3 Beat, G3 S, G3 Stylus, G4, G4 Stylus, G4c, G5, G5 SE, G6, G6 Plus, K10, K10 2017, K3 2017, K4, K5, K7, K8, K8 2017, L80 Dual, L90 Dual, Lancet, Lucid 3, Magna, Optimus F3Q, Optimus F6, Optimus G Pro, Optimus Hub, Optimus L7 II, Optimus L9, Optimus True HD, Ray, Rumor Reflex, Spectrum VS920, Spirit, Spirit 4G, Spree, Stylo 2, Stylo 2 Plus, Stylus 2, Stylus 3, Tribute 2, Tribute 5, V10, V20, Volt, X Cam, X Power, X Screen, X Venture, Zero
MacBook: Pro 15, Pro Retina 15
Meizu: M3 Max, MX4 Pro, Pro 5, Pro 7, U10, U20
Microsoft: Lumia 1330, Lumia 430, Lumia 435, Lumia 532, Lumia 535, Lumia 540, Lumia 550, Lumia 640, Lumia 640 XL, Lumia 650, Lumia 850, Lumia 950, Lumia 950 XL, Surface 3, Surface Book, Surface Pro 2, Surface Pro 3, Surface Pro 4
Motorola: Atrix HD, Droid Maxx 2, Droid RAZR, Droid Razr HD, Droid RAZR Maxx, Droid Razr Maxx HD, Droid Turbo 2, Moto C, Moto C Plus, Moto E 2nd Gen, Moto E 3rd Gen, Moto E4, Moto E4 Plus, Moto G 3rd Gen, Moto G 4G 2015, Moto G Forte, Moto G Turbo Edition, Moto G4, Moto G4 Play, Moto G4 Plus, Moto G5, Moto G5 Plus, Moto X Force, Moto X Play, Moto X Pure Edition, Moto X Style, Moto Z, Moto Z Force, Moto Z Play, MotoSmart, Photon 4G, RAZR, RAZR HD, RAZR i XT890
Nokia: 106, 110, 112, 215, 220, 230, 301, 3310 (2017), 6, Asha 230, Asha 306, Lumia 1320, Lumia 1520, Lumia 2520, Lumia 521, Lumia 525, Lumia 620, Lumia 625, Lumia 635, Lumia 636, Lumia 638, Lumia 720, Lumia 730, Lumia 735, Lumia 810, Lumia 822, Lumia 830, Lumia 929, Lumia Icon, Nokia 3, Nokia 5, X Plus, XL
OnePlus: X
Oppo: Find 7, Find 7a, R3, R5, R7, R7 Plus
Orange: Gova
Panasonic: Eluga Power
Pantech: Vega No 6
Samsung: Ativ S, Champ Deluxe Duos, Core LTE, Exhilarate i577, Galaxy A3, Galaxy A3 2015, Galaxy A3 2016, Galaxy A3 2017, Galaxy A5, Galaxy A5 2015, Galaxy A5 2016, Galaxy A5 2017, Galaxy A7, Galaxy A7 2015, Galaxy A7 2017, Galaxy A8, Galaxy A9, Galaxy Ace 3 4G, Galaxy Ace 4, Galaxy Ace Duos S6802, Galaxy Ace Style, Galaxy Alpha, Galaxy Amp 2, Galaxy Amp Prime, Galaxy Avant, Galaxy Beam 2, Galaxy Book 10.6, Galaxy Book 12.0, Galaxy Chat B5330, Galaxy Core, Galaxy Core 4G, Galaxy Core Advance, Galaxy Core II, Galaxy Core Prime, Galaxy E5, Galaxy E7, Galaxy Express, Galaxy Express 2, Galaxy Express Prime, Galaxy F, Galaxy Fame, Galaxy Folder 2, Galaxy Grand, Galaxy Grand 2, Galaxy Grand Prime, Galaxy Grand Z, Galaxy J Max, Galaxy J1, Galaxy J1 2015, Galaxy J1 Ace 4G, Galaxy J1 Mini, Galaxy J2, Galaxy J2 2015, Galaxy J3, Galaxy J3 2017, Galaxy J3 Pro, Galaxy J3 V, Galaxy J5, Galaxy J5 2015, Galaxy J5 Prime, Galaxy J7, Galaxy J7 2015, Galaxy J7 2017, Galaxy J7 Prime, Galaxy K Zoom, Galaxy Mega 2, Galaxy Mega 5.8, Galaxy Mega 6.3, Galaxy Next Turbo, Galaxy Note, Galaxy Note 10.1 2014, Galaxy Note 2, Galaxy Note 3, Galaxy Note 3 Neo, Galaxy Note 4, Galaxy Note 7, Galaxy Note 8, Galaxy Note Edge, Galaxy Note Pro, Galaxy On5, Galaxy On7, Galaxy Pocket, Galaxy Round, Galaxy S Duos, Galaxy S2, Galaxy S2 LTE, Galaxy S2 Skyrocket, Galaxy S3, Galaxy S3 LTE, Galaxy S3 Mini, Galaxy S4, Galaxy S4 Active, Galaxy S4 Mini, Galaxy S4 Zoom, Galaxy S5, Galaxy S5 Active, Galaxy S5 Mini, Galaxy S5 Neo, Galaxy S5 Prime, Galaxy S5 Sport, Galaxy S6 Active, Galaxy S7, Galaxy S7 Active, Galaxy S7 Edge, Galaxy S8, Galaxy S8 Active, Galaxy S8 Plus, Galaxy Star 2, Galaxy Stellar, Galaxy Tab 2 10.1, Galaxy Tab 3 Lite , Galaxy Tab 4 10.1, Galaxy Tab 4 7.0, Galaxy Tab 4 8.0, Galaxy Tab A 10.1 2016, Galaxy Tab A 7.0, Galaxy Tab A 8.0, Galaxy Tab A 9.7, Galaxy Tab E 9.6, Galaxy Tab Pro 10.1, Galaxy Tab Pro 12.2, Galaxy Tab Pro 8.4, Galaxy Tab S 10.5, Galaxy Tab S 8.4, Galaxy Tab S2 8.0, Galaxy Tab S2 9.7, Galaxy Tab S3, Galaxy Trend Plus, Galaxy Victory 4G, Galaxy View, Galaxy W, Galaxy Xcover 2, Galaxy Xcover 3, Galaxy Xcover 4, Galaxy Young, Galaxy Young 2, Galaxy Grand Neo, Omnia M , S2 Plus, Tocco Lite 2, Z, Z1
Sharp: Aquos Crystal, Aquos Crystal 2
Sony: acro S, Xperia E5, Tablet S, Xperia A2, Xperia A4, Xperia C, Xperia C3, Xperia C4, Xperia C5 Ultra, Xperia E, Xperia E1, Xperia E3, Xperia E4, Xperia E4g, Xperia go, Xperia J, Xperia L, Xperia L1, Xperia M, Xperia M Dual, Xperia M2, Xperia M2 Aqua, Xperia M4 Aqua, Xperia M5, Xperia Miro, Xperia S Tablet, Xperia Sola, Xperia SP, Xperia T, Xperia T2 Ultra, Xperia T2 Ultra Dual, Xperia T3, Xperia Tipo, Xperia tipo dual, Xperia TX, Xperia V, Xperia X, Xperia X Compact, Xperia X Performance, Xperia XA, Xperia XA Ultra, Xperia XA1, Xperia XA1 Ultra, Xperia XL, Xperia XZ, Xperia XZ Premium, Xperia XZs, Xperia Z, Xperia Z Tablet, Xperia Z Ultra, Xperia Z1, Xperia Z1 Compact, Xperia Z1f, Xperia Z1S, Xperia Z2, Xperia Z2 Tablet, Xperia Z3, Xperia Z3 Compact, Xperia Z3+, Xperia Z4, Xperia Z4 Tablet, Xperia Z4 Ultra, Xperia Z5, Xperia Z5 Compact, Xperia Z5 Premium, Xperia ZL, Xperia ZR, Z2a Compact
Spice: Dream Uno, Stellar Mi-520, Stellar Mi-526
Toshiba: Encore 2 10, Encore 2 8, Excite Go
VAIO: Phone Biz
Vodafone: Smart 4 Mini, Smart 4 Turbo, Smart 4G, Smart first 6, Smart Mini, Smart N8, Smart Platinum 7, Smart Prime 6, Smart Prime 7, Smart Speed 6, Smart Tab II 10, Smart Ultra 6, Smart Ultra 7, Tab prime 6
Wiko: Birdy 4G, Bloom, Bloom 2, Cink Five, Cink Peax 2, Cink Slim, Cink Slim 2, Darknight, Fever 4G, Fever SE, Fizz, Freddy, Getaway, Goa, Highway Pure 4G, Highway Signs, highway Star 4G, Jerry, Jimmy, Kite 4G, Lenny, Lenny 2, Lenny 3, Night Fever, Pulp 4G, Pulp Fab 4G, Rainbow 4G, Rainbow Jam, Rainbow Jam 4G, Rainbow Lite, Rainbow Lite 4G, Rainbow UP, Rainbow UP 4G, Ridge 4G, Ridge Fab 4G, Robby, Selfy 4G, Silde 2, Slide, Stairway, Sunny, Sunset, Sunset 2, Tommy, U Feel, U Feel Lite, Wax
Wileyfox: Spark, Spark Plus, Spark X, Storm, Swift, Swift 2, Swift 2 Plus, Swift 2 X
Xiaomi: Mi 5s Plus, Mi Pad 7.9, RedMi, RedMi 2, Redmi 3, Redmi 3S, Redmi Note 2, Redmi Note Prime
Xolo: Q1100
YU: Yutopia
ZTE: Avid Plus, Axon 7, Axon 7 Mini, Axon Lux, Blade 2, Blade A430, Blade D6, Blade L2, Blade S6, Blade S6 Plus, Blade S7, Blade V7, Blade V7 Lite, Blade V8 Lite, Blade V8 Mini, Blade V8 Pro, Grand Memo II LTE, Grand S, Grand X Max+, Grand X2, Grand X3, Grand X4, Kis 3, Kis 3 Max, KPN Smart 200, Martin II, Nubia Prague S, Nubia Z11, Obsidian, Open, Salem, Sonata 3, Warp 7, Zmax 2, Zmax Pro, ZTE Blade Q Mini