Most Useful Customer Reviews
Ernest Wilkinson
London
Samsung hs3000
10th April 2015
Awesome device
I am a type of person who don't like to have his head covered, I have tried many head phones which either don't last long or don't fit in with my request. I finally decided to go for something original and I must admit I am liking my perchase, I will be bying another for my son as well.i like everything about it, great sound and easy to use.
---
Anonymous
Northants
Garmin Zumo 350LM
15th July 2013
Better than expected
Firstly was very impressed with the sales advice and next day delivery. As I required a bluetooth headset, only to listen to traffic prompts on a motor bike, the only choices available in the motorbike shops/sites were the ones that had a microphone, plus all the other extras. These cost around £150 for a good set. Being a version 3, the connection to the sat nav was easy. Tested it on a 400 mile trip, and even at motorway speeds, the prompts were clear. With the two 'in-the-ear' ear buds, it also blocked the other road noises, but not to the point of total block. The length of the cable is adequate, as it just clips onto the inside collar of your shirt, and does not get in the way at all. Apart from the above, it can also be connected to your phone too; But I never use my phone whilst riding/driving. It is an excellent product.
Read 35 customer reviews
|
Write a review
---
Why Buy?
Wireless Bluetooth for tangle-free connection

Stylish clip-on design

Superior Sound

Built-in hands-free calling

Universal compatibility

Multipoint
---
Description
Wireless Bluetooth for tangle-free connection
Keep your phone in your pocket, bag or handbag and still enjoy music and hands-free call control and audio output with the Samsung HS3000 Stereo Bluetooth Headset.
No need for a wire to be stretched from your device to your headset, instead use the HS3000's wireless Bluetooth technology to break free of this physical connection to open up a new world of tangle-free entertainment possibilities.
Stylish clip-on design
The Samsung HS3000 is a stylish clip-on design that uses a clip to attach the headset to your clothes. This provides you with an easy to reach location to control the device, including adjusting the volume and accepting calls.
Superior Sound
The Samsung HS3000 headset features SoundAlive equaliser technology and Apt-X for crystal clear audio, improving the sound playback of your music for when sat at home, enjoying a gentle walk or on a physical run. The SoundAlive technology allows you to listen to your music the way that its meant to be heard, maintaining the lavish detail within a music track.
Built-in hands-free calling
The built-in microphone coupled with the included earphones will enable you to continue your phone conversation wherever you are. No need to grasp onto your phone while taking part in a phone call, due to the HS3000's hands-free calling feature you can catch up with friends, speak to loved ones or take that all important business call - all while staying on the correct side of the law when driving.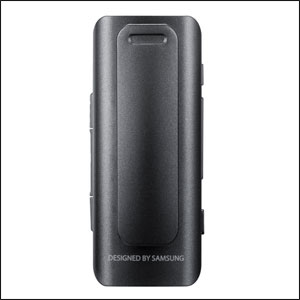 Universal compatibility
Featuring wireless Bluetooth technology, the HS3000 will work with 99.9% of currently available devices for true universal compatibility. The headset also features Active Pairing technology, so you don't have to re-pair the headset with your device on every occasion - making it quicker and easier to receive all the wonderful entertainment in the form of music, podcasts or audio books.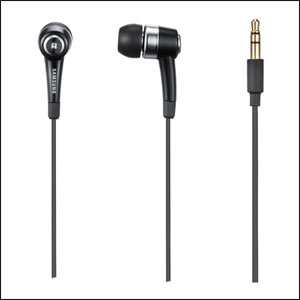 Multipoint
The multipoint technology allows you to connect with more than one device at any one time. For example, you may wish to connect the HS3000 to your phone and your laptop so you can take traditional phone calls through your smartphone and Skype calls from your computer.
Technical Specifications:
Dimensions: 53.5 x 21.5 x 9.6mm
Weight: 13.2g
Play time: 7 hours
Standby time: 170 hours
Bluetooth: BT Class: 2 / BT Ver: 3.0
Bluetooth Profiles: HFP / HSP / A2DP / AVRCP
---
Key Details
Multipoint: Yes
Part No: HS-3000