Most Useful Customer Reviews
NMT
Bridgwater
Samsung Galaxy S6
15th April 2016
Very Good.
Very good holder, used in lorry with no vibration of holder, ample adjustment for most uses. Good quick service included.
---
Geoff Walker
KENT
Samsung Galaxy S6 Edge +
19th April 2017
Works well - shame it doesn't trigger Car Mode
I used to have a proper Samsung charging cradle for my original Galaxy Note 1 phone, and it was great. That phone expired some time ago, and I have been using a car with good bluetooth and SatNav that linked so well to my Galaxy S6 Edge + that I didn't need a separate car holder. However, I've now got a new car that has such poor Infotainment (it's a brand new Mercedes but it can't cope with the number of contacts in my phone, it doensn't do voicedialling and the SatNav is way inferior to Google Maps) so I bought this charging cradle to use the phone in the good old-fashioned way, stuck to the windscreen. The cradle itself is nice and solid, the suction device onto the windscreen is very easy to use but holds very securely, the clamping device to hold the phone makes it very easy to put in and take out the phone. The cordless charging works even when the front cover of the phone protector case is folded right around the back - so the induction has to pass right through the folded-back cover. The only downside of the experience is that whereas my old Galaxy Note 1, when in the Samsung car charger, automatically detected it was in the car, and went into Car mode - and automatically activated car-specific apps, and automatically put the display into "always on" mode. With this wireless charger, the display will still dim and turn off after a little while, which is a disadvantage if you want to use it as a Sat Nav. I've got round this by changing the power settings to not turn off, but that's not as good as the automatic detection of the old system. Overall, this is a good bit of kit, that's worth the rather high price. I like it.
Read 10 customer reviews
|
Write a review
---
Why Buy?
Provides in-car wireless charging for your S6 / S6 Edge

Supports landscape and portrait orientations

Sleek and minimalistic design to match your handset
---
Description
Provides in-car wireless charging for your S6 / S6 Edge
Designed for quick and intuitive charging, the Samsung Qi Wireless Charging Car Holder and Charger allows you to charge your Samsung Galaxy S6 / S6 Edge without the mess of charging cables. The Samsung car holder uses Qi induction technology to charge your phone quickly and easily once it is placed into the holder.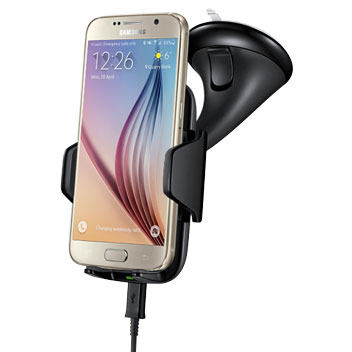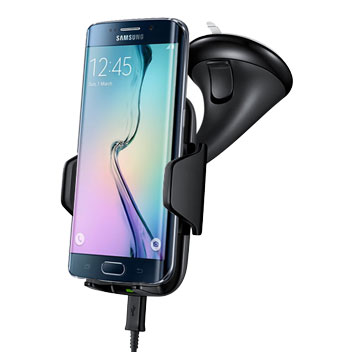 Simply place your S6 or S6 Edge within the holder and watch as it begins charging without having to connect any wires to the phone.
Supports landscape and portrait orientations
The adjustable design of the Samsung car holder allows you to position your handset on your car's windscreen in either vertical or horizontal positions for a more comfortable view of your handset while driving.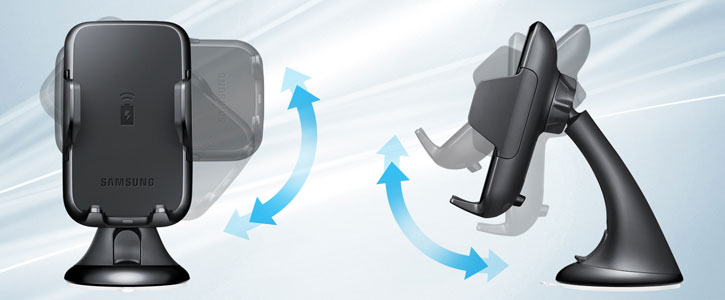 Sleek and minimalistic design to match your handset
Designed to perfectly complement the Samsung Galaxy S6 / S6 Edge, this Official Car Holder is designed to reflect the contemporary and sleek styling of the recent Samsung smartphones.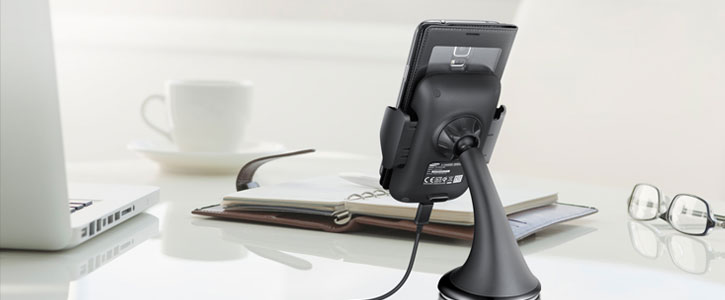 ---
Key Details
Charger Type: Car Charger
Colour: Black
Mounting Type: Dashboard, Windscreen
Part No: EP-HN910