Most Useful Customer Reviews
Swedger
Unknown
Samsung Galaxy S3 i9305 LTE
18th December 2012
What it says on the box
This item is exactly like my previous one which was for an HTC Desire HD with the added benefit of a removable tray if I ever decide to fit a case to my new phone and the ability to physically switch from charging to docking with my PC. Lithium batteries should not be overcharged as well as not allowing to go flat and this unit gives you that control. It is much easier to plug my phone into this unit as it was with my HTC one. The spare battery charging part requires the back plate to be up only if you wish to see the state of charge as this LCD light is obscured when the backplate is lowered. I have not found anything better for my purposes anywhere else.
---
sandra bethel
United Kingdom
Samsung S3
18th November 2012
just what i was looking for
item lets me listen to music and charge phone at same time thank you
Read 5 customer reviews
|
Write a review
---
Why Buy?
Charges and synchronises your S3 to laptop or PC

Charges a second battery simulataneously

Works with and without a case

Play audio from your S3 using the Micro USB audio out cable

Supports Galaxy S3 dock mode

Easy and convenient desktop access

Status LED indicator
---
Description
Charges and synchronises your S3 to laptop or PC
This cradle will allow you to synchronise and charge your Galaxy S3 in one easy process. Simply place your device in the cradle, connect the cable to your computer and the computer will do the rest for you. The blue LED indicator will also inform you when there is power flowing through the device. This dektop cradle is an all in one solution, allowing you to keep two batteries charged whilst allowing you to enter either sync or docking modes within the S3.
Charges a second battery simulataneously
At the rear of the charger base is a compartment which can house and charge a seperate S3 battery simultaneously, ensuring that you always have enough power.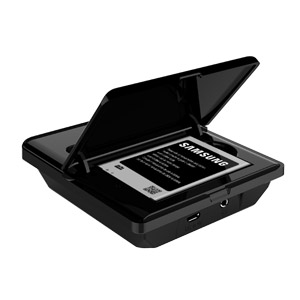 Works with and without a case

The dock comes with a slide in cradle fitting which means it will work with or without a slim fitting case attached.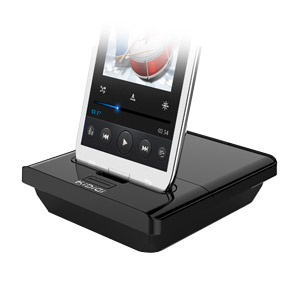 Play audio from your S3 using a 3.5mm audio cable
Ideal for parties or simply in the living room, the Galaxy S3 Deluxe Desktop Cradle features a 3.5mm aux in port which allows you to connect the dock via the 3.5mm audio cable to supported speakers and play music directly from the S3. This effectively transforms your S3 into an entertainment centre whilst charging the phone at the same time.
Supports Galaxy S3 dock mode
An additional feature of this charging dock is that as well as supporting a synchronisation mode for transfering files to and from a PC or laptop the dock also supports 'dock mode' for greater battery saving and allowing you to use your phone as an alarm clock display.
Designed for the Galaxy S3

The dock has been specifically designed for theGalaxy S3 so it will be a perfect fit. The cradle will also provide a good angle for you to use the device.
Stable and secure mounting
The cradle provides a stable and secure mount for the Galaxy S3. It will also declutter and make your desk look neater with its high quality finish.
Specifications
Net Weight: 128g
Dimension: 103 x 97 x 25 mm
INPUT: DC 5V/1000mA - USB 5V/500mA
OUTPUT: USB: DC 5V/500mA - BATTERY: DC 4.2V/500mA
---
Key Details
Charger Type: Desktop Charger
Part No: UXC-SI93
---
What's In the Box?
1 x 1000ma AC Adaptor
1 x USB 2.0 micro USB cable