Most Useful Customer Reviews
Stuart Burns
Shrewsbury
Samsung Galaxy Note 3
17th October 2013
Brilliant product
I must be honest I waz nervous getting this watch because of all of the negative reviews I have read in the media. I am glad I ignored them. Regadless of the extras this watch adds, the fact it is a chargeable watch is brilliant. Gone are the times I get the town only to remember my watch is on the side with a dead battery. No more setting the time and remembering to "turn the clocks back" all done through the phone link. I am not a very heavy user but I am also not a light user and other than one day, I am usually at around 80% battery by 11pm after taking it off charge at 7am. Not bad considering I just charge it every night next to my phone. If you are worried about the price, how much would you pay for a good chronograph? £300? £400? More? Well this does the same and more so the price is very good. If you like gadgets, or just want a watch that ypu never need to replace the battery on or set then this HAS to be on your christmas list. There are only a few apps at the moment but with the product just launching it is not suprising. I was happy to see that all but a couple were free anyway so I have dabbled with a few. I love the fact I can change the watch face so once I am bored and "want a new watch" I can just change the face a bang new watch feel :-) Oh please do note though, Samsung have never claimed this watch to be water proof, mainly because it isn't as one poor reviewer found out. To be honest I have never used my waterproof watches in water anyway so no loss for me.
Read 1 customer review
|
Write a review
---
Why Buy?
Make and take phone calls at a glance

Displays all notifications from your smartphone

1.9MP AutoFocus camera with BSI sensor

Pairs to your device via Bluetooth removing the hassle of tangled cables

Features S Voice Technology

Adjustable strap for optimum comfort

Standard micro USB charging port
---
Why not View a video about this product?
Description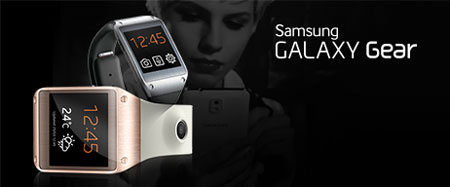 Make and take phone calls at a glance
With the Samsung Galaxy Gear Smartwatch you no longer need to take your phone out of your bag or pocket to make and take calls. The Galaxy Gear pairs with your device and from it's display screen you can make and take calls, with a built in microphone and speaker all you need to do is raise your Galaxy Gear Smartwatch to your ear like you would a normal phone.
Displays all notifications from your smartphone
The Samsung Galaxy Gear Smartwatch displays all your smartphones notifications on its 1.63inch screen. You can check your Facebook, catch up on your Tweets, texts and emails whilst keeping your hands free, thanks to the Smart Relay feature incorporated in the Smartwatch, providing you with seamless communication from your Gear to your phone. The Galaxy Gear features an easy to use, ultra-responsive touch display making it simple and easy to navigate your way around it with a simple touch, press or swipe.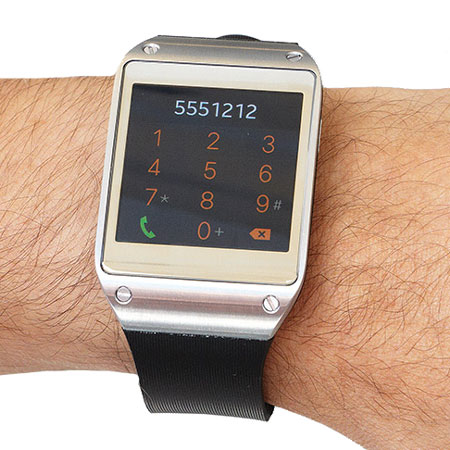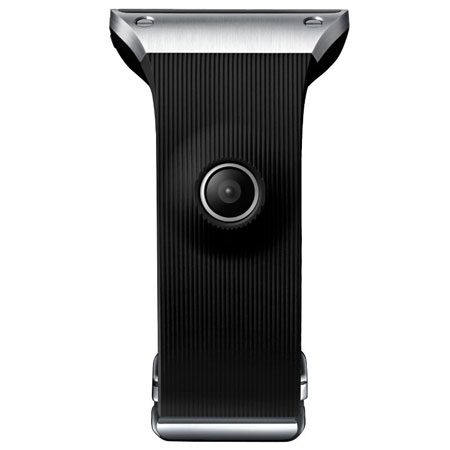 *PLEASE NOTE: Galaxy Gear is available for use with Galaxy S4, S III, and Note II through the Android 4.3 (Jelly Bean) update. Samsung have also extended the Galaxy Gear compatibility to other Galaxy devices, including the Galaxy S4 Mini, S4 Active, Mega 5.8, Mega 6.3, and Galaxy S4 Zoom.
1.9MP AutoFocus camera with BSI sensor
The Galaxy Gear has a 1.9 mega pixel camera with a BSI sensor built into the wrist strap, so you can take pictures, videos and visual memos in 720p. The BSI sensor helps to improve pictures and videos in low-light situations as it increases the amount light captured by the camera.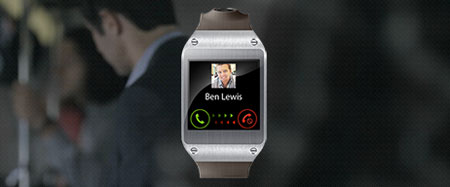 Pairs to your phone via Bluetooth removing the hassle of tangled cables
Missed an important call or SMS because you couldn't hear or find your phone at the bottom of your handbag? With the Galaxy Gear this is now a thing of the past. Using innovative Bluetooth technology, the watch displays the caller ID and vibrates as your phone is ringing or when you receive an SMS. Reject or mute the call with a button on the watch or use the Bluetooth headset or mobile phone to answer the call and start chatting.
Features S Voice Technology
The latest S Voice technology means your Galaxy Gear understands your voice and lets you stay in control using voice commands, as well as turning dictated notes into text with Voice Memo.
Adjustable strap for optimum comfort
The strap for the Samsung Galaxy Gear is adjustable, so you can alter the sizing of it to suit your wrist comfortably.
Standard micro USB charging port
With a standard micro USB charging facility, you can easily ensure that your Smartwatch is constantly full of juice, so you're never without it. You can plug this in with the cable provided, or any other Samsung charger, for optimum convenience and flexibility. The charging station for the Smartwatch simply clips on and off, so you don't have to have the bulky station on all the time. Instead, you can attach it when you need to charge, and then remove it to wear, to reveal the sleek, elegant body of the Smartwatch.
Technical Specifications
Dimensions: 56 x 36 x 11 mm
Weight: 74g
Chipset: 800MHz Single core processor
Dispay: 1.63inch 320×320 sAMOLED display ( 277ppi)
Camera: 1.9MP AutoFocus camera with BSI sensory (autofocus, sound and shot available)
Bluetooth: Bluetooth 4.0
Memory: 4GB internal memory + 512MB RAM
Battery: 315mAh
Standby Time: up to 150 hours
Typical Usage Time: up to 25 hours
2 microphones
1 speaker