Most Useful Customer Reviews
Adam Parnell
Peterbvorough
I Pad Air
7th August 2014
Sweet
Quality product, feels solid and classy, keyboard great to use, extremely fast delivery!!! Would recommend for sure, Thanks!!
---
Jodi Allen
Leicester
iPad Air
3rd May 2014
Ticks all the boxes
I had been looking for a case that filled all my criteria which was not easy. When I stumbled upon this, I couldn't believe my luck! In terms of function it has a removable keyboard - which, when fitted, is held very securely by magnets. It lets you position your iPad in both landscape and portrait - the mechanism for this is discreetly hidden behind the pull-out stand. The keyboard is really easy to pair up and is lovely to type on - the spacing takes a little getting used to but this is not a criticism. The cover also has the ability to put your iPad to sleep when you close it - with or without the keyboard in place. The material of the cover feels nice to touch, feels quite premium. Overall, I am extremely happy with my choice of case as it does everything that I might need. I would fully recommend it, especially if you use your iPad for business emails etc and for pleasure!
Read 6 customer reviews
|
Write a review
---
Why Buy?
Elegant and protective design

Bluetooth keyboard

Use the keyboard within or separate from the case

Bluetooth connectivity

Keyboard features up to 300 hours of battery working time

Built-in stand and rotating cradle

Packs neatly

iPad Air keyboard shortcut keys

Pen holder

Camera cut-out

Sleep and wake function
---
Description
Elegant and protective design
Rock have created an elegant design while still featuring great protection - suitable for use within the home, in a professional environment and even outdoors.
With an outer material that is durable and a lining that is pleasingly soft to the touch, the Rock Bluetooth Keyboard Case for iPad Air is ideal as a combo storage solution that looks after your iPad Air and also includes a 'real' keyboard.
With a snug fit and smooth inner lining, this cover helps protect your iPad Air from scratches, scuffs and other types of wear.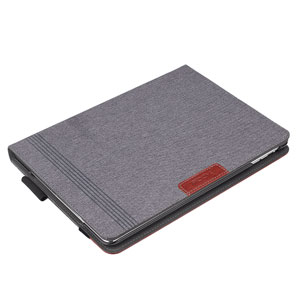 Bluetooth keyboard
Includes a super useful ultrathin keyboard, which has been designed to provide users complete functionality when it comes to typing on your iPad Air.
At times the iPad Air screen, as lovely as it is, may be a little too small when typing lengthy and intricate documents or emails using the touchscreen - so the Rock Bluetooth Keyboard Case has been fitted with a laptop-style keyboard, designed to reduce typing mistakes.
Each key press provides tactile feedback - enabling fast, intuitive and comfortable typing.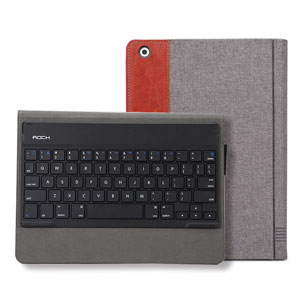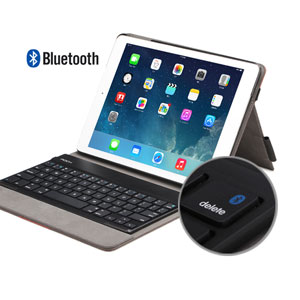 Use the keyboard within or separate from the case
With its magnetic separation design, the keyboard can be used within the protective case or separately. This provides plenty of flexibility to enjoy your typing sessions in a multitude of ways and yet still able to carry your keyboard within the case for portability and protection.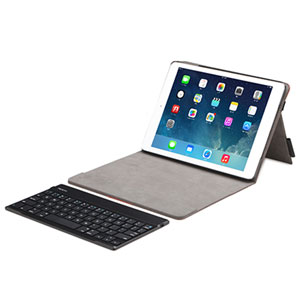 Bluetooth connectivity
Using Bluetooth 3.0 technology, the keyboard link is faster and more stable with a working distance up to 10 metres.
To use the keyboard with your iPad Air - simply switch it on, pair it with your iPad and watch it connect via Bluetooth.
Keyboard features up to 300 hours of battery working time
Type for literally days uninterrupted with an impressive up to 300 hours of working time.
The keyboard also features a Micro USB port for convenient charging when the occasion arises.
Built-in stand and rotating cradle
To type effectively, your iPad Air screen needs to be positioned so you can clearly view the text being entered and with the integrated stand you will be sitting comfortably while working.
Position the iPad Air in either landscape or portrait modes with the included rotating cradle to easily twist your tablet into either view.
This also allows you to view content handsfree - ideal for watching videos, listening to music and surfing the internet.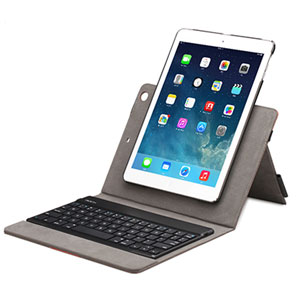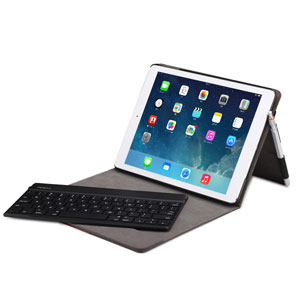 Packs neatly
Despite including a built-in keyboard, Rock have not forgotten to make the case practical and therefore have kept the design sleek and slim - so when you're not using it, the keyboard fits flat into the case, making it ideal to carry with you when on the move.
iPad Air keyboard shortcut keys
Rock have gone to every length to make this keyboard completely compatible with the features of the iPad Air by including shortcut keys specific to the tablet that allows you to easily adjust volume and control your music and films.
Pen holder
Incorporates a very handy pen holder, for securing your traditional writing tool within the case for those moments when you need to write a signature on an important document or wish to make a quick note.
Camera cut-out
Capture photos without having to remove your iPad Air from the case with the featured cut-out section, so your lens is not obscured by the cover.
---
Key Details
Bluetooth: Yes
Colour: Grey