Most Useful Customer Reviews
Kit Byatt
Hereford
Samsung Galaxy S5
11th July 2014
It just works!
The micro-USB connection of the Samsung S5 is a bit fiddly (because of its double socket, and the covering waterproof flap) I decided to try out wireless charging. I use a Samsung Qi charging cover, together with a Tech21 case and it charges without any problem, whichever way round I put the phone on it - even at right angles! The unit shows a red light when not charging and a blue when when charging. This unit just works, as intended, either from a USB plug adapter or from my laptop USB socket. Summary: simple and effective; makes charging effortless.
---
Ian Leworthy
United Kingdom
Nexus 5
21st November 2013
Brilliant Charger
I bought this for my Nexus 5. It works perfectly with the Armourdillo case I bought here too. Don't be put off by the euro plug statement. It's a USB cable that plugs into a euro adapter, so will work with any USB adapter plug (like all phone chargers are these days!) I plug mine direct into the USB on my computer anyway, so there's no problems. Highly recommend to you all. Once this was in stock and shipped, it arrived next day. Top marks again for mobile fun's delivery process.
Read 18 customer reviews
|
Write a review
---
Why Buy?
Keep your smartphone charged with ease

Small and lightweight for added convenience

Designed to be compatible with all QI wireless charging devices

Red LED indicator light

Non-Slip silicone surfaces for ultimate security
---
Description
Keep your smartphone charged with ease
With mobile phones being able to do loads more its important to ensure that your battery is always charged so you are able to take that important call, reply to that urgent text message or send an email. This QI Wireless Charger allows you to simply charge your phone with minimum hassle. With an EU plug, you can use this on your travels around Europe, or indeed worldwide with a simple addition of a compatible adapter. There is no more need to have wires dangling around everywhere - you can hide the wire of this charger, and simply place your phone on the surface to charge.
Small and lightweight for added convenience
Measuring just 11.5 cm in height, 8.5 cm in width and a mere 0.7 cm in depth, this QI Wireless charger is small and lightweight, so it is really easy to pack in a suitcase or leave on your workspace without being obtrusive. It's simplistic, minimal wire design makes it take up a small amount of space wherever you set it up, so it doesn't get in the way, whilst ensuring that your smartphone is always in easy reach.
Designed to be compatible with all QI wireless charging devices
Designed to perfectly complement the sleek styling of your handset, regardless of whether it is for use in the home or office.
PLEASE NOTE: Not all handsets support wireless charging 'out of the box'. Certain Micro USB enabled smartphones can use a wireless charging adapter clip found here: http://bit.ly/15acaLk
Red LED indicator light
The red LED indicator light on the corner of the device will highlight to you when the device is switched on, so there is no need to panic if your device doesn't start charging when placed upon the surface.
Non-Slip silicone surfaces for ultimate security
The QI Wireless Charger features a robust, soft silicone surface on the upper surface, which will stop your device from sliding off the charger during charging. What's more, the Charger features 4 non-slip silicone feet, which prevent the charger device itself from sliding along the surface. This ensures that, during charging, your smartphone is totally protected and secure.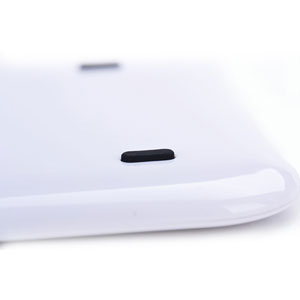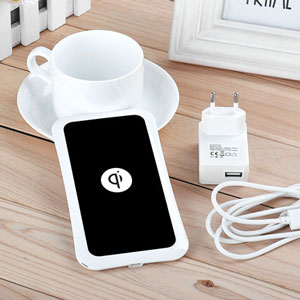 Technical Specifications
Dimensions: 11.5 x 8.5 x 0.7 cm
---
Key Details
Charger Type: Desktop Charger
Colour: Black, White