PowerUp 3.0 App Controlled Paper Airplane for iOS and Android

Product Reference: 53431
"Flying high"
"Excellent product, great fun."
Most Useful Customer Reviews
Nicky lee
Burmingham
Power plane blue tooth
8th December 2016
Flying high
I bought a paper plane it was nit very expensive and a great idea. Remember when you were a kid just having fun well kit vines with paper planes yiu just girls slinger the lines and great designs euro fighter it f22 you can make your own designs and just skip this plastic rid and propeller and head if plane is a battery snd blue tooth operated from your mobile from a application down load. Ten minutes to charge up from any use port and good to go flying quite a long distance for 15 minutes . I said it fir my child but I'm 57 year old man and it was really fir me.cane in a smart box and arrived with in 5 days. I liked it do much I'm ordering a few more so I'm never without it
---
Alex Sarakinis
Guildford, Surrey
Iphone 5
1st June 2015
Excellent product, great fun.
I found this company whilst searching for a gift for my partner. They offered the lowest price for the product I wanted and this included delivery. I was very impressed with the delivery speed and the quality of service that was provided. I would have liked to have seen a video of this product in action, however this was easily found elsewhere. Overall I was very impressed with the product and the service provided, delivery was fast and good value, and I was updated via email once the item had been dispatched.
Read 59 customer reviews
|
Write a review
---
Why Buy?
Up, up and away!

The only limit is your imagination

Recharge your motor's battery via USB cable

Works on iOS and Android
---
Why not View a video about this product?
Description

Up, up and away!
Look, up there. Is it a bird? Is it a plane? Well, yes - it is a plane. A paper airplane in fact, and it's yours to command via your smartphone or tablet. This ingenious aerobatic marvel is the ultimate evolution of what started every aeronautical engineering genius on their path - the paper airplane! Did you ever make them when you were little? Maybe you still do? Tweaking away to get an extra few feet out of that monster glide. Well this one will glide, climb, turn and dive at your command. Just download the app, power up the motor, assemble your airplane, and get to it, pilot!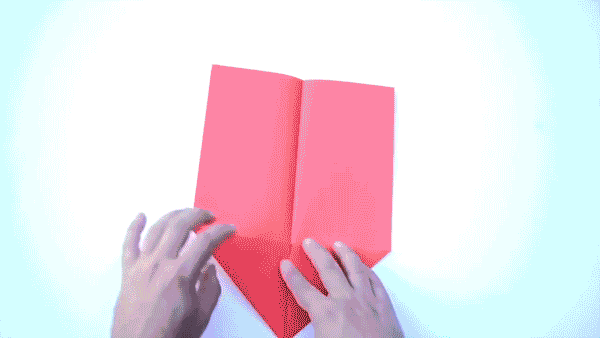 The only limit is your imagination
The world is your oyster and the sky your playground. The only limit is your imagination. There are several designs included in the box and plenty more available online. But you can also experiment and tweak to your hearts content. Find an open space and have at it. Why not get a friend or family member involved too while you're at it for aerobatic displays and mock dogfights? The more the merrier. There is suitable paper in the box but most stiff lightweight card will suffice. And if you happen to crash, no problem. All the materials involved are designed to take the punishment of frequent trips to terra firma. Dust it off, and reach for the sky again and again.
Recharge your motor's battery via USB cable
When your battery is running low, bring the old kite down and plug her in. It couldn't be simpler. The included charging cable can be plugged into a PC, laptop or mains charger. Or if you're out and about, you could use a power bank or portable charger. Please search for our power banks and portable chargers if this is of interest to you.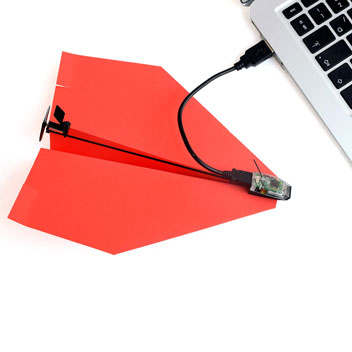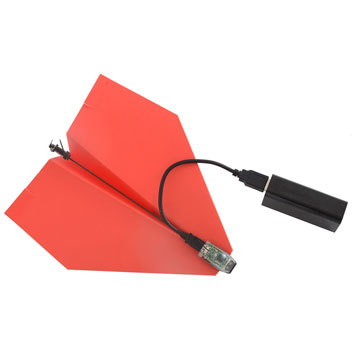 Works on iOS and Android
Connects to iOS (iPhone 4S or later) or Android devices (4.3 or later). These are basic requirements, optimisation and results may vary. The app is very intuitive and comprehensive allowing full control. It will take some practice before you're an ace, but that's all part of the fun, right? Here's an example of what you can do: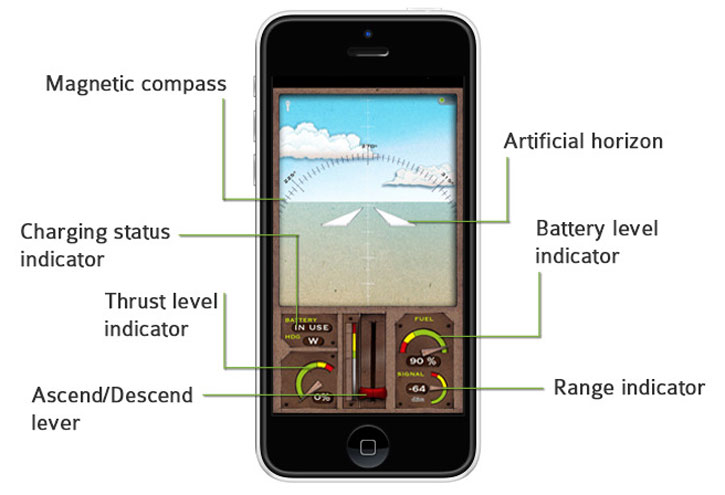 Not suitable for children under 14 years
While this is a fantastic and unique toy for the big kids, its really not suitable for those under 14. Adult supervision is recommended at all times.
---
What's In the Box?
PowerUp 3.0 Smart Module
Mounting display and storage box
Micro USB cable for charging
Spare rudder
Spare propeller
Invader templates (for beginner pilots)
Nakamura templates (for advanced pilots)
Dupont® waterproof template
PowerUp 3.0 Guide
Acer: Liquid E1, Liquid Metal, Liquid S2
Alcatel: OT 990
Apple: iPad, iPad 2017, iPad 3, iPad 4, iPad Air, iPad Air 2, iPad Pro 10.5, iPad Pro 9.7 inch, iPhone 4S, iPhone 5, iPhone 5C, iPhone 5S, iPhone 6, iPhone 6 Plus, iPhone 6S, iPhone 7, iPhone 7 Plus, iPhone 8, iPhone SE, iPod Touch 4G, iPod Touch 5G
Asus: ZenFone 4, ZenFone 5, ZenFone 6
HP: Slate 7
HTC: 8S, 8X, Butterfly, Desire 200, Desire 300, Desire 500, Desire 601, Desire 610, Desire 816, Desire C, Desire HD, Desire S, Desire X, Desire Z, EVO 3D, Evo 4G LTE, Explorer, First, Gratia, Incredible S, Inspire, One M7, One M8, One Max, One Mini, One Mini 2, One S, One SV, One V, One X, One X Plus, One XL, Radar, Rezound, Rhyme, Sensation, Sensation XE, Sensation XL, Thunderbolt, TITAN, Ville, Wildfire S
Huawei: Ascend D Quad, Ascend D Quad XL, Ascend D1, Ascend G300, Ascend G330, Ascend G510, Ascend G6, Ascend G600, Ascend G730, Ascend P1, Ascend P6, Ascend P7, Ascend P7 Mini, Ascend W1, Ascend Y100, Ascend Y530, Honor, Vision, Ascend Y300
Lenovo: K900
LG: A 225, G Pro 2, G2, G2 Mini, G3, G3 Beat, G3 S, G3 Stylus, G4, G4c, L70, L90, Optimus 2X, Optimus 3D, Optimus 3D Max, Optimus 4X HD, Optimus Chic, Optimus G Pro, Optimus L9, Rumor Reflex
Motorola: Atrix HD, Droid Ultra, Moto E 1st Gen, Moto G 1st Gen , Moto G 2nd Gen, Moto G 4G 2015, Moto G 4G LTE, Moto X 1st Gen, Moto X 2nd Gen, MOTOLUXE, MotoSmart, Photon Q 4G, RAZR, RAZR HD, XT316
Neffos: X1 Max
OnePlus: One
Orange: San Diego, San Francisco II
Samsung: Ativ S, E2600, Galaxy A3 2016, Galaxy A7, Galaxy Ace Style, Galaxy Alpha, Galaxy Extreme, Galaxy Fame, Galaxy Grand, Galaxy Grand 2, Galaxy M Pro, Galaxy Mega 5.8, Galaxy Mega 6.3, Galaxy Next Turbo, Galaxy Nexus, Galaxy Note, Galaxy Note 10.1, Galaxy Note 2, Galaxy Note 3, Galaxy Note 3 Neo, Galaxy Note 4, Galaxy Note Edge, Galaxy Pocket, Galaxy R, Galaxy S Advance, Galaxy S2, Galaxy S2 Skyrocket, Galaxy S3, Galaxy S3 LTE, Galaxy S3 Mini, Galaxy S4, Galaxy S4 Active, Galaxy S4 Mini, Galaxy S4 Zoom, Galaxy S5, Galaxy S5 Mini, Galaxy S6 Active, Galaxy S6 Edge, Galaxy S7, Galaxy S7 Edge, Galaxy Tab 3 Lite , Galaxy Tab 4 10.1, Galaxy Tab 4 7.0, Galaxy Tab 4 8.0, Galaxy Tab Pro 10.1, Galaxy Tab Pro 12.2, Galaxy Tab Pro 8.4, Galaxy Tab S 10.5, Galaxy Tab S 8.4, Galaxy Xcover, Galaxy Xcover 2, Galaxy Young, I9003 Galaxy SL, Omnia M , S2 Plus, Tocco Lite 2, Tocco Quick Tap
Sony: Xperia E, Xperia E1, Xperia go, Xperia J, Xperia L, Xperia M, Xperia M Dual, Xperia M2, Xperia Miro, Xperia P, Xperia S, Xperia S Tablet, Xperia SL, Xperia SP, Xperia T, Xperia T2 Ultra, Xperia T2 Ultra Dual, Xperia Tipo, Xperia tipo dual, Xperia TX, Xperia V, Xperia XL, Xperia Z, Xperia Z Ultra, Xperia Z1, Xperia Z1 Compact, Xperia Z1S, Xperia Z2, Xperia Z3, Xperia Z3 Compact, Xperia Z3 Tablet Compact, Xperia Z4, Xperia Z4 Tablet, Xperia Z4 Ultra, Xperia ZL, Xperia ZR
Sony Ericsson: Xperia Active, XPERIA Arc, Xperia arc S, XPERIA Kyno, XPERIA Mini, XPERIA Mini Pro, XPERIA Neo, Xperia neo V, Xperia Play, XPERIA Pro
TMobile: Groove
Questions and answers: